In This Review
The Legend Of Power Khan
The name is reminiscent of the great Genghis Khan who was known to be a powerful king and warrior. Behind his many battles and conquers are his queen and his concubines.
Thus, the ancient great monks engineered some special potions and herbs in order to increase the King's male potency. Thus, came the name of the present male enhancement pill in Korea, the Power Khan.
How Does It Rate?
Overall Rating: 3.7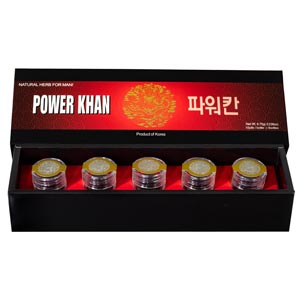 Power Khan
Brand Highlights
Brand name is Power Khan.
It is manufacture in Korea.
Brand claim it helps in treating mild cases of erectile dysfunction.
Key Ingredients
Garlic Extract
Watermelon Extract
Ginseng
Pros
Distinctive ingredients: If one would notice, the

ingredients listed in Power Khan are very unique

as compared to the rest of the male enhancement supplements. This is worth trying for as it provides something new and potentially effective in the male enhancement era

It has an official website

: Users of the Power Khan may further know about the details and concerns relating to Power Khan through this web site
Wider Market: It may have been a previous common male enhancement product in Korea but now it has reached a wider market scope as it now slowly is being introduced in the world wide market especially online
Cons
Available online only
Not suitable for children under the age of 18 years
There are reported side effects: There were a few reviews that mentions of some side effects after having taken the Power Khan. This includes

headaches, nausea and lightheadedness among many others

Its

ingredients are not well detailed

: It may have disclosed its main ingredients but it has failed to realize that it does not completely state the detailed listing of its full ingredients
It is

expensive

: As compared to other male enhancements, the Power Khan is much expensive and more people are discouraged to buy this product as they are given a lot of cheaper options
---
How Does Power Khan Work?
Power Khan is a Korean herbal food supplement which helps men in their problems of erectile dysfunction. A lot of men are already suffering from this condition and this is where Power Khan comes to the rescue.
It effectively helps men in their impotency problems. The manufacturer of this product claims that impotency actually has a cure and this is it.
It further helps by also increasing the levels of testosterone in the body while also curing the minimal problem on premature ejaculation.
Its modern way of producing coupled with its ancient and traditional methods of cure are fused in order to create the best male enhancement product in Korea.
Power Khan Ingredients
It has the most unique ingredients as compared to other commercial male enhancements.
Garlic Extract
This is a special type of garlic extract which is produced only from Kyounbook Eusung particularly in Korea[1].
Watermelon Extract
It generally contributes in promoting prostate health as it also improves the function of the vital organs in the body such as the kidney and the bladder. It also helps in ensuring that wastes and urine are properly being ejected out of the body.
Ginseng
This is a special ginseng unique to Korea – a 15 year old Jangnesam or what is more commonly known as seeds from a natural ginseng. But above all, ginseng has been also considered to be a sexual enhancer[2].

FAQ's
Q: Are There Any Competitors Of This Product?
A: Yes, you can check these products also before making your decision Power SX, And Praltrix.
Q: When One Should Expect Results
A: Indeed, Power Khan really precedes its rich background. This male enhancement supplement is manufactured in Korea which is created purposely to increase the sexual vigor and the stamina of men.
Results have been noted to be very positive. Effects can be felt right away and for long term purposes; it can have a lifetime effect after a month's use.
Moreover, it also claims that it gives men the much needed improvement on physical health particularly on the prostate health. It has the most effective ingredients such as the ginseng which is proven to provide curative and effects for the body. It has the most unique formula which provides men with a stronger drive and performance that required and needed for men's sexual activity.
Q: Do They Offer Money Back Guarantee?
A: There were no express statement mentioned on their website that it comes with a money back guarantee.
Q: Price And Dosage Of Power Khan
A: The price of the trial pack of Power Khan is at $25.00 which only consists of 5 pills. At an average, this costs at $150.00 for a month's consumption. This can be taken once on a daily basis more specifically after a meal with lots of water.
Q: Is It Safe To Order Online?
A: Since it has its very own website, one can fairly say that it is safe and even advised to order online due to its convenience and cost.
Read Next – Male Edge

Power Khan Conclusion
While it is important to note that Power Khan has indeed some good points to offer such as its unique ingredients and the like, one should not deny the fact that there were unfavorable effects that have been associated with it. Extreme care and proper consultation to the doctor must be undertaken.
With countless male performance enhancement supplements available on the market today it seems impossible to find "the right one." Sexual performance declines naturally as men age, which may contribute to feelings of inadequacy or embarrassment. Male performance enhancement supplements should be based on four key factors: active ingredients, ability to support sexual stamina, enhance arousal, improved* sexual desire and backed by clinical studies.
Below you'll find some of the most effective male performance enhancement supplements on the market today, in our opinion.
Our Top Male Enhancement Choices
Verdict on Claimed Benefits: Below is our summary of the available evidence for the claimed benefits of below mentioned Male Enhancement Products based on the available research: