In This Review
What is Mdrive?
Mdrive for Men is a dietary supplement that promotes men's general health, energy, strength, and vitality. It is made up of natural ingredients that are claimed to boost testosterone levels, reduce stress, increase stamina, and improve sexual performance.
This is a brand known for producing nutritional supplements that enhance male sexual and athletic performance. As aging catches up with them, the body is not able to function as it used to.
Energy levels drop suddenly, and the stamina that once existed is gone. The sexual drive will probably be going down that downward spiral too. This Mdrive male enhancement product aims to compensate for all these deficiencies and make men feel younger and better.
How Does It Rate?
Overall Rating: 3.4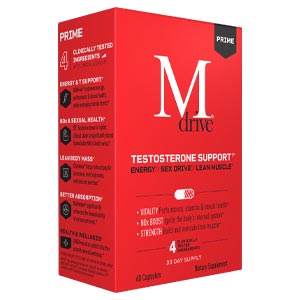 Mdrive For Men
Brand Highlights
Men's Daily Herbal Supplement.
Powerful Clinically Tested Ingredients.
Improve Lean Muscle Mass and Reduce Mental Stress.
T Support from Ksm-66 and Tongkat Ali.
Gluten-Free and Non-Gmo.
60-Day Refund Policy.
Ignite Bodies Internal System.
Key Ingredients
Vitamin D3
B-Vitamins
Chromium
Calcium
KSM-66 Ashwagandha Extract
Eurycoma Longifolia Extract
DHEA
Bioperine
Pros
Claimed to be made up of plant extracts and other proven beneficial ingredients.
It may help boost testosterone levels in a natural and safe way.
It might aid in improving energy levels, which would then enhance vitality, stamina, and endurance.
It boosts muscle growth and fat burning.
Cons
It may aid in the safe and natural growth of testosterone levels.
The ingredients are typical of many top male enhancement pills.
It aids in the growth of lean muscular mass and the faster burning of fat.
---
Does Mdrive Really Work?
Mdrive for Men is a dietary supplement that offers a blend of natural ingredients that are claimed to enhance men's health and vitality in a variety of ways. Mdrive's particular methods of action may vary depending on the various ingredients and dosages. Several of the ingredients in Mdrive, such as maca root and damiana leaf, have traditionally been used to improve physical and sexual performance. These components may aid in the improvement of blood flow, fatigue reduction, and stamina, resulting in better athletic and sexual performance.
Overall, Mdrive for Men is intended to provide a comprehensive blend of nutrients that work together to promote men's overall health, energy, strength, and vitality. It's crucial to remember that the precise effects of Mdrive may vary based on factors like age, health status, and lifestyle choices.
Mdrive Ingredients – Are they Safe & Effective?
Vitamin D3
– This vitamin is the most effective when it comes to increasing testosterone levels; it has been shown to be beneficial for older men who experience low testosterone levels as a result of ageing. Moreover, studies have suggested that low testosterone levels may be related to vitamin D3 deficiency, and that supplementing with vitamin D3 may assist low testosterone-producing men produce more testosterone.[1].
B-Vitamins
– Mdrive for Men contains B-vitamins, such as iacin (B3), pyridoxine (B6), and cobalamin (B12), to promote energy metabolism, neurological function, and general vigour. According to study, while B-vitamins do not directly improve sexual performance, they do play a significant role in promoting general health, which can improve sexual function.[2].
Chromium
– Chromium is not commonly used to improve sexual performance in Mdrive for Men. Instead, it is included in some Mdrive formulations, such as Mdrive Elite, for its potential role in promoting healthy blood sugar levels and metabolism. According to data, it improves body composition by encouraging the formation of lean muscle and burning extra excess fat.[3].
Calcium
– Calcium is indirectly useful in terms of sexual performance because it is required for the normal functioning of muscles involved in sexual activity. According to experts, it is popular for promoting and sustaining bone health; a lack of this essential mineral reduces sex desire.[4].
KSM-66 Ashwagandha Extract
– KSM-66 Ashwagandha Extract is one of the primary elements in Mdrive that is believed to assist men increase their sexual performance. It is thought to improve mood, increase energy, lower stress and anxiety, and improve sexual function. According to studies, KSM-66 Ashwagandha Extract may enhance male sexual performance and function. It promotes greater testosterone production and release, lessens the negative effects of stress on the body and mind, and maintains the health of the cardiovascular and endocrine systems.[5].
Eurycoma Longifolia Extract
– Eurycoma Longifolia extract may aid in the reduction of stress and anxiety, both of which can have a poor impact on sexual performance. According to studies, Eurycoma Longifolia extract is particularly successful in increasing sperm count and fertility in general. It may also benefit men's testosterone levels and sperm quality by helping to increase levels of this hormone. Men's sexual health, including libido, erectile function, and sperm production, are significantly influenced by the hormone testosterone.[6].
DHEA
– DHEA is one of the all-natural ingredients found in Mdrive for Men. DHEA is a precursor to both estrogen and testosterone, and it is believed that supplementing with DHEA may assist boost the production of these hormones, which can improve sexual performance. Some research suggests that taking DHEA supplements can assist improve sexual performance and libido, especially in elderly men who have reduced DHEA levels.[7].
Bioperine
– It is a proprietary extract of black pepper that is thought to improve the bioavailability and absorption of other nutrients in the mixture, including herbs and other organic extracts that have historically been used to support male sexual health. According to the manufacturer of Mdrive, Bioperine may assist boost blood flow and circulation, which can improve sexual performance and stamina. Furthermore, Bioperine may aid in the absorption of other nutrients in the formula.
You May Also Want To Read – Phalogenics PE Program and Viril X

Mdrive Review – FAQ's
Q: What are the side effects of Mdrive?
A: A few consumers have reported that Mdrive caused their stomach problems, insomnia, and muscle tension while taking it.
Q: How Is Mdrive Different?
A: Mdrive products make use of Extraction Maximisation Isolation (EMIT) technology for their formulations. This technology means that they are able to efficiently extract all the needed ingredients from their herbal sources. Also, they bring the ingredients together in the right doses so the result of the end product will be very effective when it comes to compensating for lost endurance, energy, and sexual drive.
Q: Where to buy Mdrive?
A: Mdrive can be purchased from the official website or other online retailers.
Q: How Much is Mdrive?
A: The product is available for purchase on the manufacturer's website at the price of $29.99.
Q: What are some similar products to Mdrive?
A: Products similar to Mdrive For Men include; Vital X9, Red Fortera, and Andro400.
Q: How Should You Take Mdrive?
A: Take 2 capsules in the morning with food.
Q: What is Mdrive's Return Policy?
A: Refunds are only applicable to product complaints that are stated within 60 days of purchase.
Q: Is it safe to use Mdrive?
A: Yes, it is safe to use Mdrive. With its carefully formulated natural ingredients, combined with carefully engineered technology, users can be assured that this supplement can work its magic when it comes to increasing energy, stamina, and sexual drive. This stamina pill to last longer in bed is especially effective for men who feel that age is catching up with them.
Q: Is there any complaint about Mdrive?
A: According to a few Mdrive for Men reviews, the product does not meet their expectations. Some of the men who have reviewed this product say that they are using it for three months and are waiting for the results.
Q: How long does Mdrive take to work?
A: According to the manufacturer, within a few days, you should notice an increase in energy. After 1 to 2 weeks, you should observe the additional outcomes, but it depends on the individual's body. The clinical study results showed that it could take 8 to 12 weeks to see the results.
See Also – Vital Khai and Nugenix
Mdrive Customers Reviews
Haven't seen any effects yet!!!!
I am two weeks into taking this MDrive product and I have not felt or seen anything yet. No difference in energy, fat burning, or T. Waiting but not expecting anything will happen.
– Robert A.
It Works!!
Great product, I have given this product to my male friends . Its the best one that we have used and will continue to use this. This product is a must have for both persons to have ultimate satisfaction.
-JACK JADE
Good Product
Very very good After using it for a month, it proved to be a great product. I like that this product has natural ingredients and it works effectively.
– Nike Jemes
This product sucks!
Nothing! It did absolutely nothing for me. The pills are huge makes them difficult to swallow What a waste of money– Jeff H.
Mdrive For Men Review – Final Verdict
Sexual performance declines naturally as men age, which may contribute to feelings of inadequacy or embarrassment. Male enhancement supplements should be based on four key factors: active ingredients, the ability to support sexual stamina, enhanced arousal, and improved sexual desire.
Based on the information above, Mdrive is a promising male enhancement supplement. Its strengths include its impressive list of ingredients, promised benefits, and a manufacturer that specialises in male enhancement supplements.
However, based on the negative reviews (which outweigh the positive ones), the Mdrive supplement may not be the best option you have. The most common complaint about the product is that there aren't enough improvements and that it's too expensive.
We believe that there are cheaper yet more effective male enhancement supplements out there, and all you have to do is explore your options in order to find the right one for you.