In This Review
What is Man Plus?
Man Plus is an organic supplement for men which boosts testosterone levels and offers potent sexual benefits. It raises sexual libido, improves stamina, and enhances overall performance.
It also boosts circulation, promoting harder, stronger erections and increasing the size of the penis. Man Plus can also increase your energy levels. This is a quality, safe supplement which is among the top natural sexual enhancement products on the market.
How Does It Rate?
Overall Rating: 3.9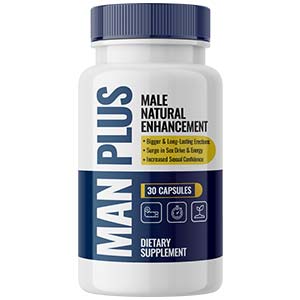 Man Plus
Brand Highlights
The formula includes 100% organic ingredients.
The ingredient benefits have the support of numerous research studies.
It's superior to competing brands in most categories.
Man Plus is free of chemical or artificial additives and fillers.
Key Ingredients
Nettle Extract
Tongkat Ali Extract
Saw Palmetto Berry Extract
Ginkgo Biloba Extract
L-Arginine
Bioperine
Horny Goat Weed Extract
Pros
Man Plus promotes harder, longer-lasting erections.
This supplement provides extra energy.
This formula increases sexual libido.
Man Plus elevates semen volume.
Cons
Man Plus is not available in stores.
The results will vary for different individuals.
This is a popular product which may not always be in stock.
---
How Does It Work?
Man Plus increases testosterone levels naturally, which can result in a great increase in sexual libido as well as staying power. The elevated hormone levels also help to build muscle bulk and strength, and may improve exercise endurance.
An article in the Journal of Clinical Endocrinology & Metabolism found a relationship between libido and testosterone in elderly men [1].
The formula also improves nitric oxide levels in the body, which enhances bodily circulation. The added blood flow to the penis can strengthen erections and help alleviate erectile dysfunction.
An article in Cardiovascular Research explored the link between nitric oxide and erections [2].
These ingredients are high in nutrients and offer other health benefits like increasing energy levels, and decreasing inflammation.
They are also high in antioxidants, which can abolish free radicals and lower oxidative stress. This promotes repair and healing in the body and can strengthen the immune system.
Man Plus Ingredients – Are they Safe & Effective?
These are the primary active ingredients in Man Plus:
L-Arginine
– This amino acid stimulates nitric oxide release in the body, which promotes circulation. The additional blood flow to the penis can help promote hard erections and alleviate erectile dysfunction. In our review of the Drachen male enhancement product, we have detailed the beneficial effects of L-Arginine in treating erectile dysfunction.
It may also help boost exercise endurance, support heart health, decrease blood pressure, and balance blood sugar. A study in the Journal of Psychosexual Health concluded that l-arginine was effective in the treatment of erectile dysfunction [3].
Tongkat Ali
– This is the Eurycoma Longifolia plant, which stimulates testosterone synthesis and elevates sexual libido and stamina, as well as boosting muscle mass and strength and improving exercise endurance.
A 6-month study on aging men with androgen deficiency, published in Maturitas, indicated that Tongkat Ali increased testosterone levels and improved erectile function.[4] It also lowered cortisol levels, reducing stress and anxiety. To help you make an informed decision we provide all the necessary information in the Vmax Male Reviews article.
Ginkgo Biloba
– This is an extract from a tree that grows in China, sometimes called Maidenhair. It improves blood flow in the body, and the added circulation to the penis can help strengthen erections. In addition, it may enhance mental focus and alertness as we referenced in our review of Kangaroo Pills.
Besides supporting heart and brain health, it's high in immune-boosting antioxidants and may decrease stress levels. An article in the Journal of Sex and Marital Therapy discussed ginkgo biloba in the treatment of sexual dysfunction caused by anti-depressants [5].

Man Plus Review – Frequently Asked Questions
Q: How Do You Take It?
A: The recommended dosage is one capsule per day. Do not consume more than this amount in a 24-hour period under any circumstances.
Q: What is the Return Policy?
A: The manufacturer has a 60-day money back guarantee. If you're not happy with the supplement, get in touch with customer service for instructions and send it back within 60 days of the purchase. You should get a full refund.
Q: Is It Healthy?
A: Man Plus is an extremely healthy supplement packed with nutrients, anti-inflammatory agents, and antioxidants which promote healing in the body, decrease swelling, strengthen the immune system, and offer numerous other health benefits.
Q: Where to Buy It?
A: The only place you can purchase this product is on the Australian manufacturer's official website. There are some imitation products on the market, so be certain not to buy anywhere else. The prices are as follows:
1 Bottle – $60
3 Bottle – $45.95/bottle
5 Bottles – $39.95/bottle
Q: What Sets It Apart From the Competition?
A: Man Plus contains a very potent formula of science-backed ingrediets, and also has Bioperine which enhances their absorption. The product compares very favorably to other similar brands on the market.
What Do the Reviews Say?
Most of the Man Plus reviews had positive feedback about the results they got, some very much so. Users raved about the quality of their erections, and mentioned increases in stamina and libido. Here are some of the best customer comments:
Works!
Was having issues getting really good erections over the last couple of years, but with Man Plus I get rock hard and stay that way for longer than I thought was possible! Thanks so much! – Kevin M.
Rocking My Sex Life!
This supplement has really brought the fire back into my sex life with my wife, after 20 years together and some years on me things were getting a little dull. Enter Man Plus! Now I'm ready and hard when she's ready, and we're having a great time. – Peter P.
Great For Erections!
I'm an older man who was having some trouble getting really hard when I needed to, and my erections were weak. The libido was drooping a little as well. However, since I started taking this supplement, this issues have disappeared, and my sex life has been great. Thanks! – Steven
Man Plus Review – Conclusion
Man Plus is an all-natural supplement for men which offers powerful sexual enhancement benefits. It increases testosterone for higher libido, stamina, and performance, strengthens erections, enhances the size of the penis, and offers added energy.
Most of the Man Plus reviews were from men who got great results from using this supplement. On the whole, men said it performed exactly as promised, and they loved the huge boost it gave to their sexual functioning and sex lives as a whole.
This supplement contains of 100% natural ingredients, free of synthetic or chemical additives or fillers. It should not lead to any harmful Man Plus side effects. This is a quality, nutrient-rich formula which is an excellent choice for any man who wants to improve his sexual functioning and enhance his sex life.
With countless male performance enhancement supplements available on the market today it seems impossible to find "the right one." Sexual performance declines naturally as men age, which may contribute to feelings of inadequacy or embarrassment. Male performance enhancement supplements should be based on four key factors: active ingredients, ability to support sexual stamina, enhance arousal, improved* sexual desire and backed by clinical studies.
Below you'll find some of the most effective male performance enhancement supplements on the market today, in our opinion.
Our Top Male Enhancement Choices
Verdict on Claimed Benefits: Below is our summary of the available evidence for the claimed benefits of below mentioned Male Enhancement Products based on the available research: