M.D. Science Lab Max Hard Overview
Max Hard by M.D. Science Lab is a male enhancement solution that has been designed to support healthy erections in men who experience symptoms of erectile dysfunction. The product utilizes a number of different natural ingredients in order to assist men with sexual dysfunctions overcome their problems and improve* their sex life. The formula also targets additional aspects of a man's sexual life, such as endurance, stamina and the man's desire to participate in sexual intercourse and other sexual activities. M.D. Science Lab's Max Hard is available at numerous online retailers and it is cost effective.
Working Process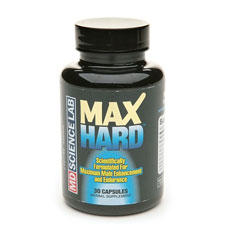 Erectile dysfunction is a common problem among men, especially as they grow older. The term refers to a condition where the man is unable to achieve a firm erection and is unable to participate in sexual intercourse. This problem is often treated with Viagra, Stendra, Cialis or another drug that has been developed to relief erectile dysfunction. Unfortunately, these drugs can cause unpleasant side-effects and, in some cases, have even resulted in heart attacks and other life-threatening adverse events. M.D. Science Lab Max Hard offers a similar solution to Viagra and other erectile dysfunction drugs, but does not rely on the same chemical compounds that are found in these drugs. Instead, this formula only relies on ingredients that are found in nature, thus it minimizes* the risk of side-effects while still providing the man with the ability to gain healthy erections.
The ingredients that are found in this product helps to relax muscle tissue in blood vessels, which causes a larger amount of blood to flow towards the pelvic area and into the penis when the male user gains an erection. With the additional amount of blood that flows into the penis, the blood vessels that are located in the penis can fully expand, thus resulting in a firmer erection that also lasts longer. In addition to the ingredients that helps to improve* blood flow, a number of natural ingredients have also been included to work on the emotional side of an erection. These ingredients will improve* the male user's libido, thus causing him to experience a better sex drive.
M.D. Science Lab Max Hard Ingredient List
The ingredients that are included in M.D. Science Lab Max Hard:
Yohimbe Bark – Yohimbe extract is a powerful organic treatment for erectile dysfunction that is used as a prescription treatment in some countries. In addition to its use as a treatment for impotence, yohimbe is also used as an aphrodisiac to boost* the sex drive of men who experience a lack of libido.
Tribulus Terrestris – This plant extract is most popular among body builders as it can improve* endurance and stamina. It is also used to boost* libido among men and to increase* physical strength.
L-Arginine – This substance is classified as an amino acid and is also one of the building blocks of protein. L-Arginine is also a precursor to nitric oxide, which means the human body converts this amino acid into nitric oxide. In turn, nitric oxide relaxes blood vessels and improves* blood circulation.
L-Tyrosine – This amino acid is naturally produced by the body. It has anti-stress agents that can improve* a person's mood and their ability to handle stress. Apart from this benefit, L-Tyrosine is also known as an excellent fat-burner and it can assist with reducing* blood pressure.
In addition to these active ingredients, the following ingredients are also found in the formula: Avena Sativa, Siberian Ginseng, Taurine, Cnidium Monniera, Eurycoma Longfolia, Maca Root and Epimedium.
M.D. Science Lab Max Hard Pros
The product contains a large number of ingredients that can improve* blood flow in the human body. This may result in more blood being available to the penis when the man gains an erection, thus the erection may be firmer than without this product.
M.D. Science Lab Max Hard is relatively affordable and it is available at numerous online supplement retailers.


M.D. Science Lab Max Hard Cons

Yohimbe bark, one of the main active ingredients, is a fast active organic compound that is often used as a natural alternative to Viagra, but also causes some severe side-effects in some users. The ingredient may also cause toxicity in some users, which may interfere with their central nervous system.
The majority of reviews on this product's page at online retailers seems to be negative.

Important Features

This product is not intended for individuals who are under the age of 18 years. Individuals with existing medical conditions are advised not to use this product unless their healthcare provider states that it is safe to use for them.

Side Effects

One of the active ingredients in M.D. Science Lab Max Hard, Yohimbe, has been linked to several side-effects, including rapid heartbeat, seizures, kidney failure and heart attacks. Potential users should talk to a physician before using this product in order to ensure they are in a healthy condition.

Dosage

One capsule should be taken approximately half an hour before sexual intimacy. Users may increase* the dosage to two capsules should a single capsule not provide significant benefits.

Final Verdict

M.D. Science Lab Max Hard targets the main causes of erectile dysfunction, poor blood flow and a lack of libido. The ingredients in this product are all sourced from nature. The inclusion of Yohimbe may result in unwanted side-effects and the negative reviews about the product might mean that it is not an effective male enhancement solution. We do find the price of the product to be one of its most attractive features.
With countless male enhancement supplements available on the market today it seems impossible to find "the right one." Sexual performance declines naturally as men age, which may contribute to feelings of inadequacy or embarrassment. Male enhancement supplements should be based on four key factors: active ingredients, ability to support sexual stamina, enhance arousal, improved* sexual desire and backed by clinical studies.
Below you'll find some of the most effective male enhancement supplements on the market today, in our opinion.
Our Top Male Enhancement Choices

Produces Stronger & Firmer Erections*
Improves Sexual Stamina & Energy*
Enhances Sexual Desire & Arousal*
100% All Natural Potent Ingredients*
Produces Stronger & Firmer Erections*
Improves Sexual Stamina & Energy*
Enhances Sexual Desire & Arousal*
100% All Natural Potent Ingredients*
Produces Stronger & Firmer Erections*
Improves Sexual Stamina & Energy*
Enhances Sexual Desire & Arousal*
100% All Natural Potent Ingredients*
Produces Stronger & Firmer Erections*
Improves Sexual Stamina & Energy*
Enhances Sexual Desire & Arousal*
100% All Natural Potent Ingredients*
Produces Stronger & Firmer Erections*
Improves Sexual Stamina & Energy*
Enhances Sexual Desire & Arousal*
100% All Natural Potent Ingredients*