In This Review
What is Go Hard XL?
Go Hard XL is a natural supplement for men which promises to raise testosterone levels, increasing libido, stamina, and general sexual performance. In addition, it may enhance circulation to make erections harder.
The product aims for added benefits like elevated muscle mass and strength, improving sexual pleasure, and strengthening the immune system. There's no real official website, and the supplement is not widely available.
How Does It Rate?
Overall Rating: 3.5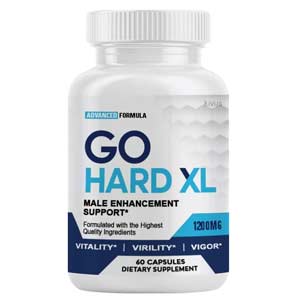 Go Hard XL
Brand Highlights
Go Hard XL is a startup company founded in April 2021.
This supplement is their trademark product.
According to Amazon Go Hard XL is a small business.
Their products appear to use largely organic ingredients and are nutrient-rich.
Key Ingredients
L-Arginine
Bioperine
Tongkat Ali
Horny Goat Weed
Ginkgo Biloba Extract
Nettle Extract
Saw Palmetto Berry
Panax Ginseng
Vitamin B12
Pros
Go Hard XL may give you harder, stronger erections.
It could enhance your sexual libido and arousal.
This supplement might build muscle mass and strength.
It might support a stronger immune system.
This supplement could balance the hormones.
Cons
There's no real Go Hard XL official website.
This supplement is not very widely available.
There may be mild side effects like nausea or headaches.
---
How Does It Work?
This supplement includes some natural ingredients which have scientific support for their ability to increase testosterone levels. This may result in a higher sexual libido, stamina, and performance.
A study in the International Journal of Impotence Research concluded that testosterone therapy increased sexual arousal in aging men with low testosterone levels and androgen deficiency [1].
The higher levels could also enhance athletic endurance and help build muscle mass and strength. There are also ingredients which stimulate the production of nitric oxide in the body, This improves circulation, including blood flow to the penis.
An article in the Journal of Clinical Hypertension explored nitric oxide and the impact it has on erectile dysfunction [2].
This may promote harder, stronger erections. The formula is high in anti-inflammatory agents which decrease swelling in the body, and antioxidants which abolish free radicals and decrease oxidative stress. This strengthens the immune system, and promotes healing and repair.
What Are the Ingredients?
These are some of the primary active ingredients:
Tongkat Ali
This is a plant called Eurycoma Longifolia, which includes biological compounds which may help raise low testosterone levels and increase sexual libido and stamina. In addition, it could help build up muscle mass and strength and elevate athletic endurance.
There's also some evidence that it may improve erectile dysfunction [3]. A review and meta-analysis in Complimentary Therapies in Medicine confirmed that Tongkat Ali may have a positive impact on erectile function [4].
L-Arginine
This amino acid stimulates the production of additional nitric oxide in the body, which improves circulation. The added blood flow to the penis may help alleviate erectile dysfunction by strengthening erections. Also, we have discussed about this ingredient in our ZygenX reviews.
It may also lower blood pressure and blood sugar, and support heart health. A review article in the Journal of Psychosexual Health found positive evidence for the impact of l-arginine on treating erectile dysfunction [5].
Ginkgo Biloba Extract
This tree extract increases the production of nitric oxide in the body, which improves circulation and sends added blood flow to the penis. This may improve erectile dysfunction by making erections more powerful.
This added blood flow may improve sexual sensitivity and boost overall pleasure. A study in the Journal of Sex and Marital Therapy found that ginkgo biloba was effective at treating anti-depressant-induced sexual dysfunction in both men and women. Also, we have discussed about this ingredient in our Kangaroo Pills reviews. [6]
Horny Goat Weed
The active compound in Horny Goat Weed is called icariin, which increases blood flow and promotes nitric oxide production, causing erectile dysfunction. This popular herb is often included in male enhancement supplements, like Endo Pump, with the belief that it possesses properties that have the potential to enhance sexual function and libido.
Frequently Asked Questions
Q: How Do You Take It?
A: The recommended dosage is 2 capsules per day with a glass of water. Do not take more than the maximum dosage under any circumstances.
Q: What is the Return Policy?
A: As there is no manufacturer's official website, it's likely they do not have a return policy or guarantee. If you buy from another retailer, they should have their own policy. Read it carefully before you make your purchase.
Q: Is the Brand Cruelty-Free?
A: The Go Hard XL pills brand is not cruelty free, meaning they may test some or all of their products on animals, and/or work with other companies or suppliers who do.
Q: Where to Buy It?
A: There's no official website where you can buy Go Hard XL, although some secondary sites mention a free trial offer.
It's on Amazon but is unavailable at the moment, and you can also get it on eBay. On eBay it's $25.99, but there's no information elsewhere about the normal retail cost.
Q: What Sets It Apart From the Competition?
A: Go Hard XL male enhancement pills is actually a typical male enhancement supplement according to the information available about the ingredients and benefits. There are other products which are more widely available, and for which there is more complete information.
What Do Go Hard XL Reviews Say?
The reviews for Go Hard XL were fairly poor on the whole. There were some users who said they did get sexual benefits like harder erections and somewhat stronger libido, but the majority said it wasn't potent enough to be worth the purchase. Here are some of the customer comments, to give you a good idea of what users have to say about this supplement.
It Works
This stuff works! Get hard and stay that way! Partner loves it. – Norman S.
Waste of Money
Go Hard XL really didn't do what it said it would do, and on the whole it was a big disappointment. Can't say it had no impact, because it did lead to minimally harder erections, just not nearly to the extent expected. – Jake K.
Very Mediocre Supplement
Thought this product would be way more powerful than it ended up being with the ingredients they included. It helps a little with libido, and sometimes makes erections a little stronger than usual. Not sure if it's really worth a purchase though. – Pete R.
Not Great
Did not do anything at all. – Fred
Conclusion
Go Hard XL is a natural male enhancement supplement which is typical of others in the market. It promises to strengthen erections, as well as boost libido, stamina, and sexual performance. There is no manufacturer's official site, and the product is not very available at the moment.
The customer reviews for this supplement were not overly enthusiastic overall. While there were some men who said the product worked well for them, many said it did little to nothing and was a waste of money. The general picture was one of disappointment with Go Hard XL.
This male enhancement product appears to include organic ingredients, but without the complete Go Hard XL label it's not certain whether it has additives. If you experience unpleasant side effects, stop using this supplement immediately and see a physician if necessary. Users with medical conditions or on medication should avoid this supplement.
With countless male performance enhancement supplements available on the market today it seems impossible to find "the right one." Sexual performance declines naturally as men age, which may contribute to feelings of inadequacy or embarrassment. Male performance enhancement supplements should be based on four key factors: active ingredients, ability to support sexual stamina, enhance arousal, improved* sexual desire and backed by clinical studies.
Below you'll find some of the most effective male performance enhancement supplements on the market today, in our opinion.
Our Top Male Enhancement Choices
Verdict on Claimed Benefits: Below is our summary of the available evidence for the claimed benefits of below mentioned Male Enhancement Products based on the available research: