As we can tell from the first glance at this product, it doesn't beat around the bush and definitely means business right from the get-go.
Its use of a strong language as a name is quite a head turner and will truly get your attention right from the start.
FCK Power is a performance enhancement supplement that is said to increase its size, improve libido and reduce the effects of erectile dysfunction.
It is an all-natural supplement that can boost levels of testosterone leading to increased sexual drive and improved penile blood flow.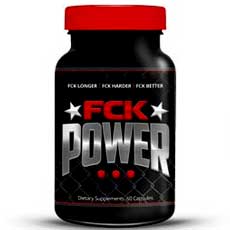 FCK Power can be purchased online through their website with a free trial giving you a free bottle for the first month and charges you with an extra $19.99 every month for a supposed-to-be "free bottle" stating that the $19.99 fee is the cost of the shipping.
You will automatically receive another bottle on the succeeding months until you cancel your subscription of the product. It also comes with a 30 days 100% money back guarantee.
Manufacturer Information and Its Claims about FCK Power
FCK Power and its manufacturers claim to help grow it by 4 inches in just 4 weeks.
It is quite a blunt statement for a male enhancement product as other brands suggest that in order to get it longer, one must use such kind of supplement for a much longer period.
FCK Power is also said to improve sexual drive and increase libido resulting in improved sexual experiences. It provides better, bigger erections with increased blood flow towards it that is said to stretch the penile muscles thus increasing the length of its user's manhood.
How Does FCK Power Work?
FCK Power consists of all-natural ingredients that contribute to the enhancement of the sexual performance of its users.
It enhances the production of sexual hormones to encourage more blood flow towards it for a harder, longer erection and also increasing its length at the same time.
It triggers strong blood flow that results in prolonged erection time allowing you to have increased sexual endurance. The accelerated effect of FCK Power is noticeable after just a few uses.
FCK Power Ingredients
FCK Power is a blend of all-natural ingredients which are safe and effective. Let's take a look at them.
Horny Goat Weed – An herb native to the Far East and has been known to cure problems like erectile dysfunction and impotence. Its use has been widespread throughout ancient times in the East.
Maca Root – Commonly known as "Peruvian Ginseng." Typically used as an aphrodisiac and boosts sexual appetite in users. It also boosts stamina and improves the quality of semen.
Yohimbe – Commonly used in Africa, this bark is used to promote better erection and is also used for the treatment of impotence.
L-Arginine – Aids in production of amino acids which help in providing better, bigger, harder erections.
Panax Ginseng – Also used to treat most erectile dysfunction problems in men. It is said to help men to have increased endurance in sexual activities and help prevent premature ejaculation.
Saw Palmetto – It is an aphrodisiac which also aids in increasing penile blood flow. It has been speculated that it helps in sustaining the health of the male prostate.
FCK Power Benefits
This product consists of an all-natural blend of ingredients
The product improves libido and sexual desire
It offers users a better control over ejaculation
User who take FCK Power are rewarded with longer lasting sexual activity because of increased endurance
FCK Power Drawbacks
It is only available for purchase in their website through a free trial program that continues to send you the product until you unsubscribe
Their website contains adult content which would be a little inconvenient to browse when in public places
It lacks product review and user feedback
Their website does not provide information on the right dosage of this supplement
Dosage Instructions
We have searched various web pages and sites to find the exact dosage for FCK Power but our efforts were unfruitful. Their website failed to provide information regarding the proper dose of their supplement.
Other sources on the web have provided different information about how to take the pill saying some people take it once a day, twice a day, and before sexual activity.
Precautions
Before taking any male enhancement supplement, make sure to always consult your physician especially if you are taking maintenance medication. Examine the contents of the product and inquire if any ingredients would cause any allergic reaction.
FCK Power Side Effects
FCK Power is a blend of all-natural products with no known side-effects. In taking enhancement medicines, always seek professional advice prior to intake of the supplement.
Does it Interact with other Medication?
FCK Power is proven to be safe and effective and there have been no reports of interaction to other medications.
Read Also: ProSolution Gel Reviews
Final Verdict
FCK Power aggressively attracts buyers to try out their product and generates quite the hype among customers.
The promise of increasing its length and size in a short period is quite generating a buzz among clients. Like most companies claim, no supplement is guaranteed to work for every individual but if you are interested in trying out the product then feel free.
There is always that money back guarantee which will be useful in case the product is not for you.
With countless male enhancement supplements available on the market today it seems impossible to find "the right one." Sexual performance declines naturally as men age, which may contribute to feelings of inadequacy or embarrassment. Male enhancement supplements should be based on four key factors: active ingredients, ability to support sexual stamina, enhance arousal, improved* sexual desire and backed by clinical studies.
Below you'll find some of the most effective male enhancement supplements on the market today, in our opinion.
Our Top Male Enhancement Choices

Produces Stronger & Firmer Erections*
Improves Sexual Stamina & Energy*
Enhances Sexual Desire & Arousal*
100% All Natural Potent Ingredients*
Produces Stronger & Firmer Erections*
Improves Sexual Stamina & Energy*
Enhances Sexual Desire & Arousal*
100% All Natural Potent Ingredients*
Produces Stronger & Firmer Erections*
Improves Sexual Stamina & Energy*
Enhances Sexual Desire & Arousal*
100% All Natural Potent Ingredients*
Produces Stronger & Firmer Erections*
Improves Sexual Stamina & Energy*
Enhances Sexual Desire & Arousal*
100% All Natural Potent Ingredients*