What is Extend Force XL?
Extend Force XL is a supplement that claims to enhance the user's pleasure and performance during sex. Sexual performance, drive, and stamina naturally decline in men with age, due to low testosterone and other health factors, and according to the Mayo Clinic, men may experience these signs and symptoms as testosterone begins to decline.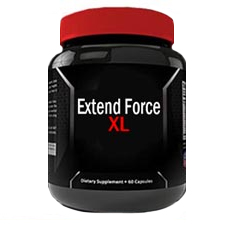 Testosterone levels tend to decline as men get older, around one percent after age 30 to 40. Testosterone loss is common in men as they age, and can affect their sex drive, erections, and testicle size, along with possible hair loss, reduced bone mass, and reduction of semen.
Who is the Manufacturer of Extend Force XL?
Because it is difficult to find the official Web site for Extend Force XL, it is unclear who manufacturers this product.
How Does Extend Force XL Work?
The only ingredient that could be found listed in Extend Force XL is Tongkat Ali, which is a known aphrodisiac.
However, there are other ingredients that should be in male enhancement supplement pills that could boost sex drive and energy, while possibly increasing the length and duration of erections. There just is not enough listed about this product to know how it works.
For example, does it promote the production of testosterone? Does it absorb rapidly like many other male enhancement products? Does it increase blood flow to the penile chambers? These are all questions one must ask when determining how a male enhancement supplement pill may work.
Extend Force XL Ingredients – Are they Safe & Effective?
The only ingredient that could be found listed in Extend Force XL is Tongkat Ali Extract:
Tongkat Ali Extract – An article in the Journal of the International Society of Sports Nutrition described Tongkat Ali as a natural ingredient that is known as the "Malaysian ginseng" and is beneficial for tension, stress, energy, and increasing testosterone. It may also aid in muscle development and fat loss due to its increase in testosterone and energy.
What are the Advantages of Extend Force XL?
Tongkat Ali Extract may help with one's lack of energy, decreased, libido, and increased body fat since it has been used as a remedy for age-related testosterone disorders.
The Tongkat Ali root has been found to contain compounds that stimulate libido and promote sperm motility and semen quality.
Tongkat Ali may support muscle growth through an increase of testosterone and also increase male fertility by promoting normal sperm quality.
What are the Disadvantages of Extend Force XL?
Some common effects of taking Tongkat Ali include insomnia, irritability and restlessness.
It is unclear whether or not there are other ingredients in Extend Force XL beyond Tongkat Ali.
There is not a lot of information about the manufacturer of this product.
The price of this product cannot be found, but if purchased from the manufacturer's Web site, customers may be enrolled in a monthly auto-ship program.
Extend Force XL FAQ's
Q: How Should You Take Extend Force XL?
A: The serving size is unclear because of the lack of information about this product.
Q: How Much Does Extend Force XL Cost?
A: The official Web site cannot be found so the prices are not available for Extend Force XL.
Q: What is Extend Force XL's Return Policy?
A: It is unclear what the company's return policy is for this product.
Q: Does Extend Force XL Offer a Free Trial?
A: It is unclear whether a free trial is offered on this product. Similar Web sites do offer a free trial and the customer only pays $4.99 shipping and handling. However, after the 14-day trial period, the user may be charged the full amount for the product and enrolled in the company's auto-ship program.
Extend Force XL Review – Final verdict
There is not a lot of information on Extend Force XL to determine the effectiveness of this male enhancement supplement. Similar products that contain Tongkat Ali claim to help with low testosterone and the effects low testosterone has on one's energy levels and endurance during workouts, as well as one's libido and sex life.
However, the manufacturer's main Web site is difficult to find and there is not a lot of information available on the reliability of the product. In addition, this product can only be purchased on the manufacturer's official Web site, yet the full cost and terms and conditions are also very difficult to find online.
The images of this site are similar to other male enhancement supplement sites that offer the free-trial option, but after the 14-day trial period, the customer may be automatically billed the full retail price that ships the product every 30 days.
There are many different male enhancement supplement available on the market today, and customers should research the ingredients and results of others that may not enroll customers into a monthly subscription program.
It is unclear what the active ingredients are in Extend Force XL, its ability to support one's sexual stamina and libido, and whether or not the use of Tongkat Ali, minus other ingredients, will improve sexual issues that result from low testosterone.
With countless male enhancement supplements available on the market today it seems impossible to find "the right one." Sexual performance declines naturally as men age, which may contribute to feelings of inadequacy or embarrassment. Male enhancement supplements should be based on four key factors: active ingredients, ability to support sexual stamina, enhance arousal, improved* sexual desire and backed by clinical studies.
Our Top Male Enhancement Choices
Are you among the millions of men suffereing from low testosterone? We polled experts to get their top picks—so you know that these products will really live up to their claims. Convinced yet? Good. Below you'll find some of the most effective male enhancement supplement and testosterone booster in their respective categories which are rated #1 on the market today, in our opinion.
Our Other Male Enhancement Products You Must Explore!
*We do not make any guarantee of specific results and that the results can vary. Statements regarding dietary supplements have not been evaluated by the FDA and are not intended to diagnose, treat, cure, or prevent any disease or health condition.