In This Review
What Is Eurycoma Longifolia?
Eurycoma Longifolia is the primary active ingredient in these supplements.It's a powder derived from acai berries, which are found on a tree in the Brazilian Rainforest. The product is high in anti-oxidants, which is healthy for the heart and immune system. It also helps balance out your metabolism, detoxify your system, and lose weight.
Apparently, it may also improve your attention span, and provide you with extra energy. Its primary purpose is as a male enhancement supplement which increases testosterone and sex drive.
How Does It Rate?
Overall Rating: 3.9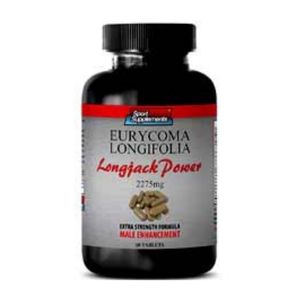 Eurycoma Longifolia
Brand Highlights
This substance is manufactured by Sports Supplements LLC, which produces and distributes nutritional supplements. They're a US-based company located in Newtown, Pennsylvania that was founded in 2017.
Their products included workout supplements like creatine, as well as male enhancement supplements such as this one, brain boost supplements, and blood pressure supplements.
The organization is dedicated to producing completely natural ingredients with no chemicals or artificial substances included.
Key Ingredients
Zinc
Maca
Eurycoma Longifolia
L-Arginine
Boron
Pros
The substance may improve your general immunity.
Eurycoma Longifoliamay help you burn fat.
It might increase sexual stamina.
Eurycoma Longifoliais excellent for heart health.
Cons
There's very little evidence that the plant Eurycoma Longifolia increases testosterone levels.
Unlike many retailers claim, research shows this isn't an overly good treatment for erectile dysfunction.
The product contains shellfish (oyster) which is a common allergen.
The supplements can be harmful if you take over the recommended dosage.
---
How Does Eurycoma Longifolia Work?
Eurycoma Longifolia is composed of a complex of bioactive compounds like alkaloids and a variety of peptides. The role of these compounds is to balance out the hormone levels in the body. It balances the hypothalamic-pituitary-adrenal axis (HPA axis), and that leads to an increase in sexual energy, libido, and stamina.
Other ingredients in the product will boost the amount of free testosterone in your system, which will increase your libido and make your muscles stronger.
The supplement will also initiate additional nitrous oxide to be released in your system, which speeds up blood circulation. This can increase the strength of erections.
Eurycoma Longifolia Ingredients – Are they Safe & Effective?
Bioactive compounds in the supplements balance out hormone levels. The male enhancement product elevates the amount of testosterone in the body, and this can make your sexual drive higher. Other ingredients in the mix elevate your nitrous oxide levels, which increases circulation. This can increase the strength of erections.
Zinc:
Zinc is an essential mineral which apparently does have some link to levels of testosterone. There's research showing that zinc plays a role in balancing levels of testosterone in men[1]. Zinc deficiency is a risk factor in developing hypogonadism.
Maca:
This is a Peruvian root. Raw, it has no benefits in particular but if you cook it, it has mood-enhancing properties and it also improves sexual functioning[2].
Eurycoma Longifolia:
This is an herb which is supposed to increase the amount of testosterone in your body. It is supposed to have sexual enhancement benefits including increasing libido and stamina and strengthening erections[3]. There is some research showing that it isn't effective for erectile dysfunction, however. But a study in 2015 showed that it was a good treatment for this purpose.
L-Arginine:
This amino acid assists in producing more protein in the body, which travels to the muscles and strengthens them. It's supposed to be an effective treatment for erectile dysfunction[4].
Boron:
This is one of the essential minerals already found in the human body. It's very important in regulating the human metabolism[5]. It's responsible for the distribution of hormones such as testosterone and estrogen around the body.
---
Read More About Similar Products:
FAQs
Q: How Should You Take Eurycoma Longifolia?
A: The recommended dosage of this supplement is 2 capsules per day. Take each one separately, and with a meal. For example, take one with breakfast and the second with supper.
Q: How Much Does Eurycoma Longifolia Cost?
A: On the official website, this product is priced at $12.50 for a 30-day supply. It is also for sale on other retail websites for a similar but sometimes a bit of a higher price. It's worth looking around a little, but the official website seems to be the best place to purchase this.
Q: What is Eurycoma Longifolia's Return Policy?
A: There's no visible return policy on the manufacturer's website. If you purchase the product from another retailer, you will be covered under their return policy. Make sure you know what it is before you buy.
Q: Does Eurycoma Longifolia Offer a Free Trial?
A: The manufacturer of Eurycoma Longifolia is not offering a trial for this product. You have to pay full price for the first month and every subsequent month.
Q: Are there any similar products to Eurycoma Longifolia?
A: Yes, there are. Some of which include Bioinvitagen, Boostero, Bio Hard, and Cianix.

Eurycoma Longifolia Review – Final Verdict
Eurycoma Longifolia is a natural male enhancement supplement which is designed to be a male enhancement supplement. The manufacturer claims that it can elevate libido, strengthen erections, and improve sexual stamina. In addition to that, it also has numerous health benefits such as stronger immunity and a healthier heart.
Unfortunately, one ingredient is a potent allergen for many people: shellfish. It's not a needed ingredient so it's not clear why it was included. Some research has indicated that this substance may not be as effective for erectile dysfunction as it's made out to be. Other studies show the same thing about the substance raising testosterone levels – it may not be as effective as it's supposed to be.
Do your homework and compare different manufacturers, so that you get the best deal possible. In addition, check with your doctor before you begin taking Eurycoma Longifolia to make sure it fits in with your health plan.
With countless male performance enhancement supplements available on the market today it seems impossible to find "the right one." Sexual performance declines naturally as men age, which may contribute to feelings of inadequacy or embarrassment. Male performance enhancement supplements should be based on four key factors: active ingredients, ability to support sexual stamina, enhance arousal, improved* sexual desire and backed by clinical studies.
Below you'll find some of the most effective male performance enhancement supplements on the market today, in our opinion.
Our Top Male Enhancement Choices
Verdict on Claimed Benefits: Below is our summary of the available evidence for the claimed benefits of below mentioned Male Enhancement Products based on the available research: