In This Review
Overview
For men, sexual dysfunction can take many forms. It can make it difficult to achieve an erection. It can make endurance in the bedroom a struggle. And it can even put a man off of sex altogether.
Unfortunately, there are both physical and mental causes for male sexual dysfunction. However, there are effective supplements that can counter the effects of sexual dysfunction. One such supplement is called ErecPrime.
ErecPrime uses a natural formula that includes herbs and minerals. The ingredients in the formula have been used for centuries in traditional medicinal practices. Other ingredients are modern.
ErecPrime is also a supplement that can address the physical and mental causes of male sexual dysfunction. In the following review, we will be taking a look at the components of the formula, some of the most frequently asked questions about ErecPrime, and important consumer information.
What is ErecPrime?
At its heart, ErecPrime is a sexual enhancement supplement. It can help with things like blood flow to the penis and other extremities of the body. But the health benefits of ErecPrime stretch beyond the bedroom.
Because of the supplement's ability to improve blood flow to the extremities, it can also be used as a workout supplement. ErecPrime will increase your overall physical stamina which has many applications beyond sexual relations.
And since it can increase your sexual prowess, ErecPrime can also improve your self-esteem and confidence.
ErecPrime comes in capsule form and is available without a prescription. The formula is all-natural and doesn't contain any GMOs and is gluten-free. The formula is pure and was developed under strict manufacturing protocols.
How Does It Rate?
Overall Rating: 4.6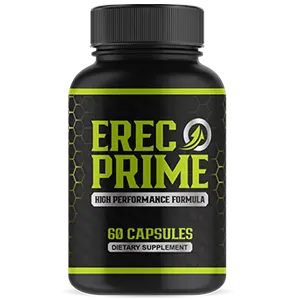 ErecPrime
Brand Highlights
The company is based in the United States
They offer a good money-back guarantee
They also offer bonus materials for multiple-bottle purchases
They produce their products in the US
Key Ingredients
Chrysin
Magnesium
Hawthorn Berry
Epimedium
Saw Palmetto
Magnesium
Tribulus
Pros
ErecPrime can improve your sexual adequacy
It can help you last longer in the bedroom
It can also give you more energy and stamina for working out
The formula is BPA-free
It can increase blood flow to the extremities of your body
It can reduce certain types of inflammation
Cons
It may take up to three months to take effects
There have been limited customer reviews so far
---
About the Brand
ErecPrime is made by a company called Fitness Inspireways. Fitness Inspireways is located in St. Charles, Illinois. The company makes all of its products in the United States in a Good Manufacturing Practices-approved facility.
The creator of the ErecPrime formula is a man named Ethan Cox. He states that he spent many years researching the formula and that it has helped thousands of men across the world improve their physical and sexual health.
The company specializes in making male enhancement supplements and they prioritize natural, holistic remedies. Their products can be bought on the official ErecPrime website and 3rd party retail sites.
How Does ErecPrime Work?
ErecPrime is a natural supplement that works in two major ways: it improves blood circulation, relieves oxidative stress. It improves blood flow by acting as a vasodilator. But what is a vasodilator anyway?
According to the Mayo Clinic staff: Vasodilators are medicines that open, also called dilate, blood vessels. Vasodilators affect the muscles in the walls of the arteries and veins. They prevent the muscles from tightening and the walls from narrowing.
In other words, a vasodilator is any substance that can relax the arteries and veins so that blood vessels can flow more freely through them. Through plant extracts that work synergistically, more blood gets to the further reaches of your body such as your hands, feet, brain, and sexual organs.
That last part is very important because one of the leading physical causes of sexual dysfunction in men is a lack of blood flow to the penis.
ErecPrime has three stages of effects. Firstly, you'll notice more energy, clearer focus, and better quality sleep through the alleviation of oxidative stress. Secondly, you will be able to build more muscle if you take it consistently as directed.
Lastly, if taken 3 months or more, you will have a better sense of well-being as users typically feel positive transformations over this period.
ErecPrime Ingredients – Are They Safe & Effective?
The ErecPrime ingredients have been used to treat ED and other sexual problems for a very long time. They have been tested to be safe and there is a wealth of research data about them. Some of the key ingredients include:
Chrysin
Aromatase is the process by which androgens are turned into estrogens in men. For men, this is problematic because it can lower testosterone levels. In a study published on Pubmed, it was acknowledged that chrysin can inhibit aromatase. [1]
The study found that chrysin was one of a few other natural substances that seem to inhibit estrogen production in men by suppressing its synthesis in the male body. This means that more testosterone is preserved and testosterone is vital to erectile health.
Magnesium
Magnesium is a type of mineral that plays a role in a myriad of bodily functions as we cover at length in our Magnesium article. One of those bodily functions that magnesium is so important to is erectile function.
In a study published by the National Institutes of Health, it was found that there is a link between lack of magnesium and erectile dysfunction. The study therefore suggests that magnesium is necessary for proper erectile function. [2]
Hawthorn Berry
Hypertension is a condition that is marked by high blood pressure – or the inability of blood vessels to flow freely through veins and arteries. One study acknowledged by Mount Sinai showed that hawthorn berry acts as a vasodilator. [3]
The study pointed out that test subjects with hypertension were alleviated of symptoms after they took hawthorn berry:
"In one study, hawthorn extract was found to be effective for hypertension in people with type 2 diabetes who were also taking prescribed medicines."
So hawthorn berry can increase blood flow which is one of the physical causes of ED.
Epimedium
Epimedium, also known as horny goat weed, is an herb that has been used to treat ED for centuries. However, in more recent clinical trials, it has been shown that rats given epimedium displayed higher sexual interest than normal test rats.
The study, published by the National Institutes of Health, also observed that epimedium supplementation also supports erectile function, at least in clinical animal studies. [4]
Saw Palmetto
Saw palmetto is a plant native to the American Southwest. It has been used in holistic medicine to shrink the prostate and treat the symptoms of benign prostatic hyperplasia.
A few small studies have shown that saw palmetto can help improve prostate function including erectile strength and urinary regularity. [5]
Tribulus
A paper published by the Philadelphia College of Osteopathic Medicine, acknowledges that tribulus terrestris, a natural herb, can mimic the effects of sexual hormones in men and women.[6]
This means that tribulus supplementation can restore sexual vigor in men by emulating the effects of testosterone.
Apart from this, other ingredients like Saw Palmetto, Winged Treebine, and Tongkat Ali contribute to the improvement in overall wellness.
Benefits of ErecPrime
Combats Oxidative Stress
The ingredients in ErectPrime also protect your body and brain from the negative effects of oxidative stress.
Reduces Inflammation
By reducing inflammation in key parts of the body and mind, ErecPrime can improve physical and mental performance.
Increases Energy Levels
ErecPrime will also give you a boost of energy. This can be a huge benefit in the bedroom and the gym.
Increased Blood Flow:
ErecPrime can help more blood flow to the penis which will result in stronger erections for longer periods.
Boosted Self-Esteem:
Many men have low self-esteem because they can't please their bed partner. By boosting sexual performance, ErecPrime can also improve your self-esteem and overall outlook.
Estrogen-Blocking:
Some of the ingredients in ErecPrime can prevent testosterone from turning into estrogen which can help preserve strength, stamina, and sexual interest.
FAQs
Q: What are the side effects of ErecPrime?
A: There are no side effects associated with ErecPrime. But you should always talk to your doctor before starting a supplement regimen.
Q: How Much Does ErecPrime Cost?
A: Here are the prices when you buy from the official ErecPrime website:
One bottle: $69
Three bottles: $59 (per bottle)
Six bottles: $49 (per bottle)
Q: How to Use ErecPrime?
A: The suggested usage for ErecPrime states that you should take three capsules before bedtime every day. The capsules should be taken with a full glass of water so that your body can fully absorb all the nutrients. The official website also states that you should take the capsules after you brush your teeth. Each bottle contains 60 capsules. You can also ask your doctor about the best way to take this supplement.
Q: What is the return policy for ErecPrime?
A: ErecPrime is backed up by a 60-day money-back guarantee. This offer is available when you buy through the ErecPrime store.
Q: Is ErecPrime safe?
A: Yes. The ErecPrime formula has been tested and all of the ingredients are safe for adult males.
Q: Where can I buy ErecPrime?
A: You can get ErecPrime from the official website. You can also get it on 3rd party retail sites.
Q: Who shouldn't take it?
A: Men under the age of 18, women, and anyone who has a pre-existing health condition should ask their doctor first.
Q: How long does shipping take?
A: The official website says that on average, your package will arrive five to ten days after you place your order.
Q: Is ErecPrime legit?
A: Yes, this is a hugely beneficial supplement that is effective for improving sexual function and overall well-being.
Reviews of ErecPrime
Although there have been no ErecPrime reviews that have been submitted by customers, the product has been professionally reviewed at length. The consensus is that ErecPrime is a safe supplement that is effective for treating the symptoms of erectile dysfunction.
Reviewers have also pointed out that the components of the formula have been helping improve the sexual performance of men for many years.
Conclusion
ErecPrime is a supplement that can restore your sexual dynamism as a man. It can help you last longer during sex and increase the pleasure of your sexual encounters. By preserving your testosterone, ErecPrime can also help you maintain muscle and strength as you age.
The antioxidant agents in the formula can also protect your body and mind from oxidative stress. This effect will promote an overall sense of well-being and positivity.
Many ErecPrime reviews point to the efficacy of the formula and the fact that all the components are safe and natural. If you are having trouble in the bedroom or simply want to feel more powerful as a man, give ErecPrime a try.