In This Review
What is boostULTIMATE?
BoostULTIMATE is a male natural herbal supplement that addresses the need of men in improving the size of the penis during sexual intercourse, stamina, and the quality of erection that women enjoy.
How Does It Rate?
Overall Rating: 3.6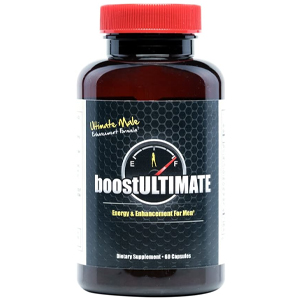 boostULTIMATE
Brand Highlights
Claims 3-4 inches improvement in the length and almost 2 inches in girth.
Endurance, stamina and long-lasting, satisfying penile erections take effects.
30 Day refund-policy.
Key Ingredients
A mixture of Different Ginseng
Tongkat Ali Root Extract
L-Arginine
Maca
Pros
Larger penile size

during sexual intercourse

Longer lasting and harder erections

increased sensitivity to touch

Better libido

Increased self-confidence

Increased stamina

and endurance
Cons
This male enhancement formula is

only available online

There is

limited information regarding the studies done for this product

, although some ingredients have been proven effective
---
How Does boostULTIMATE Work?
The combination of the ingredients that have been clinically tested and had proven its stand in enhancing male sexual health makes it possible for you to achieve your goal with boosULTIMATE.
It works by having ingredients focus on proper blood circulation that aids in providing a fuller, harder, and increased frequency of erections during that intimate moment with your partner.
It also contains ingredients that focus on stamina and endurance crucial to give a satisfying sexual performance with your partner.
boostULTIMATE Ingredients – Are They Safe and Effective?
A mixture of Different Ginseng
– Ginsengs are known to improve blood circulation which encourages energy, endurance, and stamina. It also makes it possible to have dilation of the blood vessels in the penile cavity that encourages harder, fuller, and long-lasting[1].
Tongkat Ali Root Extract
– Tongkat Ali Root, a potent herb explored in our Liborectin Gummies Review, is a natural supplement with a rich history in traditional medicine for male reproductive health. This herb aims to heighten testosterone levels, the dominant male hormone crucial for sexual response and providing the energy needed for vigorous activities like sex. While it's traditionally known to enhance vitality and sexual function, its role in male enhancement continues to be a subject of ongoing research and debate. Some suggest that its active compounds might positively influence testosterone levels and libido, potentially contributing to enhanced sexual wellness.[2]
L-Arginine
– This substance included in boostULTIMATE boosts erection quality by triggering the production of NO or Nitric Oxide that promotes the dilation of blood vessels in the body. It affects the penile cavity that supports erection during those intimate moments with your partner[3].
Maca
– Maca, often referred to as Peruvian Ginseng, is a root herb known for its mood-enhancing effects, which can subsequently lead to increased sexual drive and potentially harder erections. Our Raging Bull 15000 Reviews explore the role of Maca, a potent herbal extract, in men's sexual health. It's believed to not only boost libido but also improve erectile function, contributing to enhanced overall sexual performance.[4]
Tongkat Ali
Tongkat Ali is a popular herbal extract believed to have potential benefits for male reproductive health. Commonly used in traditional medicine systems, Tongkat Ali is thought to support testosterone levels, which can impact libido, muscle growth, and overall vitality. Comprehensive reviews of Endovex suggest that this herb may improve sperm quality, enhance erectile function, and contribute to male sexual wellness.
Also Read – Semenhance

boostULTIMATE – FAQs
Q: How to Use It?
A: Take boostULTIMATE once a day to maintain a good dose of the nutrients each has.
Q: Is boostULTIMATE safe?
A: This male enhancement natural herb formula's ingredients had taken its stand in male sexual health over the years.
There are little to no known side effects reported. It is also recommended that you consult your physician just to be sure before starting your supplementation with boostULTIMATE.
Although this contains natural ingredients, some may still interact with medications you are currently taking for your current medical condition.
Q: Are There Any Alternatives Of This Product?
A: Yes, you can check this product Cava Forte.
Q: What is the Price & Costing
A: You can find great deals on their official website as they offer packages where you can save money. A bottle costs $22.99 which is enough for a month.
The 3-month supply package costs $64.99 while the 6-month supply costs $109.99. These are packages according to your need to supply your body with nutrients crucial to having the greatest sex life you'll ever have!
Similar Products
Customers Reviews
Its like a mini laxative side effect!!
I took this product for a couple days now after I bought it. Taking the pills daily I noticed that it does give you stamina boost, helping with pre-ejaculation, longer time in bed. However, I did not notice any girth size or length size growth BUT there are side effects. Every time I take the pills, about two or three hrs or so, it basically makes you want to go to the bathroom. Its like a mini laxative side effect. You would feel gas in your stomach and fart a lot and then you would eventually have to go do your business. I'd recommend finding a better booster because it's not worth going to the bathroom and having the stomach flu every day.
~Glenester Young.
boostULTIMATE Reviews – The Final Verdict
You will not regret choosing boostULTIMATE over several male enhancement pills that claim to increase your manhood's size during those intimate encounters with your loved one.
Erectile dysfunction will be less of a worry with this sexual enhancer supplement, and you will satisfy her with your endurance in bed as you keep up with her needs. Boost that ego up with boostULTIMATE!
With countless male performance enhancement supplements available on the market today it seems impossible to find "the right one." Sexual performance declines naturally as men age, which may contribute to feelings of inadequacy or embarrassment. Male performance enhancement supplements should be based on four key factors: active ingredients, ability to support sexual stamina, enhance arousal, improved* sexual desire and backed by clinical studies.
Below you'll find some of the most effective male performance enhancement supplements on the market today, in our opinion.
Our Top Male Enhancement Choices
Verdict on Claimed Benefits: Below is our summary of the available evidence for the claimed benefits of below mentioned Male Enhancement Products based on the available research: