In This Review
Overview
Are you troubled by unexplained fatigue or mood swings? Worried about the health of your liver? Many are unaware of the root causes behind liver deterioration, even as its consequences affect daily life.
Liver Guard Plus offers a solution targeting the heart of liver cell degradation. This liver support remedy promises more than just improved liver function: it aims to revitalize your life, ward off mood disorders, and boost energy levels. Packed with 26 powerful, research-backed ingredients, it detoxifies, heals, and rejuvenates.
Is this just another supplement or a game-changer for liver health? Let's dive deep into a thorough review of Liver Guard Plus.
What Is Liver Guard Plus?
Liver Guard Plus is a dedicated liver support supplement designed to enhance liver health by directly targeting the root causes of liver deterioration. This advanced formula inhibits liver cell degradation, primarily arising from destructive processes in the gut.
With a blend of 26 natural ingredients from plant extracts and vitamins, the product promotes liver function, recovery, and rejuvenation. It is free from GMOs[1], toxins, and chemicals. Besides combating liver issues such as cirrhosis, damage, or fatty liver, it also offers additional benefits like reduced depression, anxiety, and fatigue.
As a product manufactured in an FDA-registered facility in the USA, Liver Guard Plus pledges transformation without any traces of liver deterioration.
How Does It Rate?
Overall Rating: 4.8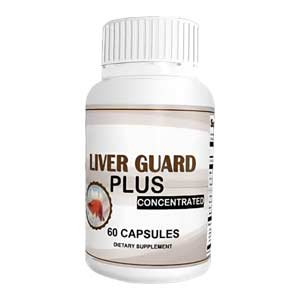 Liver Guard Plus
Brand Highlights
Made in USA
60-Day Money-Back Guarantee
Free Shipping in the US
Key Ingredients
Milk Thistle
Beet Root
Dandelion
Jujube Seed
L-Cysteine
Feverfew
Pros
Protects the Liver
Flushes Out Toxins
Nourishes the Liver
Supports Digestion
Stimulates Bile Flow
Regulates Cholesterol
Boosts Immunity
Improves Overall Health
Cons
May Be Relatively Expensive
Ingredients Not Fully Disclosed
Not Suitable for Individuals Under 18
Not Suitable for Pregnant or Breastfeeding Mothers
Not a Substitute for Medication.
---
About the Brand
Liver Guard Plus is a groundbreaking supplement produced in an FDA-registered facility in the USA. It is primarily formulated to counteract liver cell degradation linked to harmful gut processes ensuring optimal liver function and rejuvenation.
This brand combines global ingredient sourcing with advanced technology to offer users a solution against liver cirrhosis, damage and fatty liver conditions.
How Does Liver Guard Plus Work?
Liver Guard Plus operates based on a deep understanding of liver cell damage and its primary causes. The liver faces threats from free radicals[2] that inflict harm on its cells and tissues. This causes the death of liver cells.
One of the sources of these harmful substances is the gut. When the gut absorbs toxic substances, it stimulates fat accumulation in and around the liver. These harmful elements are carried from the gut to the liver, largely due to microbes that bypass the digestive process, especially as the intestinal walls thin with age.
Liver Guard Plus aims to address this issue at its core. It offers a defense mechanism for liver cells and tissues, promoting both short-term and long-term recovery benefits. It also empowers liver cells to regenerate on their own by inhibiting harmful microbes from entering the bloodstream and attacking liver cells.
The process can be broken down into three steps:
Absorption of Nutrients
The potent nutrients in Liver Guard Plus work to remove liver-damaging microbes while also nourishing and repairing the liver cells upon ingestion.
Stopping Liver Cell Degradation
It contains specific ingredients like L-cysteine and Feverfew that enhance liver cell repair.
Liver Regeneration
It contains 26 natural ingredients that combat inflammation and shield the liver from future damage. The comprehensive approach of Liver Guard Plus, paired with its potent ingredients, makes it effective in rejuvenating liver health.
Liver Guard Plus Ingredients – Are They Safe & Effective?
Liver Guard Plus boasts a potent combination of 26 ingredients specifically chosen for their properties in enhancing liver function and promoting liver health. Here's a list:
Milk Thistle
Beet Root
Dandelion
Jujube Seed
L-Cysteine
Feverfew
Let's delve into some of the primary ingredients, their sources, and the benefits they offer:
Milk Thistle
Milk Thistle is a natural herb known for its liver-protecting qualities. It is rich in silymarin, a potent antioxidant that defends the liver against damage. Based on research in Advances in Therapy[3], it improves liver function, reduces inflammation, safeguards against other diseases, and aids digestion by lowering cholesterol levels.
Dr. Andrew Weil, a renowned integrative medicine expert, has stated, "Milk thistle can be used as a natural treatment for liver problems. These liver problems include cirrhosis, jaundice, hepatitis, and gallbladder disorders."
Beet Root
Beet Root is a root vegetable. As we documented in our Beetroot 101 article, it contains betaine, an antioxidant that shields the liver from free radicals, toxins, and oxidative stress damage. Research in Food Science and Nutrition[4] shows it promotes a healthy anti-inflammatory response in the liver and supports fat digestion. It also enhances liver function due to its high fiber content.
Professor Andrew Jones from the University of Exeter's Sport and Health Sciences department has extensively researched beetroot and its impact on athletic performance. He said: "Our studies have shown that nitrate-rich foods, like beetroot, can increase blood flow and oxygen supply to muscles, enhance the efficiency of the mitochondria (the cell's energy factories), and, therefore, help people extend their time-to-exhaustion during high-intensity exercise."
Dandelion
The roots and leaves of the dandelion plant. Widely recognized for treating liver conditions. As documented in our 25 Benefits Of Dandelion Root Extract, it enhances bile flow, which is vital for fat digestion. The sesquiterpene lactones in dandelions boost bile production and tackle digestive problems. Based on research published in antioxidant[5], its antioxidants combat liver damage from free radicals and toxins.
According to Dr. Edward Group, founder of Global Healing Center, "The benefits of dandelion include relief from liver disorders, diabetes, urinary disorders, acne, jaundice, cancer, and anemia. It also helps in maintaining bone health, skincare, and weight loss."
Jujube Seed
Jujube Seed is a fruit-bearing plant. It clears pathways to supply oxygen and nutrients to the liver. It also reduces inflammation and optimizes liver function. Studies have shown that jujube seed reduces liver damage from hepatitis and fibrosis.
According to research published in the Journal of Nutrition and Metabolism[6], jujube seed aids in regulating cholesterol and promoting heart health while offering calming properties that diminish stress and anxiety.
Dr. Michael Tierra, an herbalist and acupuncturist, has mentioned in his writings that "Jujube seeds have a long history in traditional Chinese medicine for their calming properties and are often used to help manage insomnia and anxiety."
L-cysteine
L-cysteine is a non-essential amino acid. Based on research published in PubMed[7], L-cysteine aids liver cells in sending purifying signals to the bloodstream and gut. It also effectively clears microbes and toxins.
Dr. Alan R. Gaby, a nutritional medicine expert has written that "L-cysteine can serve as a precursor to the antioxidant glutathione, one of the body's primary, endogenous antioxidants."
Feverfew
Feverfew is a plant that originates from Western Asia and the Balkans. According to research published in the International Monthly Journal In The Field Of Hepatology[8], Feverfew is a natural remedy for liver problems. It collaborates with L-cysteine to enhance liver function.
Dr. James Duke, an ethnobotanist and author of the "Green Pharmacy," has stated that "Feverfew's parthenolide compound can help reduce inflammation and muscle spasms, which might explain its effectiveness in treating migraines."
How to Use Liver Guard Plus?
Liver Guard Plus is formulated for easy use and to fit seamlessly into daily routines. Here's how to use the supplement:
Dosage: Take two capsules daily with a glass of water for better absorption.
Consistency: For optimal results, use it consistently. The product's website indicates that over 93,000 individuals, both men and women, have benefited from the formula.
Duration: The manufacturer suggests taking 3-6 bottles of Liver Guard Plus to experience the best results, ensuring improved liver functions and long-term detoxifying effects.
How Much Does Liver Guard Plus Cost?
The price for Liver Guard Plus depends on the quantity purchased and offers customers flexibility based on their needs:
30-day Supply: One bottle of Liver Guard Plus costs $69. This option comes with an additional shipping charge.
90-day Supply: If you opt for the package of three bottles of Liver Guard Plus, the price per bottle drops to $59. This package includes free shipping for customers within the US.
180-day Supply: If you opt for six bottles of Liver Guard Plus, the price drops to $49 per bottle. It includes free US shipping.
For customers eager to get their hands on the product, the shipping time within the US is between 5-7 business days. For international customers, orders typically take between 7-14 business days.
Benefits of Liver Guard Plus
It Protects the Liver: It stimulates the body's defense mechanism, and shields liver cells from harmful microbes and toxins.
It Flushes Out Toxins: It contains antioxidants that help in detoxifying and removing toxins from the body.
It Nourishes the Liver: It ensures that the liver receives essential nutrients and oxygen.
It Supports Digestion: Its high fiber content reduces indigestion issues and promotes a healthy digestive system.
It Stimulates Bile Flow: It helps in the storage and release of bile, which aids in fat breakdown.
It Controls Cholesterol Levels: It regulates lipid metabolism, ensuring healthy cholesterol and triglyceride levels.
It Boosts Immunity: Its antioxidants fortify the immune system, reducing disease risks.
It Improves Overall Health: It detoxifies both the liver and gut, combating harmful microbes.
Overall, Liver Guard Plus is recommended to give you back your natural born liver strength and to activate your body's natural protection mechanism.
Liver Guard Plus FAQs
Q: What is Liver Guard Plus?
A: Liver Guard Plus is a natural supplement designed to support liver health, targeting the root causes of liver deterioration and offering protection from harmful microbes.
Q: How does Liver Guard Plus work?
A: The formula targets harmful microbes that penetrate the bloodstream and liver from the gut- this inhibits their activity, nourishes and repairs damaged liver cells, and offers both short-term and long-term recovery benefits.
Q: Is Liver Guard Plus safe for everyone?
A: It contains natural ingredients. However, individuals on prescription medication, those with chronic health conditions, children below 18, and pregnant or breastfeeding mothers should consult a healthcare practitioner before use.
Q: What if I'm not satisfied with the product?
A: Liver Guard Plus offers a 60-day money-back guarantee. If you're unsatisfied, you can request a 100% refund.
Q: How long does shipping take?
A: For US orders, the shipping time is 5-7 business days. International orders take 7-14 business days.
Q: Are there any side effects?
A: Liver Guard Plus is made from natural ingredients and does not cause adverse side effects. However, it's always best to consult a healthcare professional before starting any new supplement.
Q: Is it a Scam?
A: We are committed to transparency in our operations. We are easily reachable and will provide additional information or documentation to prove our legitimacy.
What Do The Liver Guard Plus Reviews Say?
I can't believe the difference this product has made. Before taking it, I was always feeling sluggish and bloated, and I knew my liver was struggling. But now, I have more energy and I feel lighter. My digestion has improved, and even my skin looks clearer. I'm so grateful to have found this supplement. –Emily Johnson, 56-year-old from San Diego, California
I have struggled with liver issues for years and have tried countless remedies and medications, but nothing seemed to work. That is, until I tried Liver Guard Plus. After a few days of taking it, I began to feel a noticeable difference in my energy levels and my overall health state was better. I find that the combination of ingredients nourishes and supports my liver and kidneys as well. Most importantly, I noticed a significant improvement in my liver function tests during my last checkup with my doctor. This supplement has truly been a game-changer for me and I highly recommend it to anyone dealing with liver issues. –Christopher Davis, 62 year old, from Portland, Oregon
After a friend recommended Liver Guard Plus to me, I was hesitant to try it at first. But after researching the science behind the product and taking it daily, I can confidently say that I've noticed significant improvements in my liver functions and overall health. I feel more energized and less fatigued, and I've even noticed an improvement in my digestion. I highly recommend this supplement to anyone looking to support their liver, eliminate toxic substances and improve their overall well-being. –Michael Smith, 76 years old, from Nashville, Tennessee
Verdict: The many positive reviews show that Liver Guard Plus makes an incredible difference in liver health. It is a promising solution for people with liver problems or people looking to prevent these problems.
Liver Guard Plus Conclusion
Liver Guard Plus combines a blend of ingredients that address liver concerns effectively. Its primary focus is on revitalizing and nourishing the liver while also providing defense against attacks originating from the gut.
The rich formula strengthens the liver's ability to fend off damage caused by toxins, free radicals, and inflammation. Furthermore, Liver Guard Plus promotes health with its fiber content. Each of its 26 ingredients is sourced from different parts of the world to ensure quality and efficacy.
The countless testimonials from more than 93,000 individuals prove its transformative effects. In an era where prioritizing health takes a backseat often, Liver Guard Plus serves as a reminder of the importance of well-being. It goes beyond being a supplement; it represents a commitment to optimizing liver function and promoting health.