In This Review
Lip Volumizer Overview
Lip Volumizer is, as the name suggests, designed to enhance the appearance of the lips by increasing their fullness. However, it also has the ability to moisturize and soothe and there are published clinical research results to back this up.
In clinical tests, Lip Volumizer was found to increase the lips hydration by 50% over 30 days, enhance fullness by 40% and improve the texture. Unfortunately, no before and after photos are shown, but there are customer testimonials provided.
The Lip Volumizer formula is very simple and contains a number of moisturizers including Jojoba oil and Beeswax, plus the peptide Palmitoyl Oligopeptide. No application instructions are shown but it is likely that the product can be used daily either alone or under lip color.
How Does It Rate?
Overall Rating: 3.4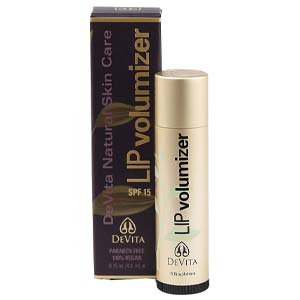 Devita Lip Volumizer
Brand Highlights
The product called Lip Volumizer is manufactured by the Devita skincare company.
The website for the company is professional and well-designed but it appears to be quite new and many of the pages have not been completed.
As such, there is no available information for Lip Volumizer, although product details can be found on retailer's websites.
Devita is a company that is very environmentally responsible and they support a number of charitable institutions.
The site includes a store locator tool, details regarding the background of the company and the founder plus special offers and new products.
Key Ingredients
Euphorbia Cerifera (Candelilla) Wax
Butrospermum Parkii (Shea Butter)
Glycerin (Vegetable)
Cocos Nucifera (Coconut) Oil
Persea Gratissima (Avocado) Oil
Coconut Alkanes
Coco-caprylate/caprate (Vegetal Blend)
Sodium Hyaluronate (Hyaluronic Acid)
Pros
Helps plump lips
Gentle ingredients
Non-irritating volumizing agents
Contains SPF 15
Can be worn under lip color
Cons
Product information is limited
No company contact details are provided
There are no money back guarantee details
Fairly expensive to use as an everyday balm
How Does Lip Volumizer Work?
Devita Lip Volumizer helps in the reduction of furrows. DeVita Lip Volumizer 15 SPF boosts hydration with shea butter, coconut, and avocado oil, leaving lips soft and supple, and it also contains sunscreen SPF 15 UVA/UVB broad spectrum protection.
Lip Volumizer Ingredients – Are they Safe & Effective?
– According to The Environmental Working Group, it extends the residence time of natural emollients on the skin and helps to provide a protective, moisture-resistant environment for skin. [1]
– It regenerates and soothes the skin, protects it from external factors like UV rays and wind, and is high in antioxidants. [2]
– Vegetable glycerin may improve skin health by soothing skin irritation, protecting against infection, and promoting wound healing. According to research, using glycerin-containing products can protect your skin from irritants and microbes while also soothing inflamed or wounded skin. [3]
– Cocos Nucifera (Coconut) Oil is a non-volatile, non-fragrant plant kernel oil with emollient properties for skin due to its high saturated fat content. This oil is high in medium-chain fatty acids, which are also known as medium-chain triglycerides. [4]
– These work on the skin's surface to retain moisture and prevent water loss, which can lead to dehydrated skin. [5]
Avocado oil not only replenishes, smoothes, and softens skin, but it can also visibly calm skin and is high in natural antioxidants like vitamins A, C, D, and E. [6]
Coconut Alkanes
– Coconut Alkanes are an advantageous ingredient that has moisturising and nourishing properties that benefit the skin.
– Coco Caprylate/caprate is ideal for the formulation of light lotions because it improves spreadability and glide while leaving a non-greasy, soft after touch. [6]
– Sodium hyaluronate can penetrate into deeper layers of the skin and attracts and binds water. Hyaluronic Acid is also found to be beneficial for hydrating lips and plumping, as referenced in our City Beauty City Lips article. [7]
Other Ingredients include tripeptide-1, palmitoyl oligopeptide (plant based), tocopherol (vitamin E), vitis vinifera* (grape) seed extract.
Alternatives to Lip Volumizer:
Carmex Lip Balm
Lip Fusion XL
Z Bigatti Lip Pout
Lip Volumizer FAQ's
Q: How to Use Devita Lip Volumizer?
A: Apply to lips prior to sun exposure for sun protection. It is not waterproof. Reapply frequently, especially after swimming or towel drying.
Q: How Long Will It Take To Show Result?
A: Lip Volumizer was discovered to increase hydration by 50% over 30 days, increase fullness by 40%, and improve texture.
Lip Volumizer Reviews – Final Verdict
Devita seems to be a reputable company that strives to produce good quality, environmentally-conscious products. It is unfortunate that their official website is not complete, as it means the consumer has to search elsewhere for information on their products. However, the fact that Lip Volumizer is affordable and is backed up with clinical research makes this a recommended product.
When it comes to choosing any kind of product, many consumers are concerned about the product's effectiveness and safety. The same goes for choosing a lip plumper. Of course, you need to find products that work so that you won't be wasting your money. You also need to make sure that the lip plumper is completely free from side effects since many products contain harmful ingredients that may cause irritation, severe allergic reactions and other side effects. Scrutinized and reviewed by experts, we have rated the most effective lip plumper for our valued readers.
Below are some of the best Lip Plumping products on the market today, in our opinion.
Our Top Lip Plumping Choices
Verdict on Claimed Benefits: Below is our summary of the available evidence for the claimed benefits of below mentioned lip enhancing plumpers and lip gloss based on the available research:
Beverly Hills MD Anti-Aging Lip Enhancer

Enhances Lip Volume*
Gold Star Evidence
Targets Lip Creases*
Gold Star Evidence
Deeply Hydrates the Lips*
Gold Star Evidence
Long-Lasting Effects*
Strong Evidence
City Lips | Plumping Lip Gloss
Instantly Plumps the Lips*
Gold Star Evidence
Revives Lip Vitality*
Strong Evidence
Long-Term Solution*
Gold Star Evidence
Non-Sticky Formula*
Strong Evidence
Lipsmart | Lip Balm & Hydrating Lip Treatment
Enhances Natural Lip Color*
Gold Star Evidence
Provides Deep Hydration*
Strong Evidence
Improves Lips Texture*
Strong Evidence
Suitable for Sensitive Skin*
Strong Evidence