What is Lip Licking?
Lips are one of the most sensitive parts of the human body and all of us have experienced, it is rather so very evident that as soon as the weather starts changing towards the winters, the skin, especially of lips becomes drier and moisture is forsaken.
In colder regions and climate, the problem of chapped and flaky lips prevails more persistently.
The dryness of the lips causes the burning sensation and sometimes bleeding too. This leads to a lot of irritation causing many of us to stick out our tongue on to our lips licking it to get away with the moisture-less lips.
This lip-licking leads to an augmentation of the condition and results in a state known as lip licking dermatitis or lip licker's dermatitis.
Causes of Dermatitis Lip Licking
Lips are delicate and have almost no moisture glands in the dermis, and that is why when they are revealed to the cold, dry winds, they become dehydrated and irritable.
Now, these situations lead to an unconscious tendency of licking lips.
The state worsens as the already damaging lips are revealed to saliva repeating the damage and burning process of lip licking, dryness, and flakiness.
This keeps on happening, and it becomes very difficult thus to get out of this problem as most of the times the action of sticking out the tongue and licking the lips is involuntary.
This problem is more prominent in children as it is very difficult to put a halt on their lip-licking habit in dry conditions.
In some cases, recurring lip licking is rooted in stress and anxiety that makes the lip-licking habit even more hard to get away with.
Preventions
To put off lip licking dermatitis in the cold weather especially, and lessen the propensity to lick the lips, always wear a lip balm with natural, good and active ingredients so that the lips are not directly exposed to the dry and cold winds of the winters, especially when you go somewhere out.
Also in the case of stress-related sources, try meditation and other stress busters. There a lot of remedies that can let you get rid of lip-licking dermatitis. Let's discuss a few of them in detail:
Olive Oil: Olive oil is an amazing way to get softer, normal and fuller lips devoid of any dryness.
It is full of omega 3 fatty acids providing essential oils to the lip skin. Also, its stale taste would let you avoid licking your lips. Apply it on a regular basis with soft cotton on your lips.
Drinking Water: Water is a natural hydrant and drinking adequate water along with many other health issues cures lip licking dermatitis.
This stage occurs due to dryness on lips and drinking water can hydrate your body making your lips softer and hydrated.
Aloe-Vera: The herbal advantages of Aloe Vera have proved and made it an incredible healing agent for skin problems and it works for the worse condition of lip licker's dermatitis. Applying natural aloe vera gel is an amazing solution to get away with the inflammation, bleeding, and irritation on the lips.
Vitamin E, which is abundant in aloe vera helps in eradicating away the dryness and is an essential nutrient for lips.
Baking Soda: Take some baking soda, mix it with some water and make a coarse paste. Apply this paste thoroughly on your lips to exfoliate them in the best way possible.
It doesn't moisturize but provides essential nutrients in order to let the lips breathe and get them rid of inflammation and bleeding wounds and chap cuts. You can also mix the baking soda with honey for better results.
Shea Butter: Shea butter is a source of essential oils and detoxifying components that let the lips hydrate softly.
Shea butter not just provides hydration, but also soothes the burning making a screen on the lips to keep the moisture intact and let the lips look fuller and flake-free.
What is Expected Time for Results?
Home remedies are the natural, quick and easy process but can take their own time to show the desired results.
Any Side Effects of These Home Remedies
Home remedies are largely side-effect free so far your skin is not allergic to substances like olive oil or something else like baking soda.
Always consult your dermatologist or try and test it on your hand first. In case of any negative or adverse effect, do not go for the respective ingredient.
Treatments
Apart from the effective home remedies, there are a few quick treatments too, that can heal lip licker's dermatitis:
Antihistamine
Antihistamines are first considered for any kind of allergies and are strong as they contain brompheniramine, chlorpheniramine, dimenhydrinate, diphenhydramine, and doxylamine as the first generation causing drowsiness, nausea, and heavy headedness; and the second generation antihistamines contain loratadine and cetirizine which cause lesser side effects and can help you with infections of dry lips causing burning, bleeding and inflammation.
Corticosteroid
Applying an oral corticosteroid or an injection suggested by your medical practitioner in case of ill effects of lip-licking dermatitis can heal up the burning and inflammation on the lips.
It also cures itchiness. Corticosteroids, like prednisone and hydrocortisone, imitate the results of hormones in the body that treat injuries and reduce inflammation.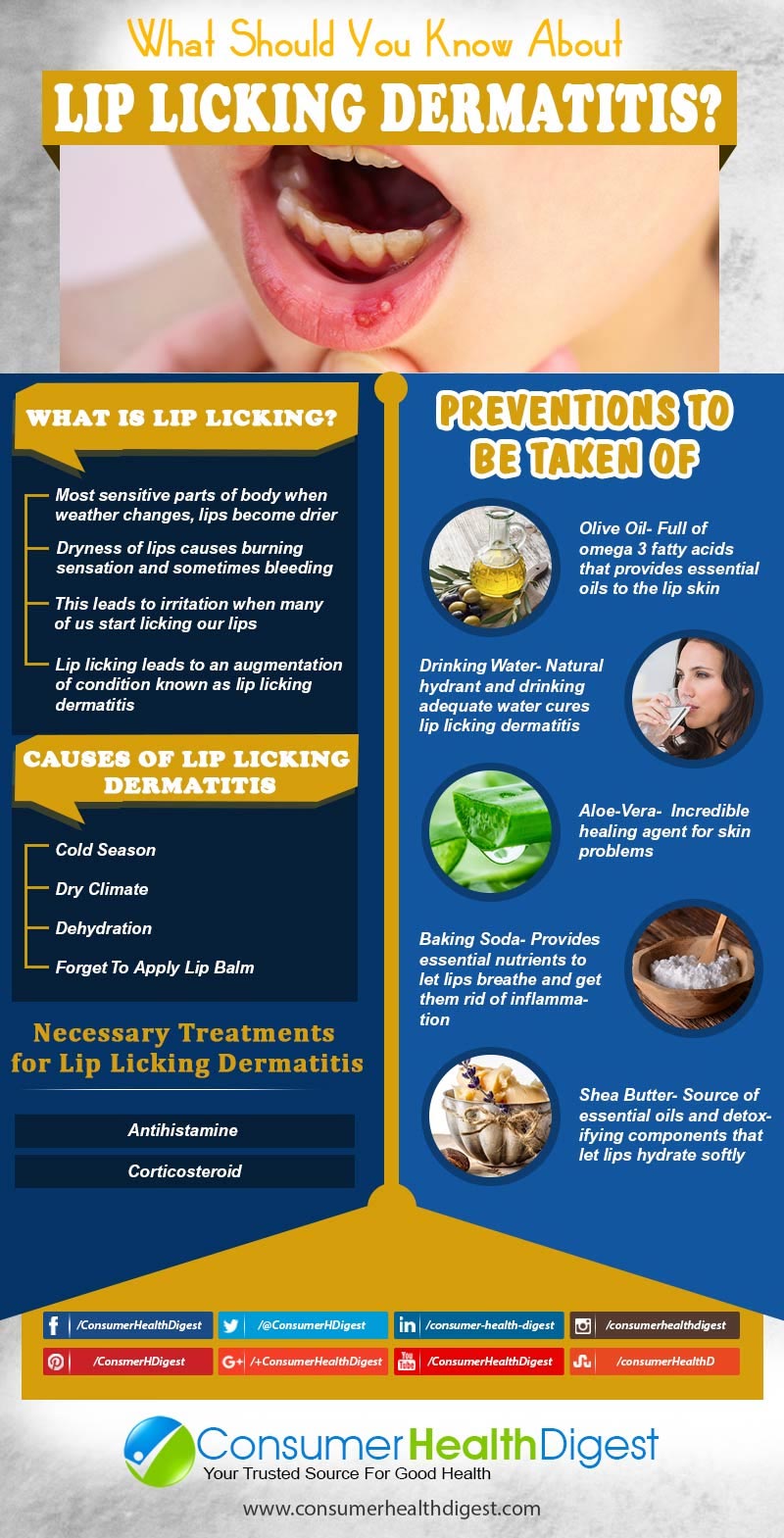 Going for Home remedies always worth an option in case the situation is under control, and you want to get rid of it in and according to your comfort and ways.
The chemical treatments should always be avoided in the case of controllable situations in order to avoid any minor or major side effects.
Still, if you are facing worsened conditions of lip licker's dermatitis, do not hesitate to go for the treatments after proper consultation with your doctor.
Read Also- Trypophobia: Types, Symptoms, Causes, Diagnosis And Treatment
View All