In some cases joint pain comes and goes, while in others it is more persistent, depending on the underlying cause. Regardless of the reason, this type of pain affects your mobility and overall quality of life. If you're experiencing joint pain, you're among millions of people who struggle with the same issue.
Of course, consulting a doctor is always advised, but besides the treatment he/she recommends, there are many other things you can do at home to relieve pain.
For instance, natural joint pain relief products that are easily available to everyone fit into a holistic approach to health and they help relieve symptoms while improving your quality of life.
Out of hundreds or thousands of these items, it can be difficult to choose the ideal one for you, which is why this post will be of huge help. Keep on reading and discover a wealth of useful information on joint pain relief products.
Topical Rated Joint Pain Relief Products of 2022
Bearing in mind it can be quite overwhelming to search for joint pain relief products, particularly when you want to find one as soon as possible, we have evaluated a multitude of supplements to help you out. Below, you can see the list of five best-rated joint pain topical supplements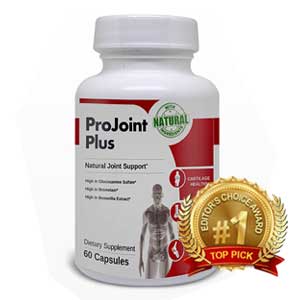 ProJoint Plus is a natural joint support supplement made from natural ingredients designed to nourish cartilage and connective tissue. In this way, it can benefit joint and cartilage health and mobility. Naturally, as we age, joints do too, so many aging people suffer joint pain, joint toughness, and reduced joint movement. It happens most often in the knees, shoulders, hips, and elbows. Some of these ailments are known as osteoarthritis. The purpose of this supplement is to provide your joints and cartilage with natural ingredients that can reduce pain, increase mobility and improve joint health. It can sustain the connective tissue by supplying the antioxidants turmeric and quercetin. ProJoint Plus consists of natural ingredients such as glucosamine sulfate, chondroitin sulfate, boswellia extract, turmeric, quercetin, methionine, methylsulfonylmethane (MSM) and bromelain. Advantages of ProJoint Plus include:
It can relieve the symptoms of inflammation of the musculoskeletal system.
The product can effectively nourish the cartilage tissue.
ProJoint Plus can be used as a supplement to improve joint and cartilage health.
Offers instant reprieve to joint pains
Promotes better functionality for cartilage tissues
Can heal and repair joint tissues
ProJoint Plus can be procured without prescription. Take three capsules per day with or without food as directed by your doctor. In general, you can take all three capsules in one meal; or you can take one capsule with each meal (breakfast, lunch, and dinner).
Read the detailed review of ProJoint Plus here
.
Joint N-11 is a dietary supplement designed to improve the user's joint health and relieve the discomfort associated with the reduction of cartilage. Zenith Labs manufacture the N-11 joint. The components of the Joint N-11 come from natural sources. Some ingredients focus on the direct storage of joint cartilage, and others help the body absorb nutrients. Joint N-11 supposedly contains niacinamide, antipellagra vitamin, ginger root powder, turmeric(curcuma), and BioPerine (a homogenous extract from black pepper). Zenith Labs also claims to have its formulas developed by renowned doctors. Likely benefits of Joint N-11 are as follows:
This supplement can relieve pain associated with osteoarthritis.
It can also help the user regain original mobility.
It can promote a more active lifestyle.
It can relieve joint stiffness.
It can help with swollen joints.
It contains mainly natural ingredients.
The purpose of joint N-11 is twofold. First, is to preserve the cartilage that the user already has. Cartilage is essential for cushioning joints, cushioning shocks, and maintaining joint mobility. Second, joint N-11 is designed to relieve inflammation in joints and associated pain. Joint N-11 is known for quick body absorption and you can take two capsules each morning
Read the detailed review of Joint N-11 here
.
KrillMD is a
best supplement for joint pain
from the US-based manufacturer iMD, intended for people with painful and hardened joints. Joint pain can be caused by aging, previous injuries, and medical conditions such as arthritis, it can seriously affect your quality of life and even lead to complete immobility. The KrillMD ™ formula uses unique krill oil, which is twice as effective as fish oil. This combination of Omega-3 linked to the phospholipid of krill and the powerful antioxidant of astaxanthin makes for a great product, unlike others currently on the market. These ingredients are often found in joint support formulas and have many benefits regardless of the cause of the pain. KrillMD is said to have the following benefits:
Improved mobility thanks to more flexible joints.
A great source of omega-3 fatty acids, which you need to support mental, joint, and general health
Helps keep cholesterol levels healthy.
There is a 90-day money-back guarantee.
According to the product website, most consumers will have positive results if they take the product in the recommended dose of two tablets a day and take them with a glass of water. Discounts are available to purchase accessories, and customers can save money by signing up for a monthly subscription program.
Read the detailed review of 1MD KrillMD here
.
MoveMD is an organic supplement that can help eliminate joint pain and inflammation in just a few days. It is claimed that the product can lubricate the joints and thus prevent them from hardening. This joint support supplement is manufactured by 1MD, a supplement product company based in California. It is vital to sustaining a healthy food regime alongside taking MoveMD joint supplements. MoveMD contains five active ingredients: boswellia extract, natural astaxanthin, eggshell collagen, type II chicken collagen, and hyaluronic acid. Users of MoveMD are likely to enjoy benefits such as:
It has been suggested to reduce joint discomfort and pain.
It is said to help with joint flexibility and mobility.
The product can help lubricate the joints, thereby reducing stiffness and improving the range of motion.
It is an all-natural supplement with possibly no side effects.
It contains antioxidant properties very useful in fighting oxidative stress.
It allows a targeted discomfort relief directly to vital synovial joint fluid.
Then the results can likely be obtained within seven days. The recommended dose of MoveMD is one capsule per day with a glass of water. You can take these capsules with food or without food.
Read the detailed review of 1MD MoveMD here
.
Nyloxin is a topical product specifically created to treat severe chronic pain which has a tremendous ability to affect a person's quality of life. The topical gel treats back pain, neck pain, joint pain, headaches and migraines, and arthritis.
Nyloxin works by targeting the same receptors on nerve cells that are also recognized by nicotine. The gel blocks the action of neurotransmitters that activate inflammatory pathways, which causes the inflammation levels in the body to be reduced significantly. In turn, this will also reduce the level of pain that is accompanied by the inflammation a user may be experiencing.
The main active ingredient in this product is Asian cobra venom 4X which has analgesic and anti-inflammatory properties. According to the manufacturer of Nyloxin, this particular active ingredient found in the product has been proven to offer similar effects as Morphine when used to treat certain types of pain – including pain symptoms experienced due to arthritis, rheumatism, and cancer.
The comes in two different forms, including a roll-on and a topical gel, and two different strengths are available – a regular strength and an extra strength have been introduced by Nyloxin, which a customer can decide on based on the level of pain they experience.
Read the detailed review of Nyloxin here.
Topricin has been around since 1994 and it is considered one of the best joint pain relief products on the market. The cream is manufactured in the US and fits perfectly into a homeopathic approach to the treatment of joint pain.
The manufacturer of Topricin has a positive reputation amongst thousands of loyal customers, and their products are very popular in both online and offline retailers. It is also important to mention that Topricin doesn't interfere with medications you're taking and doesn't induce side effects.
The cream comes with a gentle texture that gets absorbed easily and doesn't leave oily stains. The product will also not make the skin feel oily or dry out the skin in the areas where the cream is applied. Some ingredients found in this product include Arnica Montana for pain relief, belladonna which relieves muscle spasms, Lachesis mutus to relieve sciatic pain and carpal tunnel, and others.
For best results, it is advised that the user apply the Topricin topical cream on the area where the symptoms are experienced for approximately three to four times on a daily basis – the cream can be used as needed, but continued use of the cream may offer the user better results.Read the detailed review of Topricin here.
FlexGen is another very popular topical cream that has been developed to directly target common joint-related symptoms that people tend to experience.
The manufacturer of FlexGen is known as New Vitality, a trusted company in the healthcare and natural supplement industry – New Vitality offers a range of different products for both men and women.
One particular factor about FlexGen that makes it more popular than many of its competing products is the fact that this cream contains a particular ingredient that has been approved by the Food and Drug Administration (FDA) or the United States, as reported by the manufacturer of this product.
The manufacturer of FlexGen claims that this product has been formulated to provide fast-acting results to the user. Once applied to the area where inflammation and pain are experienced, the product claims that the user should start to feel the benefits of the cream within the first 30 minutes after they have applied it.
In addition to promising to reduce the severity of both pain and inflammation, FlexGen also claims that this topical product will improve the user's mobility and joint range-of-motion. The cream is odorless and not at all greasy, making it appropriate for anyone suffering from joint-related symptoms. Read the detailed review of FlexGen here.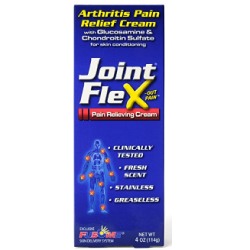 The last product on our list is JointFlex, another topic product that provides a significant relief in joint pain and inflammation. The product has been developed by Strides Pharma Inc and makes numerous claims regarding potential benefits that the user is supposed to experience when the product is applied to the areas where particular symptoms are experienced.
JointFlex is quite a unique product since it is the only natural joint topical supplement that features the Fusome delivery technology, a special technology that has been developed to help improve the delivery of the active ingredients found in the product toward the user's blood circulatory system.
Apart from the Fusome delivery technology, JointFlex also contains Chondroitin and Glucosamine. Many studies have provided evidence that the combination of these two ingredients is very effective[2] – much more effective than when using them separately. JointFlex is a smooth cream that will not cause the skin to become oily. The product also does not leave an unpleasant smell like many products do, which is another beneficial feature offered by JointFlex.
It should be noted that the manufacturer of JointFlex offers the customer a 30-day guarantee on the purchase of this product, which means the customer can test the product for a month and decide if they wish to continue using it – should they decide not to continue using the product, they can ask for a refund on their purchase. Read the detailed review of JointFlex here.
What are the Side-Effects of Drugs Used to Treat Joint Pain?
A variety of drugs can be provided to a person when they suffer from joint pain, no matter the cause.
In some cases, over-the-counter medication may be enough to provide the patient with the level of pain relief they require, but in some cases, prescription drugs that are stronger may be needed.
Amongst the medication used to treat these symptoms, NSAIDs, also known as non-steroidal anti-inflammatory drugs, are the most common. The problem, however, is that these drugs can cause a significant number of side-effects.
The use of NSAIDs puts a patient at the risk of experiencing symptoms such as stomach pain, heartburn, stomach ulcers, headaches, dizziness, allergic reactions, kidney problems, liver problems, increased blood pressure and more, as explained by WebMD. Certain types of NSAIDs can also increase a person's risk of bleeding.

People also ask
Joint Pain Relief Products Overview
Joint pain relief products or dietary supplements are created with the purpose to help users relieve pain, discomfort, and improve mobility at the same time. They usually come in the form of pills, capsules, or topical creams and gels.
The supplements feature all-natural list of ingredients, which is why they are usually safe for consumption and don't induce adverse effects. Although ingredients used in joint pain relief products are well-known for their ability to help users, studies on this topic are usually inconclusive. This emphasizes the importance of more research on this topic to ensure that products do work.
Above all, health care providers call for tougher regulation of joint supplements.
Why?
In order to get the maximum out of some product and alleviate pain, you have to purchase the right and the best joint pain supplement, which isn't always easy because the market is swamped with hundreds of products and not all of them have the same quality.
The most common ingredients[1] found in joint pain relief products are:
Glucosamine – Helps maintain a healthy joint function
Chondroitin – Plays a role in health of connective tissue, especially in cartilage
MSM (methylsulfonylmethane) – Reduces pain and physical disability
PUFAs (polyunsaturated fatty acids) – Relieves pain, anti-inflammatory effects
Ginger – analgesic effects
SAM-e (S-adenosyl-l-methionine) – Pain relief
Vitamin C – Important for building connective tissue
Devil's claw – Relieves pain and inflammation
Magnesium – Helps maintain normal muscle and nerve functionality
Turmeric – Anti-inflammatory effects
Basically, topical joint pain supplements focus on delivery of herbs and spices as well as compounds that are naturally occurring in our body.
How Topical Joint Pain Relief Products Work?
Joint pain relief products use a potent formula to deliver their benefits. They work to alleviate joint pain and discomfort in an entirely natural manner.
Topical gels and creams for joint pain also reduce inflammation which is the source of discomfort.Regular intake of these products improves a user's mobility. You're able to do some common everyday activities without feeling pain. As a result, the overall quality of life improves at the same time.
Thanks to the all-natural list of ingredients, these supplements also work to improve overall health and well-being of an individual and promote a healthy lifestyle.The primary purpose of joint pain relief products is to help users minimize the intensity of pain and other symptoms that prevent them from working, running errands, and enjoying life to the fullest.

People also search for >>
What are the Most Effective Topical Joint Pain Relief Products?
As mentioned above, there are hundreds of these products and brands on the market. Naturally, some of these products are effective while others aren't.To make sure you paid for an effective supplement, there are numerous things you should bear in mind.
The most effective joint pain relief products possess the following qualities:
Reliable manufacturer – Ideally, the brand behind the product should be reliable, you don't want to purchase health-related items from a "fishy" company. The official website should provide necessary information about the brand and lack of this info raises a red flag. It's always useful to run a Google search and find out more about the company
Active Ingredients – Take a look at the label and go through the list of ingredients. Generally, the most effective products feature active components whose benefits for joint pain relief are well-documented. Failure to provide the list of ingredients or avoiding to disclose the complete formula make the product seem unreliable and you should, definitely, move on to the next one
Claims – All products come with certain claims. Are they realistic? Or the manufacturer provides miraculous solutions? For every claim brand names, there should be evidence in the form of clinical studies confirming them. Bold claims without evidence indicate the product will most likely not deliver what it promised
Money-back Guarantee – In order to show they have complete confidence in the product, a lot of companies offer a money-back guarantee that allows you to get your money back in 30-60 days if the product isn't effective. Always opt for products that make this happen. This means you should read user experiences and see whether they go refund easily or the brand refused to honor it
User experiences – Of course, it matters what other people think about the product. Yes results vary from a person to person, but it's still useful to check user experiences, see how their joints reacted to the product, whether they were happy with customer support, and other important factors that can help you determine whether the brand or joint pain supplement is reliable
Which Topical Joint Pain Relievers are most Effective?
As you have seen, topical creams and gels are highly effective, bringing relief not only from the pain but also from the associatedinflammation.Many of these products contain natural ingredients, with highly beneficial properties for the affected joints.
They easily penetrate the outer layers of the skin and promote the faster healing of the suffering joints.Speaking in general, the joint pain relief products that are most effective are the ones that address the symptoms one experiences.
As you have been able to read above, these often include topical preparations, either in the form of cream or gel. These are made with natural ingredients and in accordance with the newest technologies so that they are able to penetrate the skin and reach the affected joints.
Conclusion
Joint pain occurs due to a variety of reasons ranging from injuries to arthritis. Regardless of the cause, the pain and discomfort affect the overall quality of life of a person and affects your mobility.
Dietary supplements and topical products are natural, yet effective and safe solutions to relieve inflammation and pain, and this article featured four top-rated products you should consider.
Go over all of the joint pain relief products mentioned in this article and decide on the one that would be most suitable to your own individual situation.
**This is a subjective assessment based on the strength of the available informations and our estimation of efficacy.
*Result may vary. If you are pregnant, nursing, have a serious medical condition, or have a history of heart conditions we suggest consulting with a physician before using any supplement. The information contained in this website is provided for general informational purposes only. It is not intended to diagnose, treat, cure, or prevent any disease and should not be relied upon as a medical advice. Always consult your doctor before using any supplements.
Disclosure of Material connection: Some of the links in the post above are "associate sales links."This means if you can click on the link and purchase an item, we will receive a commission. Regardless, we only recommend products or services which we use personally and/or believe will add value to our readers. We are disclosing this in accordance with the Federal Trade Commission's 16 CFR, Part 255: "Guides Concerning the Use of Endorsements and Testimonials."