If you haven't been educated on the evils of smoking by now, you must be living under a rock or on a deserted island with no outside communication with the world.
Smoking a commercially produced cigarette has a prodigious list of negative side effects, ranging from smelly clothes, upholstery, carpets, hair, and breath (at best) all the way up to cancer (at worst).
In between are the side effects smoking produces when you have a chronic disease – not a respiratory one, although the list is pretty long there as well – but a condition affecting your muscles, bones, tendons, and ligaments; in other words, your musculoskeletal system. Check out Relief Factor Review which might be helpful to give relief from joint aches.
Why Smoking is a Bad Habit?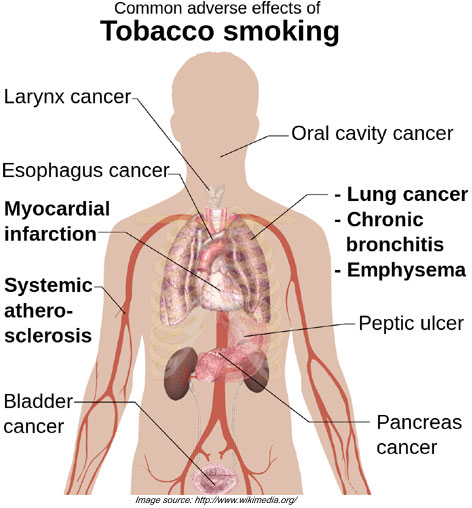 In a word – nicotine. In terms of what a cigarette will do to you, nicotine is not known as a carcinogen, but it is known to be addictive – highly addictive. There is a set of smokers who simply cannot quit the habit due to their nicotine addiction. For these smokers, e-cigarettes are a good option, as they let you get the nicotine you crave without all the 500 additives and tar.
E-cigarettes are not marketed as a stop-smoking solution, but you can gradually step down your nicotine levels as you use them, essentially kicking the habit. Nicotine has other effects on the body as well; nicotine slows the growth of osteoblasts, and the body's bone-forming cells, and it slows the absorption of calcium from your diet. Together, these lead to the development of osteoporosis, or weak bones; this in turn leads to fractures.
Smoking decreases the oxygen supply to the blood, and this increases the number of time wounds take to heal; a lower blood supply, and slowed osteoblast production result in longer healing times for fractures.
There are other reasons smoking is a bad habit. The primary ones are the 500 additives, plus the tar, found in a commercial cigarette. These are the carcinogens giving you lung cancer as you smoke.
If you are fortunate enough not to get a form of cancer from smoking, you will suffer impaired lung function at best, and emphysema or heart disease at worst.
Advertisement
*All individuals are unique. Your results can and will vary.
People also ask
The tar and additives in the cigarettes build up in your lungs, impairing the growth of lung tissue and reducing the amount of oxygen you can inhale, thus reducing the supply of oxygen to your body. This causes a whole host of problems, including the increased length of time for wound and fracture healing described above.
SEE ALSO – Hand Arthritis and World Lupus Day
Smoking and Chronic Diseases
Not with standing the fact smoking is just plain bad for you, if you smoke and have a chronic disease you're putting yourself through unnecessary pain and suffering. Arthritis, lupus, MS, and fibromyalgia are all chronic, painful conditions.
Reducing your body's ability to cope by smoking with these diseases makes no sense at all. Your body relies on oxygen to function; not just breathing, but the cellular metabolism carried out by every organ system is oxygen-dependent.
Smoking cripples the body's ability to repair and regenerate itself. When you smoke with a chronic disease, your pain levels increase, and your ability to function goes down. You decrease your motility, increase your pain, and cause your condition to worsen.
Smoking and Joints
Smoking has been shown to have negative effects on cartilage and joints. The components of cigarette smoke affecting the cell metabolism of cartilage have not been identified, but the link between smoking and cartilage damage has been detailed.
Advertisement
*All individuals are unique. Your results can and will vary.
Smoking impairs the cellular metabolism of cartilage, reducing its ability to repair itself. This, along with reduced oxygen supplies, aggravates osteoarthritis when present. If the joint is not arthritic, it will still suffer damage from cigarette smoking, and the smoker will have more severe pain than a non-smoker.
SEE ALSO – 6 Gout Diets
Smoking and Pain Levels
Studies have been made on pain levels in smokers versus nonsmokers. Smokers appear to have more frequent and more severe pain than nonsmokers. The cause is not known; people who tend to smoke may have lower pain thresholds than those who don't, or smoking may somehow lower the body's pain threshold.
The reason is not understood, but it does appear smokers suffer more pain than nonsmokers, in the back, legs, knees, and joints.
Nevertheless, why do you choose to endure pain for a long period of time? Browse the internet to find the best joint pain supplements and get rid of joint aches instantly.
YOU MAY ALSO WANT TO READ – Smoking and Cosmetic Surgery – Everything You Need to Know!
Conclusion
Your body aches more when you smoke. There are a plethora of reasons for this, but the main one is a decreased oxygen supply. Smoking increases pain levels, with or without a chronic disease, and damages the musculoskeletal system.
The cartilage your joints rely on for smooth, pain-free motion is damaged by cigarette smoke – possibly even by second-hand smoke, but certainly from first-hand inhaling.
If you smoke, be prepared for a shorter, more pain-filled lifetime – it's that simple. Albeit people quit smoking, their joint pain might exacerbate. During such times, it is wise to turn to joint pain supplements for help. You might consider Instaflex which could help relieve your joint pain.
YOU CAN ALSO CHECK – Leg Pain: Causes, Signs, Symptoms, Diagnosis and Treatment
References
We review published medical research in respected scientific journals to arrive at our conclusions about a product or health topic. This ensures the highest standard of scientific accuracy.
[1] Department of Health. Smoking Kills: a white paper on tobacco. London: The Stationery Office, 1998.
[2] Law M, Hackshaw A. A meta-analysis of cigarette smoking, bone mineral density and risk of hip fracture: recognition of a major effect. British Medical Journal 1997; 315:841-846
[3] Garrett RJ. Collagen and non-collagen protein synthesis in developing lung exposed to tobacco smoke. Environ Res 1978;17:205–15.
[4] Wolfe F. The effect of smoking on clinical, laboratory, and radiographic status in rheumatoid arthritis. J Rheumatol 2000;27:630–7.
[5] Goldberg M S, Scott S C, Mayo N E. A review of the association between cigarette smoking and the development of nonspecific back pain and related outcomes. Spine 2000. 25995–1014.1014 [PubMed]
View All