What is Psoriatic Arthritis?
Psoriatic arthritis is a medical condition where arthritis or joint inflammation occurs in tendon with inflammation of the skin called psoriasis.
Psoriasis is a precursor to developing psoriatic arthritis. But there are cases where the disorder developed in the absence of psoriasis and where arthritis pre-dated the development of psoriasis.
Psoriasis is a skin condition resulting in patches of inflamed and reddish skin, sometimes with white scales, generally in the elbows and knees and the extremities of the body.
Nails are also affected, and they may disintegrate, become ridged as well as jagged, and in some cases, drop off from the nail bed.
Arthritis is a condition of joint inflammation chiefly characterized by swelling, redness, and pain in the affected joint.
When the two exist simultaneously in an individual, the condition is termed as psoriatic arthritis.
Prevalence of Psoriatic Arthritis
More than half a million (0.52 million) people in the US are affected by Psoriatic arthritis1.
In Canada, its prevalence is about 0.3% to 1% of the population2.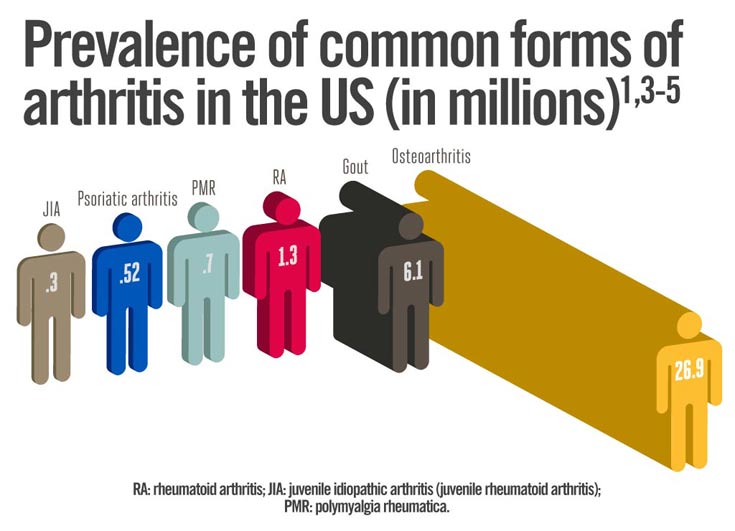 Among the patients with Psoriatic arthritis, Oligoarticular symptoms are more prevalent.
However with time 20% of the PsA (Psoriatic Arthtits) affected people develop symptoms of Polyarticular disease2.
Advertisement
*All individuals are unique. Your results can and will vary.
Types of Psoriatic Arthritis
Symmetric Arthritis: It affects the same joints on both sides of the body such as our left and right knees, left and right wrists, etc.
Asymmetric Arthritis: Asymmetric arthritis can affect any joint, such as the knee, hip, ankle, or wrist. Enlarged "sausage-like" fingers with other warm, red joints are its common feature.
Distal Interphalangeal Predominant (DIP): It involves the distal joints of the fingers and toes especially the joints closer to the nails and may occur in 5% of the PsA patients[3].
Spondylitis: Spondylitis is inflammation of the spinal column. Symptoms include (stiffness of the spinal vertebrae, neck and lower back) make motion painful and difficult. Other important joints of the body may become affected too.
Arthritis Mutilans: Arthritis mutilans is a severe, deforming, and destructive form of psoriatic arthritis. Pain in the lower back or neck, inflammation in the joints of the fingers and toes are its common symptoms. It affects less than 5% of the PsA patients.
People also ask
How to Recognize, Diagnose and Classify Psoriatic Arthritis?
You can diagnose psoriatic arthritis with the help of the following symptoms:
Inflammation of the joints
Swelling with warmness
Redness
Tenderness of the skin around the joint
Stiffness
Inability to move the joint
Dactylitis or inflammation of the fingers and toes may also be observed in most cases, along with changes in the nail such as chipping off, ridging, cracking, and the loss of the nail.
Inflammation of the backside of the heel and the bottom of the foot may also be observed.
Diagnosis is based on detecting both psoriasis and arthritis while eliminating other factors causing similar symptoms.
Blood tests and joint fluid tests are done to eliminate the possibility of rheumatoid arthritis and other arthritic conditions like gout.
Blood tests may also reveal the presence of HLA-B27, a genetic marker associated with psoriatic arthritis.
Symptoms like dactylitis, inflammation of the Achilles tendon, and the bottom of the foot are not found in other types of arthritis. These may indicate psoriatic arthritis.
The Classification Criteria for Psoriatic Arthritis (CASPAR) consist of established inflammatory articular disease with at least 3 points from the following features:
Classification Criteria for Psoriatic Arthritis (CASPAR)
| Condition of PsA | Score |
| --- | --- |
| Current psoriasis | 2 |
| A history of psoriasis (in the absence of current psoriasis) | 1 |
| A family history of psoriasis (in the absence of current psoriasis and history of psoriasis) | 1 |
| Dactylitis | 1 |
| Juxta-articular new-bone | 1 |
| RF negativity | 1 |
| Nail dystrophy | 1 |
How to Treat Psoriatic Arthritis?
Related Psoriatic Arthritis Products
Psoriasis is seen as an incurable chronic disease that stays lifelong.
Though no cure had been found, symptoms can be controlled with proper medication and lifestyle changes.
Advertisement
*All individuals are unique. Your results can and will vary.
For the treatment of psoriatic arthritis, non-steroidal anti-inflammatory drugs are the first choice in reducing inflammation.
In severe cases, steroidal medications may be administered along with reducing joint pressure by letting out joint fluid from the inflamed joint through a needle.
Replacement of joints with prosthetics is done as a last resort when irreparable joint damage is detected.
Appropriate exercise also helps improve and maintain the strength of the joints.
Prevention is severe as causes, and risk factors for psoriatic arthritis are unclear.
Citing a general rule, early detection and prompt as well as persistent treatment leads to better chances of recovery.
There are three ways of treating Psoriatic Arthritis, Treatment with Medicine, Surgical Care, or Physical Therapy. Your doctor may choose one or more options among these:
Treatment with Medicine
Medical treatment regimens include the use of non-steroidal anti-inflammatory drugs (NSAIDs), Corticosteroids, and disease-modifying antirheumatic drugs (DMARDs). Drugs that belong to the Disease-modifying groups are:
TNF alpha Inhibitors:
Drugs that inhibit the function of TNF alpha can reduce the inflammatory symptoms of arthritis. Although there is a fear that immunosuppressant drugs may halt body's immune reactions to the infection, a recent clinical study in Brazil showed that anti-TNF drugs are pretty safe and the chances of catching diseases like Hepatitis B and C, Chagas Disease and Syphilis are not common4.
Methotrexate:
An antimetabolite, can also inhibit Neutrophil's function, thus act as anti-inflammatory drug.
Sulfasalazine:
An Anti-inflammatory drug widely used to treat Rheumatoid Arthritis.
Cyclosporine:
Immunosuppressant drug.
Leflunomide:
Acts by inhibiting the mitochondrial enzyme dihydroorotate dehydrogenase(an enzyme involved in de novo pyrimidine synthesis) and therefore functions as DMARDs as an immunosuppressant drug.
New Drugs for the Near Future
It is essential to invest in researches for the development of new drugs as there are so many different pathways that create inflammation in a person, aggravating the conditions of Psoriatic arthritis.
Some new medicines which are proving to be successful in the clinical trials may make it to the market shortly.
Advertisement
*All individuals are unique. Your results can and will vary.
Here are some examples of those drugs:
Otezla:
The FDA has approved the phosphodiesterase-4 inhibitor apremilast (Otezla) for the treatment of adults with active psoriatic arthritis.
Approval was based on three placebo-controlled studies in 1,493 patients in which apremilast improved signs and symptoms of psoriatic arthritis, including tender and swollen joints and physical function.
Apremilast:
K. Arthur et al, are working on the efficacy of the drug Apreilast (Clinical trial registration number NCT01172938) an oral phosphodiesterase 4 inhibitor.
The researchers have found some efficacy of this drug and have already reached Phase-3. t week 16, significantly more apremilast 20 mg BID (31%) and 30 mg BID (40%) patients achieved ACR20 versus placebo (19%) (p 0.001). Significant improvements in key secondary measures (physical function, psoriasis) were evident with both apremilast doses versus placebo.
Across outcome measures, the 30-mg group generally had higher and more consistent response rates, although the statistical comparison was not conducted.
Researchers so far have come up with the result that Apremilast was effective in the treatment of psoriatic arthritis, improving signs and symptoms and physical function[5].
Apremilast demonstrated an acceptable safety profile and was generally well tolerated.
However, the most common adverse events with this drug were gastrointestinal and generally occurred early, were self-limiting and infrequently led to discontinuation.
No imbalance in major adverse cardiac events, serious or opportunistic infections, malignancies or laboratory abnormalities was observed.
Golimumab
Another research published by the Americal College of Rheumatology, conducted by Kavanaugh A and his colleagues that Golimumab[6], a drug that was administered subcutaneously has been shown to be effective in reducing the signs and symptoms of active psoriatic arthritis (PsA) through week 24 of the GO-REVEAL study.
A total of 405 patients were randomized: 113 to placebo and 146 each to the golimumab 50 mg and 100 mg groups.
The radiographic benefit was maintained through week 52 with golimumab. Clinical efficacy, including improvement in joint and skin responses and physical function, was maintained through 1 year.
The researchers have concluded with the result that treatment of PsA with golimumab inhibited structural damage progression and demonstrated continued clinical efficacy and safety through 1 year.
Simponi
Simponi inhibits radiographic progression in psoriatic arthritis.
Studies have proved that Compared to placebo, Simponi 50 mg significantly inhibited radiographic progression in the hands and feet, as assessed by the van der Heijde-Sharp (vdH-S) method modified for PsA at week 24.
This benefit was maintained out to week 52[7].
There are some ongoing clinical studies on Tofacitinib conducted by the giant pharmaceutical company Pfizer.
This is a 12 month study investigating the effectiveness and safety of tofacitinib in treating the signs and symptoms, improving physical function and preserving bone structure in patients with active psoriatic arthritis and had inadequate response to a traditional, non-biologic disease modifying anti-rheumatic drug. Adalimumab is used as a comparator.
Condition
Intervention
Phase
Psoriatic Arthritis
Drug: Tofacitinib 5 mg BID
Drug: Tofacitinib 10 mg BID
Drug: Adalimumab
Drug: Placebo
Phase 3
Treatment with Surgical care
Depending on the progression and the extent of the disease, your doctor may suggest you to go through any of these the underlying surgeries:
Arthroscopic synovectomy
Joint replacement
Arthrodesis and arthroplasty
A combination of arthrodesis, arthroplasty, and bone grafts.
Treatment with Physical Therapy
The physiotherapy programs for patients with psoriatic arthritis should be individualized and should be started early in the disease process.
Such a program should consider the use of the following:
Helping to do some moderate exercises: Passive, active, stretching, strengthening, and endurance
Advising the patients to take plenty of rest
Modalities
Orthotics
Educating patients about the disease, energy conservation techniques, and joint protection
Possible vocational readjustments
High Dose Medication Approach May become the Strategy in the Near Future
A clinical trial with 200 patients of the Leeds Institute of Rheumatic and Musculoskeletal Medicine, Chapel Allerton Hospital in Leeds, showed that an aggressive strategy to cure the Psoriatic arthritis is better strategy to manage the symptoms of this disease.
This trial was conducted by Dr. Helliwell and his colleague Dr. Laura.
They compared intensive early treatment carried out in specialist clinics with the kind of care that patients usually receive, to find out which group of patients does better over a year.
"We predicted that a tighter, more aggressive treatment of psoriatic arthritis, in which patients are given escalating dosages of drugs if their condition is not responding, and see a specialist every month with the aim of controlling their symptoms fully and as soon as possible, would result in a good outcome after 12 months," explained Dr. Helliwell.
Our trial has shown that patients with psoriatic arthritis benefit from early aggressive treatment that reduces the inflammation in the joints.
Such an approach proved successful in the treatment of rheumatoid arthritis, and this research could lead to a similar change in the way psoriatic arthritis patients are managed in the future."
People also search for >>
Benefits of Taking Pills to Cure Psoriatic Arthritis
Apart from non-steroidal and anti-inflammatory drugs, disease-modifying antirheumatic drugs (DMARD) are also used to control arthritic attacks.
These types of drug work to reduce the rate at which the disease progresses, rather than merely reducing inflammation.
These can help limit the joint damage and subsequent deformities caused by repeated arthritic attacks.
Since psoriasis is an autoimmune disorder, immunosuppressant medication can help reduce the effects of the disease, but at the cost of dulling the immune system.
This reduces the body's natural defenses against foreign body invasions.
Medications inhibiting the protein, tumor necrosis factor (TNF) can help treat severe cases of psoriatic arthritis by not allowing the formation of TNF which causes inflammation.
All these pills come with severe side effects, both short and long-term, some even life-threatening.
So, the risks involved must be assessed by your physician before starting their intake.
Psoriatic Arthritis vs. Lupus
Both psoriatic arthritis and lupus are autoimmune disorders that affect the skin and joints.
They differ from each other in several ways, including their symptoms, risk factors, and treatments.
There are different types of lupus that, as a whole, affect all age groups.
Women are more susceptible than men, and the disease is more commonly seen in races other than the Caucasian.
Symptoms of lupus include:
Inflammation in joints
Muscle pain
Fever
Fatigue involving physical and cognitive debilitation
Rashes on the face that resemble the wings of a butterfly
These symptoms appear and disappear periodically, generally appearing with exposure to the sun and sometimes in reaction to certain types of medication.
Lupus is linked to the dysfunction of several internal organs such as:
Brain
Liver
Heart
Kidneys
There is no cure for lupus though it can be treated for its symptoms.
This treatment comes at the cost of weakening the immune system, leaving the body open to microbial attacks and infections.
Diseases Associated with Psoriatic Arthritis
About 30% people with Psoriasis may develop Psoriatic Arthritis as well, and Psoriatic arthritis may become associated with other diseases like cardiovascular diseases and depression.
National Psoriasis Foundation has estimated the following diseases which may have a link with PsA:
Cardiovascular diseases: About 58% people with severe psoriasis are more likely to have a major cardiac event and 43 % more likely to have a stroke.
Diabetes: According to a 2012 study. People with severe psoriasis are 46 percent more likely to have type 2 diabetes.
Depression: One study estimates that approximately one-fourth of people with psoriasis has depression attack.
Cancer: A number of studies have found that people with psoriasis have an increased risk of certain types of cancer, such as a form of skin cancer known as squamous cell carcinoma and lymphoma
Other diseases: obesity, metabolic syndrome and other immune-related conditions such as Crohn's disease.
Read Also
Prevention of Psoriatic Arthritis
There is no easy way to prevent this disease. If anyone has a family history with this disease then he or she should be extra careful about the symptoms and inform doctor for immediate diagnosis.
Proper diagnosis at the earliest stage may halt the progression of the diseases and also reduce the chances of its recurrence.
Researches have shown that Vitamin D helps to relieve the symptoms of arthritis in psoriatic arthritis, therefore adding Vitamin D in the diet can be a good dietary modification for preventing psoriatic arthritis.
Expert's Opinion
According to medical experts, psoriatic arthritis mostly affects people between the ages of 30 and 60, though the condition can appear in older people as well as children[8].
The condition is more frequently seen in Caucasians than other races.
Psoriasis has no specific gestation period before psoriatic arthritis occurs. Psoriatic arthritis can occur with any intensity of psoriasis.
View All