Christmas and Chronic Joint Pain
The holiday season is coming near. Your friends, relatives, and neighbors are enjoying the season. You would like to join in the celebration; however, it is not possible if you have chronic joint pain.
It is even more difficult to handle it in the holiday season because Christmas season means winter season.Christmas & joint pain- According to the study, the joint pain is affected by the weather and climate, and the pain gets worse during the winter season.
Chronic joint pain can really ruin your holiday season. You see people enjoying the season, and you are likely to be stuck in the bed. The statistics show that around 52.5 million American adults are diagnosed with arthritis, and i.e. 22.7 million. If you're among the people diagnosed with arthritis, then you would not want the holiday season to come nearer.
Whether one likes it or not, the holiday season will arrive, and it is really necessary to face the challenge.
What are the Challenges You are Likely to Face in This Christmas Season?
Before we start talking about the ways to survive, let's talk about the challenges you're likely to face in this upcoming winter season. Yes, you're going to have to face chronic joint pain in winter.
In addition to your chronic joint pain, you will also face many other types of challenges. Here are some of them.
1. You, Will, Feel Sad and Bored At The Same Time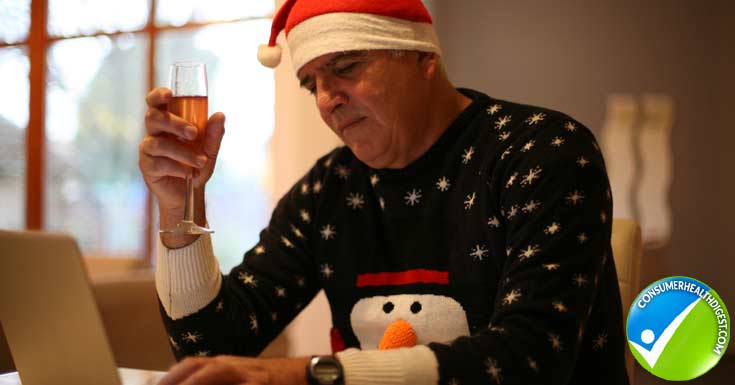 Your pain is not going to stop other people around you from celebrating Christmas. Your friends, family, relatives, neighbors, and all the loved ones will gather together and enjoy the festival.
When you will watch outside of your window, you will see many people having fun with their loved ones. Everyone wants to have fun, as it is a basic human nature. You're definitely going to be tempted to take part in the celebration despite your condition.
2. You Might Want to Decorate Your House Too
When you see other decorating their places, then you might want to decorate your house too. It does feel bad when you are left out of the celebration. There are people exchanging gifts, decorating their places, and you are alone doing nothing. In fact, you are most likely to nap even whole day due to your chronic pain.
Advertisement
*All individuals are unique. Your results can and will vary.
3. Slippery Surface
Many people enjoy playing with snow during Christmas time. You may want to go out for a while, but you need to be careful. There is going to be icy sidewalks, as Christmas is the season of snowfall. Due to icy sidewalks, anyone can easily experience a dangerous fall.
This is particularly not good for the person who is suffering from chronic joint pain. You don't want to increase your misery. You should be extra careful while you're roaming outside during the Christmas season.
Why did I discuss the challenges? Well, you should know about the problems you're going to encounter for preparing yourself for the challenges ahead. You would not want to think a lot about what types of challenges you are going to face in the Christmas season.
Knowing about the challenges will make it more interesting to explore the ways to survive. In the next part of the article, I will be talking about the ways to get through the holiday season with chronic joint pain.
4. Less Motivation To Exercise
It is not good to skip your exercises. You may think that suggesting one to exercise is a crazy thing, but it is not really a crazy thing.
The study shows that exercises can significantly improve the condition of the arthritis patients. It is not recommended to stay passive during your holiday season. However, you will not feel motivated to be involved in physical workouts during the holiday season.
Why many people are not motivated to exercise in the winter season? You might know the answer. It is too cold, and you don't want to step outside of your house. You may want to drink hot coffee and sleep for the whole day.
What Can You Do to Survive and Enjoy This Holiday Season Despite Your Chronic Joint Pain?
You may be thinking it is impossible to survive and enjoy the Christmas season with chronic joint pain, but you're wrong. You can survive and enjoy this holiday season. Here are some of the ways to survive.
1. Complete Plan Before Action
You may not want to plan your celebration and gathering like you plan your vacation or something, but if you're suffering from chronic joint pain, then planning becomes a necessity. If you don't plan, then you might end up in bed for a few days after the gathering is over. Generally, the gathering can be divided into four parts, and they are:
When all the people start to visit, there will be socializing.
You don't provide dinner just after your loved ones visit your place. There will be more socializing and snacks before dinner.
After some time, it will be time for dinner.
More socializing after dinner and it's over.
This is how you can divide the celebration event into four parts. What next? You need a plan to limit your involvement. It is better to limit your involvement. You can participate in two parts of the events.
Advertisement
*All individuals are unique. Your results can and will vary.
Be present in the first part when your guests are arriving, then you can go to bed and rest. Again, be present at dinner time, then go to sleep. Will you have fun doing it? Well, it is better to be partially involved rather than being totally inactive. It is better to be careful rather than spending a few days in bed later.
2. You Should Realize That You're Not Alone
There is a common question people ask themselves when they're in trouble, and i.e. Why me? This is not the fact, as you're not the only one facing the similar problem. There are millions of people who are going through the joint pain in winter problem, which is a similar problem like you.
You can talk to some of the people and share your problems. It is better for you to talk with the people going through the similar problem like you because it can provide you some comfort. This will also help in fighting your negative emotions.
See also: Can Cold Weather Really Worsen Your Arthritis Symptoms?
3. Lower the Standards Of Your Cooking and Christmas Gift
This can be a very good strategy to survive during the holiday season. It is definitely a lot of fun to go into the shopping mall, watch Santa, observe the festival, and more during the holiday season.
However, it will not help you out to survive. Instead of going to a shopping mall, it is better to do your shopping online. It saves you time and energy. Yes, it is not as enjoyable as to go to the mall for shopping during Christmas, but you need to take care of your health as well.
Instead of giving a personal card to your friend, you can purchase a gift card from some online platform like Amazon. Your true friends and loved ones will appreciate it because they can understand your situation. They may also love it because some of the gift cards found online are really beautiful.
Regarding cooking, you don't have to spend your time and energy on preparing foods, which take a lot of time to prepare. You can search for some of the foods that can be prepared in a quick time. It is not necessary that the foods that can be prepared in a short time are bad in taste.
There are foods, which take less time to prepare, and they taste really good. Your friends and relatives will appreciate your effort because they are human beings who can understand other's feelings.
4. Take Comedy Breaks
In the midst of the pain, sadness, and many emotional challenges, taking a comedy break can help to uplift your emotions. You can find plenty of TV shows, fun radio show, and more to laugh out loud. This can help in reducing your anxiety and pain.
The study shows that laughing may reduce the pain in your body, as laughter produces endorphins. Don't be sad all the time. When you're spending your time in your house, it is better to watch some comedy movies or TV shows.
5. Look for the Activities, Which You're Capable of Performing
Your friends, family, and loved ones may have a big plan to travel to different places in this upcoming holiday season. However, you are not capable of being part of that plan. What can you do to have fun? Just look around and search, you will find many ways to celebrate during this upcoming holiday season.
You can always look at the positive side of the picture. There are many people who are stuck in the middle of the road while they're traveling. You can be grateful that you're at home.
It is also possible to enjoy some quiet time with your partner at your home. Talk about some events in the past you've spent together. Utilize the time to hear some of the best Christmas songs, and spend a quiet worship time. This can make you feel happy.
There is an option to find a coffee shop nearby to spend some time and enjoy. You may even find many people like you who did not have the chance to spend a good time with your family in the coffee shop. Sharing your experience with them can bring joy to you.
Advertisement
*All individuals are unique. Your results can and will vary.
6. Be Mindful, Have Self Compassion, Be Calm and Composed
You should be mindful, and notice what is going on around you. It is also necessary to notice what is going on in your mind and body. You can take better care of yourself if you're mindful of the present condition.
Being compassionate towards other people is easier than being self-compassionate. You must have realized how others feel when you're compassionate towards them. This is how you will also feel when you're compassionate toward yourself. You have missed many events, and it is a good thing to be compassionate toward yourself.
Life is not all about happiness. You will have the moment of ups and downs in your life. Being calm and composed will allow you to be emotionally stable even in the time of misery.
Nevertheless, if the above techniques turn out to be futile, you can always go for a pain relief supplement. A joint supplement such as Omega XL can be considered as a decent choice in the pool joint supplement.
This product targets the root cause of joint pain thus eliminating pain altogether.
What Else Can You Do To Survive This Christmas?
It is obvious that your pain might get worse in the winter. To take better care of your body this Christmas, you can try some of the tips to relieve your pain.
1. Put On Thick and Warm Clothes
It is not good to be careless about your clothing in the winter season. You should wear thick clothes, gloves, and extra-thick leggings to stay warm during the winter season.
2. Massage
Getting regular massage can dramatically improve your condition. The study shows that regular massage can significantly reduce the pain. Try not to be lazy and get some massage to reduce your pain.
3. Warm water
Warm water can soothe your pain. Take a bath in warm water or you can try swimming in the warm water to soothe your pain. Furthermore, swimming is also a form of exercise.
4. Stay Hydrated
People don't want to drink lots of water in the winter season, but the thing is that it is important to stay hydrated. Drinking water helps you to stay active, and dehydration can also make you even more sensitive to pain.
Conclusion
Christmas & joint pain- research has shown that joint pain is attributed to the season. You must make up your mind for the upcoming challenges. There is no way you can escape it.
The only option left for you is to face the challenges and overcome them. If you follow the tips mentioned in this article, then you will definitely survive the holiday season with your chronic joint pain. It is not an impossible job to survive.
Many people in the past have survived it, and you can also survive the holiday season and enjoy the season despite your chronic joint pain. However, if the pain persists, you can always use pain medication such as Kirkland Glucosamine & Chondroitin.
View All