Q:
About a year ago I had a fall which injured my hip. Since then, I get a lot of pain occurring in the area, especially after being on my feet for long periods of time. I know I should take something to help with the pain, but Aspirin really upsets my stomach, making me nauseated. I was hoping to find a non-prescription brand of pain reliever that will not affect my stomach and will hopefully stop my hip pain from worsening as I get older. I heard
Osteo Bi-Flex
contains something called Boswellia. What is this and how does it work?
Expert Answer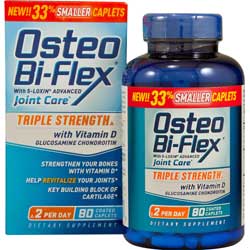 Some joint pain relievers use a combination of naturally occurring substances like Chondroitin, Hyaluronic acid and Glucosamine together with herb and plant extracts to give maximum pain relief. The Boswellia used in Osteo Bi-Flex is very concentrated and works is supposed to reduce* inflammation. Swollen joints occur when the body is not producing adequate amounts of lubricants, making them rub together and, over time, wear down cartilage and tissue.
A good supplement will not only reduce* inflammation but use fatty acids to oil the joint. Hyaluronic acid works in a similar way, providing fluid and preventing damaging friction. Any oral medication that uses these ingredients should not have many, if any, side effects and not cause nausea. Ingredients such as rutin, trypsin and bromelain have been shown to be as effective in reducing* inflammation and improving* knee function.
There are numerous choices in the joint support category containing vastly different formulations. You should do your research on the different formulas prior to making your choice. You will find not all products are created equal. You should find one that contains the quality and quantity of necessary ingredients to positively effect change and relief of pain.
View All