If you experience sore back pain while driving, you must be worried that a long trip is coming up. Many times, spinal health is overlooked until it starts to hurt severely around the neck, upper and lower back areas. Good news for you; with these simple tips, you will be able to minimize the back pain if not get rid of it completely.
How to Cope with Back Pain while Driving?
1.Get yourself comfortable
Back pain resulting from long hours of driving is always as a result of the discomfort and pressure exerted on the spine over the entire driving. The first and foremost step you must consider to avoid back pain is ensuring* you are comfortable throughout the driving period. No matter the distance of drive, you need to need to look into your posture. Your posture may contribute to or help alleviate your back pain.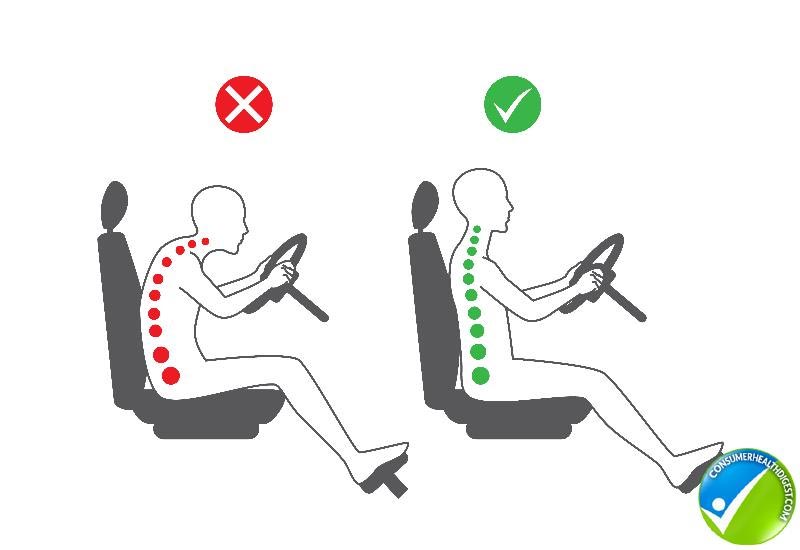 Driving ergonomics demands that you stay close enough to the steering wheel to avoid trying to reach out to it and pacing more stress on the spine, neck and shoulders. Another thing you need to ensure is to sit up straight with the knees slightly higher than the hips. Your back should be aligned with the back of your sit to provide the needed support throughout your driving. You may as well decide to add more cushioning to your driver's seat to provide the needed comfort using specialized cushions and pillows. Another necessary measure is ensuring* you do not have anything on your back pocket such as wallet or phone. These may be responsible for you back pain at the end of the day as they may throw your spine out of alignment.
Avoid slouching by all means to help minimize chances of back pain. Slouching is responsible for many back pain cases since it puts a lot of pressure on the back muscles and stiffens the tendons of the muscles causing the pain.
2.Ensure you have the Smoothest Ride Possible
Bumps along roads have grave consequences when it comes to back health and safety. The bumps are responsible in exerting more pressure on the spine which amounts to severe back pain at the end of the journey. In order to guarantee a smooth ride, consider the following;
Replace the car shocks to limit the bounce in the car.
Slightly reduce* the pressure in the tires to smooth the ride.
Consider using a pillow or car seat cushion to provide extra cushioning for a smooth ride.
With a smooth ride, you will be able to take away much of the stress that causes spinal discomfort and muscle tightening resulting to back pain after driving.
3.Get out and move around
Sitting for hours behind the wheel may results to stiffening of back muscles making them to start aching. Ideally, what is needed is for you to schedule your trips well putting in mind the need to have regular stops for you to relax and stretch before you continue with the journey. It is recommendable to have such stops at least after every 30 minutes of drive. Simply get out of the car and move around stretching the entire body. This way, you will be able to boost* blood circulation, bringing nutrients and oxygen to the spine.
Besides the stops you make, it is also ideal to move about on your seat rather than sitting still. Adjusting your seat at least after every 20 minutes is also important to enhance* blood flow. It is thus crucial to make any necessary and safe movement while driving.
4.Remember to carry a cold pack with you
Ice pack treatment is a simple but quite effective way to get rid of back pain after long hours of driving. A cold pack helps in reducing* inflammation and numbing of sore tissues thus preventing the pain.
Catch China Gel Review: It also brings a soothing effect by causing a cool and warm feeling to the skin.
5.Warm up your body muscles especially back muscles
This is a good way to get rid of lower and upper back pain resulting from many hours of driving. In order to do these, the following options are viable'
Using a heating pad with a power converter to plug it into the dashboard power source or cigarette lighter then turn on the heating pad.
Using heat wraps that have adhesives and can be directly applied onto your skin- They help provide the body with a low level of continuous heat throughout your journey.
Use the car's heated seats if your car has such. These seats will deliver continuous low level heat keeping your back muscles warm throughout your journey. This too is important in ensuring* you back muscles are not aching at the end of the journey.
6.Support your Back with the Feet
You want to know how to cope with back pain while driving? Well, you must understand, that supporting the spine starts with your feet. Always have your feet on a firm surface and in right positions to reduce* the stress on both your lower and upper back. Your knees actually need to be maintained at a right angle. In case the chair is too high, using a footrest will be critical to ensure the back is not strained that much during the travel period.
Remember, all back pains come as a result of poor posture which transfers the stress to the back causing inflammation and aching at the same time. Maintaining a good posture will thus be necessary to help reduce* back pain. A good posture basically means keeping all body parts in alignment with neighboring parts to keep the needed balance and support.
7.Take your mind off the pain
Sometimes, back pain becomes worse when your mind is concentrated on it. If you are the driver, concentrate more on the road. You can also keep your mind occupied by turning on the radio to your favorite channel. This way, your mind will be more occupied than responding to the strain on your back.
It is worse when you are the passenger. However, you can also keep your mind occupied by listening to music, meditating, reading or gaming. It may appear obvious but trust me such strategies help to occupy your mind away from thinking and responding to the back pain.
Before you embark yourself on that journey, it is important to plan the entire trip putting every necessary precaution on what may result to such problems as back pain while driving.
Your journey may be around the corner, plan it well and stop worrying about your back pain by considering the remedies above.
Conclusion
Back pain relief while driving can only be achieved by observing the right and healthy driving habits like maintaining the correct sitting position to avoid slouching. The various steps highlighted above may appear to be quite simple but are very effective in alleviating your pain once and for all. Learn the various tips for improving* posture and ergonomics and back pain will a matter of the past in your life.
Good posture is critical if you intend to prevent lower and upper back pain, trying the various measures discussed here, you will be able to choose the best practices that work best for you. All the same, your back pain is all in your hands, you know what is right to and what not to.
View All