Can Diet help Arthritis?
As we grow older, our bones naturally weaken. Even if you are eating healthy foods or doing regular exercise, you are still vulnerable to several bone-related problems. A usual complain that most of you are already suffering is joint pain, or let us be more specific: arthritis.
Even though several studies proved that there is no set of food that can totally treat arthritis, there are some foods that can actually boost your immune system and strengthen your bones. Consider adding these foods and pick your own set of foods for your arthritis diet to alleviate the pain:
What Foods are Good for Arthritis?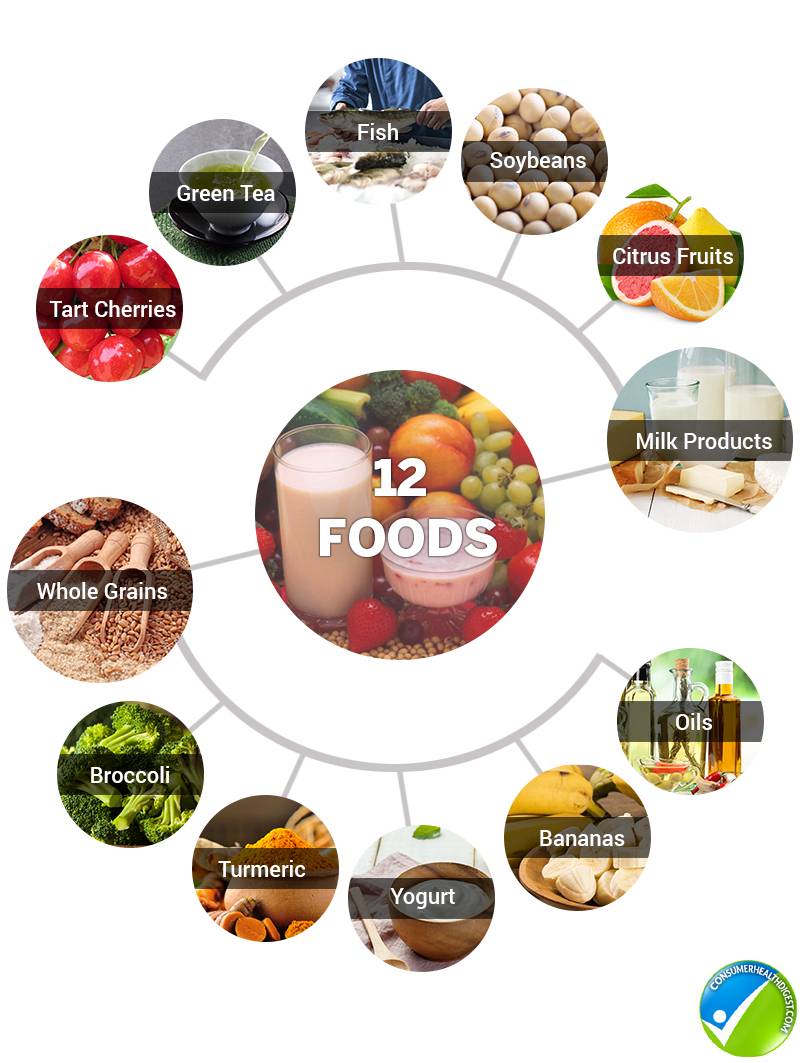 1. Whole Grains
With its high fiber content, whole grains maintained its credibility when it comes to fighting various diseases. Enough with its benefits in your weight loss routine and start consuming whole grains to build a diet for arthritis.
The amount of fiber that you can get from whole grains can reduce the level of C reactive protein (the marker of inflammation) in your body.
Bear in mind that what you need to eat is only "whole grains". It is different from "refined grains" and consuming the latter might reverse your expected result.
Specific foods: Kernels, brown rice, cracked wheat, popcorn and oatmeal.
Amount to take: Around six ounces of whole grains each day.
2. Citrus Fruits
Prominent for its vitamin C, citrus fruits can also alleviate arthritis as the same compound decelerates the development of arthritis.
Those who consume higher vitamin C content have smaller risks if dealing with arthritis.
Specific foods: Limes, oranges, strawberries and kiwi.
Amount to take: About 85 milligrams each day.
3. Soybeans
Having an ample amount of omega-3 fatty acid, soybeans made it to the list of the best diet foods for arthritis. Soybean is also a good source of protein and fiber that boosts its capacity to lessen the pain brought by arthritis.
Omega-3 fatty acids, protein and fiber are known nutrients that can aid in strengthening your bones.
Combining all of these gives way in giving you an advantage.
Specific food: Soybeans or other beans.
Amount to take: About 6-8 ounces of soybeans in a week.
4. Milk Products
Dairy products boast in terms of its vitamin D content. Such nutrient is already proven to make you less susceptible in arthritis and can also lessen the pain.
Vitamin D and the serum that is present in dairy products decelerates the progression of arthritis.
Specific foods: Cheese, milk, cream, and butter.
Amount to take: 2,000 IU each day for adults ages 18 and above.
400 IU each day for children up to 18 years of age.
5. Fish
Similar to soybeans, fishes contains omega-3 fatty acids. It might be the most effective food in this list since one study proved that fishes have significant effect in reducing the symptoms of arthritis.
Advertisement
*All individuals are unique. Your results can and will vary.
With its ample omega-3 fatty acid content, you can reduce the swelling and pain brought by arthritis.
If you are not into fishes, fish oil supplements are available in several stores.
Specific foods: Herring, trout, scallops, anchovies, sardines, salmons and tunas.
Amount to take: About six to eight ounces of fish or fish supplements in a week.
6. Green Tea
It has catechins that can aid your body in combating the continued attrition of cartilage in your defenseless joints. As it keeps your joints from rubbing against each other, cartilage plays a vital role in your diet for arthritis.
Just remember that the condition of your cartilage defines the range of friction between your joints.
Specific food: Green tea.
Amount to take: Consume 2-3 cups of green tea each day.
7. Tart Cherries
Anthocyanin and antioxidants are one of the best nutrients that you can benefit from tart cherries, if you are suffering from arthritis. To combat the painful friction in your joints, consider adding this to your list of foods for arthritis.
One research from Philadelphia concluded that those people who consume a generous amount of tart cherries experience less rigidness and pain in their joints.
Specific food: Tart cherries or other variety of berries.
Amount to take: Around 16 ounces of juiced tart cherry each day.
8. Broccoli
Containing a massive amount of sulforaphane in it, broccoli is a good choice to prevent the inception of any types of arthritis. Aside from that, it also comprised of several vitamins that your bone needs, which includes: calcium, vitamin K and vitamin C.
A research that was conducted in 2015, stated that eating green, leafy vegetables such as broccoli can lessen the symptoms or the pain brought by arthritis.
Specific foods: broccoli and other similar green leafy vegetable.
Amount to take: start with small amounts to avoid an abrupt surge of fiber in your body, then gradually increase the amount.
9. Yogurt
It is often overlooked by many people who have arthritis since they are only considering this food for its well-known use: dieting. What most people don't know about yogurt is that its sugar content has a hydroscopic component that fights arthritis.
One study was conducted using rats as the sample. It was concluded that they showed a big, positive change with regard to the symptoms of arthritis.
Specific food: Low-fat yogurt.
Amount to take: 27g or below.
You May Also Like To Read – Yogurt Linked to Better Bone Health
10. Oils
If you really don't like adding a specific food in your diet, then you can simply use healthy cooking oils and the job is done for you! Several cooking oils are proven to have properties that can help in aiding with arthritis pain.
It contains oleocanthal- a property that creates affirmative impact in your heart.
Some cooking oils contain a massive amount of omega-3, which is a substance that can reduce the swelling in your joints.
According to a study at the Center for Nutrition Studies, adding natural oils to your diet can lessen the severe pain caused by arthritis.
Specific foods: virgin oil, avocado oil, safflower oil, walnut oil and other vegetable oil.
Amount to take: Depending on where you will mix it. Consume this every 72 hours.
Advertisement
*All individuals are unique. Your results can and will vary.
11. Turmeric
Arthritis is usually associated with aging because as we age, our bone becomes weaker. But the great thing is, there is a lot of food that contains massive antioxidant properties and that includes turmeric! Turmeric helps your body to conquer the pain that arthritis brought you.
In a research, it was concluded that consuming more turmeric will give stronger effects in strengthening your joints.
The best thing about turmeric is that you won't suffer any side effects.
Specific foods: Turmeric itself or may be in powdered form.
Amount to take: Consume 250-500 mg, three times a day.
12. Bananas
Although fruits are generally good for your arthritis diet, banana leaves a remarkable result because of its great potassium and magnesium content. These two even works better when combined and it grows your bone density.
With magnesium, banana can alleviate the severe pain in your joints.
Banana is rich in minerals and it can replenish essential minerals in your bones, including your joint.
Specific foods: Banana.
Amount to take: 1-2 medium bananas.
Related Post : Natural Treatment for Arthritis Joint Pain
Conclusion
Arthritis and diet are two things that should cohere with each other. Despite the fact that there is no present-day study proving that eating certain foods can completely cure arthritis, you can still consider adding these foods to alleviate some of the symptoms of arthritis.
By adding whole grains, citrus fruits, soybeans, milk products, fish, green tea, tart cherries, broccoli, yogurt, oil, turmeric, banana or any other similar food, you can have a perfect arthritis diet that really deals with the pain in your joints.
However, if you want instant relief from arthritis joint pain you can take assistance from certain joint pain relief products. You can check out Vasayo Microlife Renew Microgel Review which might be a decent option for joint pain products.
Read Next – Avoid These 6 Foods That Make Your Arthritis Worse
View All