Physical pain has for many years now been a common problem for many Americans. In fact, according to a national survey, more than 1/4 of U.S adults have reported some sort of pain that last for more than a day. Looking for effective medication for osteoarthritis has been a headache as no one has ever come up with a medication that can cure* this condition. This has led to many scientists trying one method to another. Some have tried medications, food modifications, exercises and other sort of management procedures like acupuncture.
Use of Acupuncture for Pain
Acupuncture is among the oldest healing methods in the world, and it is part of traditional Chinese medicine. Practitioners of Acupuncture stimulate specific points on the body; they often insert thin needles through the skin. According to traditional theory from Chinese medicine, this will regulate the flow of vital energy meridians (pathways).
What the Science Says About Acupuncture for Pain?
There has been lots of studies on the effects of Acupuncture on a wide range of pain conditions i.e.carpal tunnel syndrome, postoperative dental pain, fibromyalgia, low-back pain, headache, menstrual cramps, tennis elbow, myofascial pain and osteoarthritis. It is however difficult to use all these research studies to make a firm conclusion. This could be down to the fact that various research studies could be using different acupuncture techniques and outcome measures. One complex factor that is particularly responsible for this error is how to choose controls for a clinical trial. The choice the researcher wants to pursue will depend on whether he wants to study a specific acupuncture or whether he wants to determine whether the acupuncture is helpful or not as compared with other forms of management.
The role of the placebo is an emerging theme in the research of acupuncture. For example, a review in 2009 on a `systematic research' on the effects of acupuncture on pain compared with placebo was inconclusive. In these reviews, there was a small difference between placebo and acupuncture but the difference that was there was a moderate one. Between the two, the effect of placebo varied considerably, and on the other hand the effect of acupuncture seemed to be unrelated to a particular kind of a placebo procedure used. Participants of this procedure were all given standard care, mainly consisting of physical therapy and analgesic drugs. Below here are sections which summarize research on acupuncture for a variety of pain conditions:
Scientific Evidence on CAM Therapies
Evidence from Scientific studies show that CAM therapies encompass both "positive" findings and "negative" findings.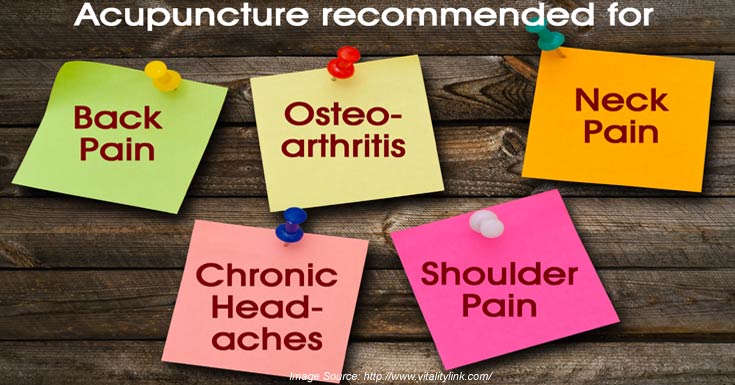 Headache/Migraine: There are conflicting results on the role of acupuncture for headache. In some reviews, there is evidence that acupuncture is helpful in headache while in some other reviews on the same topic, acupuncture does not have any meaningful role in headache.
Low-Back Pain: Evidence from the American College of Physicians and the clinical practice guidelines by the American Pain Society in 2007, physicians should consider acupuncture as one of the several CAM therapies for patients with chronic low-back pain who do not respond to treatment from conventional methods.
Carpal Tunnel Syndrome: Despite evidence from a 1997 NIH consensus statement, which concluded that acupuncture was promising for carpal tunnel syndrome, evidence from additional research on this topic has been scant.
Fibromyalgia: We have been having mixed evidence on the role of acupuncture for fibromyalgia. There have been some reviews showing this method as effective; however some other studies on the same topic have shown negative results on fibromyalgia with acupuncture.
Menstrual Cramps: There has been evidence from two literature reviews which have suggested that acupuncture can be used to ease pain from menstrual cramps, though research is still limited.
Myofascial Pain: Evidence for myofascial pain and acupuncture is mixed. Some quotas of reviews have shown this evidence as promising one, however there are other reviews still pointing this evidence as inconclusive.
Osteoarthritis/Knee Pain: The use of Acupuncture in managing osteoarthritis has been shown to be effective -particularly in the areas of knee pain. Evidence from the latest literature reviews; have shown that acupuncture has the ability to relieve pain. It can also improve* function for people suffering from osteoarthritis of the knee.
Neck Pain: In studies based on the role of acupuncture on chronic neck pain; it was found that acupuncture was an effective pain reliever than some simulated treatments. But, there was variation on these studies on design and sample sizes.
Studies have also extended the use of acupuncture in other tests. They have tested the role of acupuncture in other pain conditions including pregnancy-related pelvic, arm and shoulder pain, temporomandibular joint dysfunction and back pain. Though, there has been positive results from these studies, this area require more research for any conclusive remarks. Some Evidence shows that an attitude of people towards this method can have an effect on the outcome. A study done in 2007, four clinical trials were analyzed on the role of acupuncture on various types of chronic pains. In all these trials, those who had pain relieve said that acupuncture had really helped them of their pain.
Side Effects and Risks
This method of acupuncture is generally considered to be a safe method when performed by an experienced practitioner. However, there have been relatively few side effects reported from the use of acupuncture. You can have serious side effects from using acupuncture, though they are rare. Some of these side effects include punctured organs and infections. In comparison to other methods like steroid injections and anti-inflammatory medication, acupuncture has reported fewer side effects.
Research Funded By NCCAM
The following are the latest projects by NCCAM on the role of acupuncture on various types of pain:
Studies on the role of acupuncture on low-back pain and osteoarthritis of the knee.
Studies on effects of acupuncture on pain after oral surgery, pain associated after chronic headaches, carpal tunnel syndrome/repetitive strain injury, fibromyalgia and temporomandibular joint disorder.
Studies on Women's health, including acupuncture for menstrual pain, for pelvic pain and pain from advanced ovarian cancer.
Studies using fMRI technology on the brain activity during acupuncture.
References
Birch S, Hesselink JK, Jonkman FA, et al. Clinical research on acupuncture. Part 1. What have reviews of the efficacy and safety of acupuncture told us so far? Journal of Alternative and Complementary Medicine. 2004;10(3):468-480.
Burke A, Upchurch DM, Dye C, et al. Acupuncture use in the United States: findings from the National Health Interview.
Ernst E. Acupuncture a critical analysis. Journal of Internal Medicine. 2006;259(2):125-137.
Agency for Healthcare Research and Quality. Technology Assessment: Acupuncture for Fibromyalgia. Rockville, MD: Agency for Healthcare Research and Quality; 2003.
View All