In This Review
What is Wobenzym N?
Joint pain is a very common complaint nowadays, especially in the aging population.
In fact, in the United States, joint pain (such as those arthritides) is one of the leading causes of disability in the population. That is why investments have been made in maintaining and improving joint health.
Optimal supplements for joint health, accessible online, can aid individuals in combating the debilitating impact of joint pain and diseases.
How Does It Rate?
Overall Rating: 3.8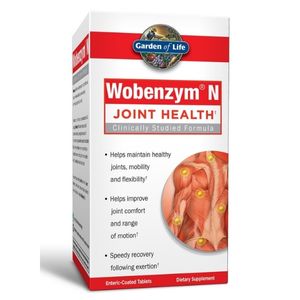 Wobenzym N
Brand Highlights
Wobenzym is the leading joint health brand in the world. During the 1950s, a well-respected scientist and professor, Dr. Max Wolf, has been conducting studies on enzyme combinations.
Exertion Gluten and Dairy Free: A Successful Tradition Wobenzym N is the only systemic enzyme formula supported by years of clinical study and positive customer feedback, making it a world leader in joint health.
The formula was called Wolf-Benitez Enzymtherapie, hence the name Wobenzym. During the 1960s, it was launched in Germany as a supplement for healthy joints.
Wobenzym N has a long history of being effective and popular with customers.
Key Ingredients
Pancreatin
Papain
Bromelain
Trypsin 2
Chymotrypsin
Rutoside trihydrate
Cellulose
Vegetable-based enteric coating
Vegetable stearate
Natural vanilla flavor
Purified water
Pros
Maintains the body's natural inflammation response so that the body can tolerate straining, soreness, and other problems that may arise from an activity.
Reduce recovery period from joint pain.
It improves and maintains joint and tendon health.
Provides temporary relief from muscle soreness, body ache, and joint pain caused by daily activities.
Cons
It may cause diarrhea and gas formation
The tablet contains proteolytic enzymes that aid in digestion
---
How Does Wobenzym N Work?
This is one of the products of the Wobenzym family. It is made from delicate combinations of various enzymes that are packaged in a vegetable-based casing to ensure the optimum release of the enzymes directly into the bloodstream.
Wobenzym N Ingredients – Are they Safe & Effective?
Each tablet contains the following ingredients:
Pancreatin

– Enteric coating, a unique coating used on pancreatin[1] capsules, enables the enzymes to pass through the large intestine and enter the small intestine before being absorbed. The body absorbs nutrients through the small intestine.

Papain

– Papain[2] has been shown to be beneficial in reducing joint pain and stiffness, making it a great supplement for anybody with arthritis.

Bromelain

– Along with osteoarthritis of the knee and shoulder joints, bromelain[3] has also been utilised to treat a variety of other diseases and ailments.

Trypsin 2

– People who lack the digestive enzymes needed to get trypsin[4]. Additionally, it is administered together with rutin and bromelain for the treatment of osteoarthritis.

Chymotrypsin

– The body's inflammatory system has to be controlled and modulated by proteolytic enzymes like chymotrypsin. Chymotrypsin may lessen the signs and symptoms of osteoarthritis and other degenerative joint illnesses when combined with other proteolytic enzymes (such as bromelain, rutin, and trypsin).

Rutoside trihydrate

– Anti-inflammatory and antioxidant properties are provided by rutoside trihydrate. By disarming the substances (free radicals) that result in cell damage, it stops further swelling and inflammation.
Other ingredients are – Cellulose, Vegetable-based enteric coating, Vegetable stearate, Natural vanilla flavor, Purified water
FAQ's
Q: Are There Any Alternatives Of This Product?
A: Yes, you can check these products also before sitting to any product Wobenzym Plus and ZanthoSyn
Q: When to Use Wobenzym N?
A: This product is a drug-free supplement that can be used in the following conditions:
Joint Pain – It is used by most people as a form of temporary relief from pain due to rheumatoid arthritis and osteoarthritis. It can also be used to treat soreness and muscle aches due to strenuous activities. Cardiovascular Disease – Wobenzym N supports cardiovascular health by decreasing the CRP (C Reactive Protein) in the body. CRP is indicative of too much inflammation in the body. According to the International Journal of Immunotherapy, Wobenzym N has been shown to reduce CRP levels which can, in turn, reduce the narrowing of blood vessels due to inflammation from plaque formation.

Surgery – There are instances when Wobenzym N is used preoperatively and postoperatively to reduce inflammation, pain, and soreness. However, the use of this product for this purpose should be closely supervised by the physician to monitor any adverse effects such as bleeding.

Poor Digestion – Since it contains mostly proteolytic enzymes, Wobenzym N can be an effective supplement for improving the digestion process.
Q: How Long Before it take to show the Desired Effects?
A: Since this supplement consists primarily of enzymes and every person has different needs. The timeframe before the effectiveness of Wobenzym N also varies from one person to another. One user had attested that she noticed changes as early as the third day, after taking 5 tablets, 5 times a day. It may actually take 2 to 6 weeks before the desired improvements can be achieved.
However, for those with chronic conditions, it may take them 1 to 2 months. The recommended dosage of Wobenzym N is 3 tablets per serving with 2 servings per day. This is a lot of tablets to take in a day, but other consumers have even consumed more in the hope of increasing the efficacy of the supplement.
Q: What are the Precautions Before Taking Wobenzym N?
A:
Pregnant and nursing women should not take this supplement
It should not be used by individuals having bleeding disorders or liver problems
It should not be used together with other maintenance medications especially Warfarin, Heparin, Aspirin, and other blood thinners
Should be used cautiously by individuals scheduled for surgery or have undergone any surgery
Q: Will You Need Wobenzym N for Long-Term Care?
A: Wobenzym N has been noted to reduce its efficacy when a person decreases its consumption. Thus when the intended effect is for chronic conditions such as arthritis, then one should continue taking this supplement.
Read Next – Joint RX
What Do the Reviews Say?
Felt Difference
My doctor prescribed wobenzym 2 weeks prior to my having surgery. My doctor is a firm believer in wobenzym reducing post-surgery bruising and swelling. The best advice I have ever received as two of my sisters had the same surgery, had different doctors, and had BIG differences in healing time and bruising. As an added bonus, my joints are pain-free from using coenzymes. I am a customer for life. I am 66 years old…life changer! ~ Ronny
Final Verdict
The benefits of taking Wobenzym N are very promising. The research studies and experiments showed its potential efficacy in joint health and pain relief. However, consuming 6 tablets in total each day is quite too much. Also, the fact it just contains enzymes that are readily available in the body is not an edge. Why would you pay for something that is already there in your body? Look for some joint pain supplements which are readily available in the market.
Healthy joints allow us to move with ease. Joint damage can cause pain preventing you from doing the things you once loved. From aging to untreated sports injuries – many conditions lead to joint pain. A quality joint product may help reduce inflammation, repair existing tissue damage, and promote stronger joints, lessening susceptibility to future degeneration.
Below you'll find some of the most effective joint pain supplements on the market today, in our opinion.
Our Top Joint Pain Relief Choices
Verdict on Claimed Benefits: Below is our summary of the available evidence for the claimed benefits of below mentioned joint pain supplements based on the available research: