What is Veda Soothe?
Veda Soothe is a product that mainly focuses on the healing powers of Turmeric and the bioactive component of turmeric, curcumin.
It has been widely noted that curcumin has positive effects on inflammation and that it modifies immune system responses in the human body.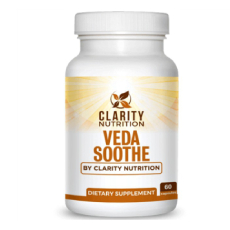 Curcumin has been used for a very long time in Ayurvedic medicinal practices and it is what relies on most in terms of ingredients.
Turmeric itself is a yellow spice that is often used in cooking but has recently found new life among consumers as a super food.
Veda Soothe has harnessed the benefits of turmeric and put it into a dietary supplemental pill.
Veda Soothe has also included some ingredients that increase the bioavailability of curcumin or in other words, they increase the amount of the nutrient that is absorbed in the body.
Who is the Manufacturer of Veda Soothe?
The company that produces Veda Soothe is called Clarity Nutrition[1] and they are a company that makes other supplements that target blood sugar, energy, liver function and more.
Clarity Nutrition claims that they are devoted to helping people live well without the interference of big pharmaceutical companies that are only interested in generating more customers.
How Does Veda Soothe Work?
It should be noted that curcumin is the most important ingredient in this joint pain product because it is the source of all the claims of the product and gives it its functionality.
Curcumin has been studied and proven to inhibit the NF-kB pathways in cells thereby negating the pathway for inflammation[2].
This is what gives the product its anti-inflammatory abilities and makes it effective for pain management.
Veda Soothe Ingredients – Are They Safe & Effective?
Of course, the main ingredient here is turmeric curcumin but there are some other ingredients that play a crucial factor in the functionality and effectiveness of Veda Soothe. Let's have a closer look at exactly what is in Veda Soothe.
Bioperine – This is an important role player in Veda Soothe because bioperine makes curcumin more bioavailable. It helps the body absorb more of the good components of curcumin.
Boswellia Resin Extract – In its resin form, this ingredient is rich in AKBA or boswellic keto acetyl-11-b-keto acids. These acids have a dramatic effect as an anti-inflammatory.
Curcumin – This is the main ingredient in Veda Soothe as it is a natural anti-inflammatory, antioxidant, and promoter of joint function.
Ginger Root Extract – This ingredient is thought to work in two ways. It is an anti-inflammatory so it relieves pain but it also may be able to repair damage to joints caused by inflammation.
Cissus Quadrangularis – This is an ingredient that has been used for many things including regulating blood sugar levels and strengthening bones.
What are the Advanteages of Veda Soothe?
This product contains bioperine which has been proven to help the body absorb nutrients.
It may be able to relieve pain associated with arthritis.
Veda Soothe may be able to help repair some of the joint damage caused by inflammation.
It may be possible for Veda Soothe to be a mood enhancer and have a positive effect on the brain.
What are the Disadvantages of Veda Soothe?
Some may experience an upset stomach from ingesting turmeric supplements.
We are told that the results of Veda Soothe will vary from consumer to consumer.
There is no guarantee that Veda Soothe will work to reduce the severe joint or back pain.
We are not given any concrete evidence that Veda Soothe can support the immune system.
FAQ's
How Should you Take Veda Soothe?
Veda Soothe is meant to be taken as a dietary supplement first and foremost. Then, we are instructed to take one capsule, two times a day and preferably with a meal.
How Much Does Veda Soothe Cost?
A single bottle of Veda Soothe containing sixty capsules of the product costs $149.00 on the official Clarity Nutrition website. As stated earlier, 60 capsules is a one month supply.
What is Veda Soothe's Return Policy?
Any product you buy from the official Clarity Nutrition website, including Veda Soothe, comes with a 60-day money back guarantee.
Does Veda Soothe Offer A Free Trial?
There is currently no free trial of Veda Soothe being offered by the manufacturer or any third-party retailers that we could find. This may change so check back at a later date.
Veda Soothe Review – Final Verdict
There seems to be an equal amount of pros to go along with the cons of this product. On one side of the table, we see that Veda Soothe makes curcumin more bioavailable in the body, it may reduce inflammation in the joints, and it may even help repair joint damage.
The cons associated with Veda Soothe are that it may give some people an upset stomach especially when taken in the morning, there is no guarantee that it will relieve severe back pain, and effectiveness may depend greatly on the consumer.
The Veda Soothe can be ship with in US only. At the end of the day, we would like to remind you that there are many turmeric supplements on the market so you should take a look at a variety of them.
Bones are connected by joints, which allow us to move with ease. Joint damage can cause pain preventing you from doing the things you once loved. Many conditions lead to joint pain from aging to an untreated sports injury. A quality joint product may help repair existing tissue damage and also promote stronger joints, less susceptible to future degeneration.
Below you'll find some of the most effective joint pain supplements on the market today, in our opinion.
Our Top Joint Pain Relief Choices
FlexoPlex

Fight Joint Pain and Inflammation*
Prevent Recurring Damage*
Fight Joint Pain and Inflammation*
Prevent Recurring Damage*
Fight Joint Pain and Inflammation*
Prevent Recurring Damage*