In This Review
What is SynovX® DJD?
SynovX® DJD is a natural joint supplement that promises to repair the joints, maintain a healthy joint environment, and provide the joints with the nutrients and basic building blocks they require. After years of exercise and other physical activity, the balance in the joints can become disrupted. This product can bring your metabolic activity into balance, leading to healthier joints.
The ingredients included in these supplements for joint pain are completely natural, which make them less of a risk in terms of side effects compared to prescription medication.
SynovX® DJD is high in Vitamin C, which has healthy and healing properties. Before concluding anything about SynovX® DJD. Let's learn more about SynovX® DJD reviews and the working process.
How Does It Rate?
Overall Rating: 3.9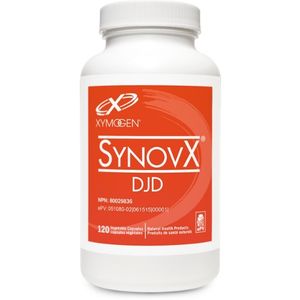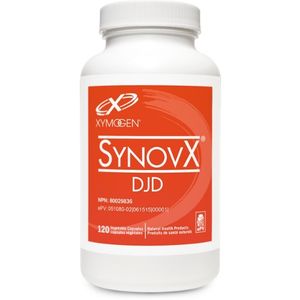 SynovX® DJD
Brand Highlights
SynovX® DJD is manufactured by Xymogen, which was founded in October 2003.
Their products treat several health conditions and illnesses, including arthritis and neurological disorders.
The company was recently given the honor of being named one of the fastest-growing and best-run private companies in the United States by Inc.
magazine, for the 9th time. Xymogen started out as a distributers, but then made the switch to become a supplement manufacturer.
Key Ingredients
Green-Lipped Mussels
Glucosamine Sulfate
Hyaluronic Acid (Hyal-Joint)
Methylsulfonylmethane (MSM)
Vitamin C
Pros
SynovX DJD may repair damage to joints, ligaments, and cartilage.
It might provide your joints with the basic building blocks they need.
SynovX DJD can keep the joint environment in a healthy state for the long term.
SynovX® DJD is made solely of natural ingredients.
Vitamin C, which has beneficial health and healing effects, is rich in SynovX® DJD.
By nourishing, mending, and controlling metabolic processes, SynovX® DJD supports joint health.
Cons
SynovX® DJD isn't suitable for vegetarians as SynovX® DJD contains mussels.
Scientists don't know much about the long-term effects of taking SynovX® DJD.
Taking high levels of manganese can be toxic.
SynovX® DJD can be dangerous if users take over the recommended dosage.
---
How Does SynovX® DJD Work?
The ingredients in this joint pain product have properties that make it very beneficial for the joints and it contains substances that play a role in synthesizing joints.
SynovX® DJD supports metabolic activity, creates more flexibility, nourishes the joints, regulates the cells, and provides lubrication.
In addition, the supplement can bring back the equilibrium between anabolic and catabolic processes in the joints.
SynovX® DJD Ingredients – Are they Safe & Effective?
The ingredients in this product support joint health by nourishing, repairing, and regulating metabolic processes. They also bring the internal environment of the joint back into balance if it has been disrupted.
The primary SynovX® DJD ingredients are:
Green-Lipped Mussels
– These are very high in healthy omega-3 fatty acids. They're helpful and effective in the treatment of arthritis largely because they have powerful anti-inflammatory properties.
They have glycosaminoglycans (GAGs), which are important parts of cartilage and synovial fluid. They also contain eicosatetraenoic acid, which is very healthy for the joints.
Glucosamine Sulfate
– It's an amino saccharide that is known to help joint mobility and comfort. It also makes the process of joint and cartilage deterioration much slower, so they stay in a healthy condition for longer.
This substance will repair any damage to the cartilage, lubricate the joints, and has strong anti-inflammatory abilities.
Hyaluronic Acid (Hyal-Joint)
– The role of hyaluronic acid is to provide the joints with lubrication[1]. It also regulates the cells in the synovial tissue. In our 1MD MoveMD review article, we have thoroughly documented the presence of this ingredient, offering benefits and analysis.
Methylsulfonylmethane (MSM)
– This is a compound that transfers sulfur to the joints which strengthens the connective tissue. There's some evidence that it also prevents further damage to the joints[2].
Vitamin C
– This is also referred to as ascorbic acid. This vitamin exists naturally in many foods and is crucial to remain healthy[3].
It's important for the joints and cartilage because it can synthesize collagen and is vital to the overall health of the joints.
Read More About Similar Products – Arthrozene and What Is Relief?

SynovX® DJD – FAQ's
Q: How should you take SynovX® DJD?
A: The recommended daily dosage of this supplement is 2 capsules per day, with a full glass of water. Do not exceed the maximum dosage, as it could be harmful to your body.
Q: Where to buy SynovX® DJD?
A: You can purchase SynovX® DJD online from its Official Website.
Q: Does SynovX® DJD have any side effects?
A: A few of the ingredients in SynovX® DJD may have negative side effects. Asthma symptoms may get worse after taking glucosamine. Additionally, it may result in diarrhea, heartburn, nausea, migraines, skin sensitivities, and constipation.
Q: How much does SynovX® DJD cost?
A: On the official website of the manufacturer, you can't see how much the product costs unless you register as a customer on the site. Then you must select 'order now.' to reveal the pricing details.
The product is for sale on other retail websites as well, although many don't reveal the price outright either. However, one site offers the product for a price of $40.90.
Q: What is SynovX® DJD's Return Policy?
A: There's no return policy given on the manufacturer's official website. If you purchase the supplement from another online retailer, you're covered by that company's return policy.
Q: Does SynovX® DJD offer a free trial?
A: No, there's no free trial of this product offered on the official website, nor on any other retail website that sells the product. You will have to make a purchase.

SynovX® DJD Reviews – Final Verdict
SynovX® DJD is a best vitamins for joints intended for those who suffer from chronic joint pain. The manufacturer purports that the product gives the joints the nourishment and basic building blocks they require.
This product is also supposed to have the ability to fix damage to the joints, provide them with lubrication, and generally keep the area in and around the joint in top condition.
Naturally, the product also has some faults. A couple of the ingredients, like Manganese, can be dangerous. Taking 11mg a day would be toxic, and this supplement contains 5mg. MSM hasn't been studied enough to determine whether it has long-term negative consequences and mussels are associated with some side effects, including nausea, itching, and diarrhea.
Before you buy this product, meet with your doctor and make sure the medications you take are compatible. As always, remember to do your own independent research into SynovX® DJD and its ingredients, so you're knowledgeable about the supplements that you're taking.
Healthy joints allow us to move with ease. Joint damage can cause pain preventing you from doing the things you once loved. From aging to untreated sports injuries – many conditions lead to joint pain. A quality joint product may help reduce inflammation, repair existing tissue damage, and promote stronger joints, lessening susceptibility to future degeneration.
Below you'll find some of the most effective joint pain supplements on the market today, in our opinion.
Our Top Joint Pain Relief Choices
Verdict on Claimed Benefits: Below is our summary of the available evidence for the claimed benefits of below mentioned joint pain supplements based on the available research: