Synerflex Overview
While there is a good amount of information on the official website for the joint pain reliever, Synerflex it is unfortunate that the tone of the site gives it a poor impression. Written in the form of a 'personal' letter to the customer, this North Star Nutritionals' brand seems 'too good to be true' and very gimmicky. However, the site does provide full company contact details and a 60-day money back guarantee.
SynerFlex is only available from the company website which has a secure ordering page. The customer can opt to enroll in the auto-shipping program, whereby they can receive Synerflex at discount prices and, as with most products of this type, the company offers deals on larger orders. The regular cost of Synerflex is $39.95 for a one-month supply.
Who Designed Synerflex?
Synerflex is a product that is used for relieving joint pain. The main purpose of Synerflex is to help those who suffer from rheumatoid arthritis. But Synerflex can be used for joint problems such as stiffness, inflammation and also to treat immobility experience in the movement of joint.
North Star Nutritional manufactures this product; it is a well-established manufacturing company; therefore, authenticity is not a problem. You can view the product on its well-maintained website and get all the related information. The key goal of Synerflex is to reduce the extreme joint pains; Synerflex is an effective and a safe product for that.
What Ingredients are in Synerflex?
The main ingredient in Synerflex is Hyal-joint; this contains an acid known as hyaluronic acid. Other ingredients include Hops extracts Boswellia. Boswellia inhibits Cox-2. Cox-2 is an enzyme that adds to the pain in the body; therefore, if this enzyme is reduced, inflammation is decreased, and the joint can repair itself more efficiently.
It is said that Synerflex is clinically tested, but there are no published results. Synerflex is a perfect approach to keep your joint healthy. It helps to turn on the synovial fluid that is trapped in the joints and helps in movement. Thus you can easily stretch, crouch, flex and bend without experiencing piercing pain in knees, elbows and knuckles. Rich ingredients found in Synerflex are helpful in increasing synovial fluid in joints through which joints can be protected.
How Does SynerFlex Work?
The key active ingredient in SynerFlex is Hyal-joint, a formula that consists of Hyaluronic acid, a substance that increases the production of protective synovial fluid in the joint. The formula also uses Hops extract, which has anti-oxidant and anti-inflammatory properties, plus concentrated Boswellia. The Boswellia can inhibit Cox-2, an enzyme that contributes to pain in the body. By reducing this enzyme, inflammation is decreased, and the joint can repair itself more efficiently. There is a lot of information regarding the key ingredients in the SynerFlex formula, although a full ingredient list is not shown, and while it is stated that clinical tests have been performed, no results are published.
How to use Synerflex?
Initially, it is recommended that you use 3-5 pills of Synerflex, depending on the pain. If the pain is severe, then a daily intake of 3 pills of Synerflex is recommended for a period of 3 to 5 weeks. This is an ideal treatment for relieving yourself of joint pains. The dose can be reduced over time if the pain decreases and you can shift from 3 capsules daily to 2 capsules per day. Synerflex can also be obtained in powder form from the market; this is useful for those who find it difficult to swallow pills. You can add the powder into water and drink it.
Do's
Take proper dosage and avoid its overdose; it can be quite harmful. Even though the dose is mentioned on the internet, but you must consult your physician before you proceed with its use
Since there is no dosage mentioned on the product, so you must be careful before starting the supplement
Don'ts
Do not get any pain killing injections along with Synerflex; the treatment itself will make your joints better over time. Hyal-Joint found in it is a form of HA
If you need Glucosamine or chondroitin do not use Synerflex, it is

not an ideal product

for this purpose because it doesn't contain these ingredients
Are There Any Side Effects?
All the ingredients of this product are not shown on the packaging.
The recommended dose is also not mentioned on the packaging
Synerflex

does not contain all clinically proven ingredients

that are normally included in joint pain supplements
Strengths
A 60 day money back guarantee is provided
The ordering site is secure
Customer discounts are offered

The active ingredients are shown

Full company contact details are provided
Discounts are offered on certain orders
Weaknesses
The product does not contain Glucosamine or Chondroitin
No clinical trials are shown
Not all ingredients are known
The website is not professionally presented
Does Synerflex Really Work to Alleviate Joint Pain?
Synerflex is an excellent product that contains Hyal-Joint. This is a clinically proven ingredient, which affects the joint by increasing synovial fluids concentration.
A study recently came out, which showed that horses that are given Hyal-Joint supplement have an increased joint tenderness. Another important study revealed that that Hyal-Joint is absorbed by the intestines up to 50%; it is an amazing rate for oral supplement. If you want something for your entire joints problem then Synerflex can prove to be quite helpful. But, like all other products, you must consult your doctor before using it, because it can contain ingredients that you are allergic to.
Final Verdict
Unlike a lot of other joint pain products on the market, SynerFlex uses the power of Hyaluronic acid as its main ingredient which, while providing lubrication and cushioning, does not help rebuild damaged cartilage. The addition of Glucosamine and Chondroitin would be beneficial as would a free sample of the product and publication of clinical test results.
Below we have ranked the best joint supplements to make it easy for you to find effective and safe products. The ranking is based on crucial factors like potential to alleviate joint pain, potential to promote joint cartilage and tissue regeneration, potential to prevent recurring damage, potential to improve overall joint health, and quality of ingredients. In the end, we were able to come up with the bottom-line value of each product.
Our Top Joint Pain Relief Choices
Fight Joint Pain and Inflammation
Fight Joint Pain and Inflammation
Fight Joint Pain and Inflammation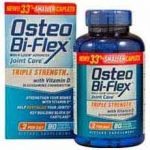 Fight Joint Pain and Inflammation
Fight Joint Pain and Inflammation
Fight Joint Pain and Inflammation