What is Purica Recovery?
Recovery Formula is a joint care product that claims to be; safe, all-natural, food-based, non-drug medicine that helps to improve the quality of life by offering you pain-free joints. Purica recovery Formula is a potent blend of naturally-occurring substances derived from natural food substance that have been proven to profoundly affect the health of our cells. Purica Recovery® Formula has also been developed to help improve your circulation, facilitate speedy repair and slow or halt tissue damage. It is available in either 180 V-caps or 360 V-caps or 350 g powder.
Key Ingredients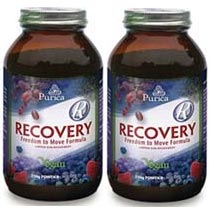 Each teaspoon (4 grams/.14 oz) contains:
Nutricol® – Proprietary plant complex containing EGCG, OPC's, theaflavin and resveratrol from green tea and grape: 250mg
Methyl Sulfonyl Methane (MSM): 1,000mg
Glucosamine Hydrochloride (Plant source): 750mg
Fructooligosaccharides (FOS): 500mg
Vitamin C (Magnesium Ascorbate): 400mg
Betaine: 200mg
Elemental Magnesium (Magnesium Ascorbate): 145mg
Vitamin E (natural d-alpha tocopheryl): 100iu
Hyaluronic Acid (Sodium Hyaluronate – Vegan/Microbial Fermentation): 25mg
The Science Behind Purica Recovery
To understand how Purica Recovery® Formula works, let's take a sneak peak at how cells behave when they start aging and/or damaged by physical trauma such as injury, surgery or over-training.
When cells are irritated through mechanical damage or aging, their membranes break down. As a result of the breakdown, compounds contained in the cells are released into the cellular matrix. Some of these cell contents, such as histamine, give rise to inflammation and associated pain. Inflammation is the body's natural response to injury. With inflammation come redness, swelling, heat and discomfort. This can greatly affect your mobility and lead to stiffness and loss of function in extreme cases. Research indicates that the "diseases of aging" such as arthritis, osteoporosis and hardening of the arteries, have similar symptoms such as decrease in cell stability leading to membrane damage and subsequent release of irritating compounds. Active ingredients in Purica Recovery® works to stabilize the membranes of your cells, facilitates healing existing damage and preventing further damage.
What Purica Recovery Contains?
Methylsulfonylmethane (MSM) – MSM is an organic sulfur compound used in the treatment of arthritis. MSM reduces pain and enhances joint mobility (some researchers claim that MSM also reduces inflammation). Since it supplies sulfur, MSM plays a key role in the generation of connective tissues and formation of sulfur. MSM plays an important role in Rub on Relief Cream since it increases cell permeability allowing quick dissolving of other ingredients into the cell.
Glucosamine Sulfate exists naturally in our bodies, but it can be harvested for artificial application from the skeletons of shellfish. It's responsible for building and repairing damaged and worn out cartilage, ligaments, and tendons.
Advantages of Purica Recovery
Increases the response of membranes to hormones
Halts damage that initiates inflammatory reactions
Enhances cell and tissue repair
Side Effects of Purica Recovery!
Minimal side effects may occur with Purica Recovery®. Some users reported;
Looser stool
Flatulence and abdominal gurgling, or other detoxifying symptoms
To avoid these side effects, adjust your dosage levels to levels that are comfortable with your body. Take Purica Recovery® before meals until your body adjusts. Taking Purica recovery with lots of water is often helpful. Purica Recovery® is safe, effective and produces outstanding results for those who use it consistently.
Find Out More Products
Is Purica Recovery Safe?
Purica Recovery® is a food-based non-drug medicine and has ingredients extracted from natural foods (grapes, green tea) that have a long history of being consumed daily on extended long periods.
Can it Be Taken With Other Medications?
Purica Recovery® is safe to complement other drugs. However, the manufacturer reports that high doses of ibuprofen may inhibit the activity of Purica Recovery® in some users. Lowering the dosage of ibuprofen used may improve the effects of Purica Recovery®.
Directions
The recommended dosage is 3 Capsules two times or day or as recommended by a health care professional. In extreme cases, you can take 5 capsules two times per day or as recommended by a health care professional.
Possible Warnings!
Consult your physician if you are breastfeeding or pregnant
Don't take Purica recovery if you are allergic to any of the ingredients
Conclusion
This formulation seems particularly effective for people affected by arthritis and other painful inflammatory conditions. Purica Recovery Formula is mainly designed to provide the body with the nutritional elements needed to recapture health and mobility and not to heal arthritis. Don't buy this product expecting it to make your joint pain disappear completely. However, you can count on it to soothe the pain.
Advertisement
*All individuals are unique. Your results can and will vary.
Healthy joints allow us to move with ease. Joint damage can cause pain preventing you from doing the things you once loved. From aging to untreated sports injuries – many conditions lead to joint pain. A quality joint product may help reduce inflammation, repair existing tissue damage, and promote stronger joints, lessening susceptibility to future degeneration.
Below you'll find some of the most effective joint pain supplements on the market today, in our opinion.
Our Top Joint Pain Relief Choices
Verdict on Claimed Benefits: Below is our summary of the available evidence for the claimed benefits of below mentioned joint pain supplements based on the available research: