In This Review
What is Primal Flex?
Primal Flex is a potent organic formula designed to support overall joint health and reduces pain and discomfort. In addition, this supplement is high in anti-inflammatory agents, which decrease swelling and promote healthier joints.
In addition, it can lessen stiffness and promote flexibility and mobility. It contains botanicals that are high in antioxidants, vitamins, and minerals. They can repair damage to the joints, protect them from further harm, and strengthen immunity.
How Does It Rate?
Overall Rating: 4.9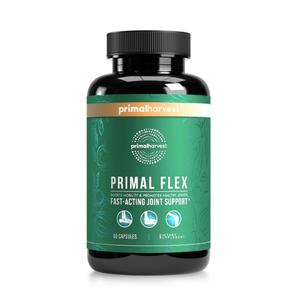 Primal Flex

Brand Highlights
Primal Harvest LLC manufactures Primal Flex, and they have their headquarters in Farmingdale, New York.
Founded in 2018, this organization produces holistic pharmaceutical supplements which support overall health, well-being, and immunity.
Key Ingredients
Turmeric
Boswellia Serrata
Eggshell Membrane
Pros
Primal Flex is rich in vitamins and minerals.
The product may reduce joint pain and inflammation.
The best joint supplement Primal Flex could improve joint flexibility and mobility.
The supplement can increase your activity levels.
It may support health and a stronger immunity.
Cons
Primal Flex is an expensive supplement.
It contains eggs, which is a common allergen.
It's missing ingredients like glucosamine and chondroitin.
---
How Does Primal Flex Work?
Primal Flex contains botanicals that are high in anti-inflammatory properties. As a result, they reduce the pain and the swelling associated with joint conditions and can help make movement and flexibility easier.
This product is rich in antioxidants, which can destroy potentially dangerous free radicals and consequently decrease oxidative stress. This helps to fix and rebuild the joints and cartilage and provides them with protection. The book Systems Biology of Free Radicals and Antioxidants discussed the role of antioxidants in healing arthritis.
One of the ingredients in Primal Flex is the substance collagen, which exists naturally in the skin, joints, and cartilage. There's some evidence it can reduce pain. In addition, it can repair damage and maintain the integrity of the cartilage.
A study published in PLOS ONE concluded that daily consumption of collagen can ease the symptoms of osteoarthritis, and in particular inflammation.
Primal Flex Ingredients – Are They Safe and Effective?
Here are some of the primary active Primal Flex ingredients:
Turmeric
– This is a plant related to ginger. It has potent medicinal properties, largely due to its huge antioxidant base. It can repair damage to the joints and cartilage and protect them from harm. In addition, it's high in anti-inflammatory agents, which can reduce pain and swelling. A study[1] published recently showed the efficacy of turmeric in alleviating the symptoms of joint arthritis.
Boswellia Serrata
– This comes from a tree called Boswellia Serrata, and it has potent anti-inflammatory properties which reduce pain and swelling in the joints[2]. In addition, it's high in antioxidants which repair the joints and raise general immunity. A review in a journal showed the effectiveness of Boswellia in treating osteoarthritis patients.
Eggshell Membrane (Collagen Type 1)
– This is a form of collagen which exists naturally in the cartilage, joints, and skin. It's high in proteins, which support the health of the joints and cartilage and can repair the damage. A study[3] published recently concluded that eggshell membrane is effective in treating the pain and stiffness of osteoarthritis of the knee.
---
Alternatives to Primal Flex
ProOmega Joint Xtra
Joint Pain Hack
Primal Flex – FAQ's
Q: How Should You Take Primal Flex?
A: The recommended dosage is 2 capsules per day, taken with either breakfast or lunch. Do not take more than the suggested dosage under any circumstances.
Q: How Much and Where to Buy Primal Flex?
A: You can buy Primal Flex Supplement on the manufacturer's Website, Amazon, Walmart and on eBay. The prices on the official website are as follows:
One-Time Purchase
1 Bottle – $49.96
3 Bottles – $43.95 each
6 Bottles – $39.95 each
Subscription
1 Bottle – $39.96 month + free shipping
2 Bottles – $39.96 each + free shipping
Q: What is Primal Flex's Return Policy?
A: The manufacturer of Primal Flex has a 90-day return policy. If you're unhappy with the product, call the customer service department and then send the items back within 90 days of the purchase date. You can get your money back for one item only, not for multiple products. You'll get a full refund, minus the shipping fees.
Q: Does Primal Flex Offer a Free Trial?
A: There is no free trial associated with Primal Flex fast-acting joint relief. However, they have a monthly subscription service you can automatically sign up for if you want to get a new bottle every month.
Q: Does Primal Flex Work?
A: Primal Flex Supplement should work, based on the ingredients. It contains a lot of anti-inflammatory properties, which reduce pain and swelling in the joints, as well as antioxidants that repair joint and cartilage damage. It also has collagen, which can fix joint damage and maintain the cartilage structure.
There are a couple of ingredients missing, namely glucosamine and chondroitin. However, this is still a powerful supplement, and it should work. Most Primal Flex by Primal Harvest reviews had perfect things to say about it.
Q: What Do the Primal Flex Joint Supplement Reviews Say?
A: There are numerous excellent Primal Flex reviews online, most of which raved about the benefits of this product. Users with Arthritis and other joint issues said it reduced their pain and discomfort and improved their flexibility and mobility. There were few poor reviews, and no users mentioned having Primal Flex side effects.
Q: Who Should Take Primal Flex?
A: Primal Flex Joint Supplement is made for adults who suffer from joint conditions or pain and want a natural solution to their discomfort. It's also suitable for people who have a joint injury and are looking for relief.
Q: What Are the Side Effects of Primal Flex?
A: Primal Flex side effects are not that adverse unless and until if you are on medication.
Primal Flex Reviews – The Final Verdict
Primal Flex is an organic supplement for people suffering from joint conditions. The product contains antioxidants, vitamins, and other healthy ingredients that can ease pain and swelling and improve flexibility and mobility. Primal Flex also supports a healthy immune system.
The majority of the Primal Flex joint supplement reviews had positive things to say about this supplement. People living with Arthritis said it markedly decreased their pain and swelling and gave them better flexibility and mobility. There weren't a lot of poor reviews, but a few users said the product didn't work well for them.
Some potential mild Primal Flex side effects could occur due to ingredients in this product. If you experience symptoms that are unpleasant or seem serious, discontinue the use of Primal Flex immediately. Before taking it, you must see a doctor to get medical approval.