In This Review
ParActin Overview
ParActin is an over-the-counter pain supplement. The product claims to provide relief from pain, stiffness, and discomfort in 30 minutes. While there are no customer reviews or testimonials on the website, there are clinical trials that can be viewed online.
ParActin can be purchased on the manufacturer's website. ParActin is manufactured by Herbal Powers. The company's contact information is available for customers with questions or concerns. Customers can return unopened products, but there are not many back guarantees for used products.
How Does It Rate?
Overall Rating: 3.6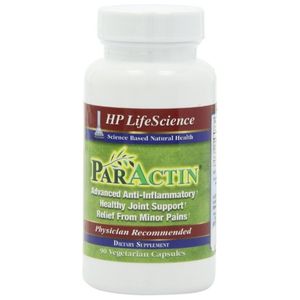 Paractin
Brand Highlights
ParActin is manufactured by Herbal Powers. The company's contact information is available for customers with questions or concerns.
Nature's most important herbal COX-2 inhibitor*.
Promotes healthy inflammation response*.
Promotes healthy joint function*.
Promotes healthy brain function*.
Key Ingredients
Andrographis Paniculata Extract
Andrographolide
14-Deoxyandrographolides
Neoandrographolides.
Pros
ParActin contains ingredients that makes it a best joint formula in the market.
Web site includes contact information.
ParActin doesn't require a prescription.
A successful clinical study is detailed on the website.
Ingredients are listed on the website.
Cons
Statements about ParActin have not been evaluated by the FDA.
There are no customer reviews of ParActin.
There is no money back guarantee once the product is opened.
---
ParActin Ingredients – Are they Safe & Effective?
It is made of Andrographis Paniculata Extract containing a blend of Andrographolide, 14-Deoxyandrographolides, and Neoandrographolides. There are details about how each ingredient helps joint pain on the Herbal Power ingredients website. ParActin purports to be fast and effective in relieving pain.ParActin is available without the need for a prescription.
Andrographis Paniculata Extract
– An herbal medication in tablet form is called Andrographis paniculata[1]. Discover its applications and negative consequences while treating rheumatoid arthritis.
Andrographolide
– The main bioactive diterpene obtained from Andrographis paniculata[2] is andrographolide (AD), which has a variety of pharmacological actions, including hepatoprotection, anti-angiogenesis, anti-thrombosis, and anti-inflammation, as well as anti-arthritis.
14-Deoxyandrographolides
– 14 – deoxyandrographolide's[3] antioxidant properties have been related to its anti-inflammatory mechanism.
Neoandrographolides.
– NeoAndrographis[4] Reduces Pain and Inflammation in Osteoarthritis Caused by Monosodium Iodoacetate
How Does ParActin Work?
ParActin claims to work in 30 minutes. It relieves pain with nature's most important herbal COX-2 inhibitor. ParActin promotes healthy inflammation response, healthy joint function, and healthy brain function and is safe and effective. Clinical research on ParActin is available on the Herbal Power website. However, there are no customer reviews. There are no known side effects.
ParActin promises to help those with pain quickly and safely. Customers can purchase ParActin on the company's website, but there is no money-back guarantee once the product has been opened.

FAQs
Q: What is the recommended dosage of Paractin?
A: The container contains 90 capsules you should take 2 capsules every day for a better result.
Q: Is There a Free Trial Offer for this Paractin?
A: No, there's no free trial offer for Paractin, but there may be a return policy on amazon's site for this.
Q: Does Paractin Interact with other Medication?
A:Paractin promises to be highly safe and have no negative effects on your body if you are taking medication because it is completely natural. However, if you are pregnant or breastfeeding, it is advised that you avoid using it or at the very least consult your doctor.

Final Verdict
ParActin claims it will help relieve pain in 30 minutes. Two to three capsules should be taken every 4-8 hours for maximum benefit. This joint pain supplement claims to help those with inflammation and pain thanks to a blend of pain-fighting ingredients.
ParActin is available without a prescription. It can be purchased on the Herbal Powers' website. The website has a store locator to find the product at retail stores. There is no money-back guarantee on opened products. One clinical trial on the website supports the claims that ParActin will work to relieve pain. There are no customer reviews on ParActin.
Healthy joints allow us to move with ease. Joint damage can cause pain preventing you from doing the things you once loved. From aging to untreated sports injuries – many conditions lead to joint pain. A quality joint product may help reduce inflammation, repair existing tissue damage, and promote stronger joints, lessening susceptibility to future degeneration.
Below you'll find some of the most effective joint pain supplements on the market today, in our opinion.
Our Top Joint Pain Relief Choices
Verdict on Claimed Benefits: Below is our summary of the available evidence for the claimed benefits of below mentioned joint pain supplements based on the available research: