In This Review
Osteo Bi-Flex NutraJoint Plus Glucosamine Overview
NutraJoint is a well-known brand of joint pain reliever that is manufactured by the established company Knox. This company is known for producing gelatin-based products and it is the gelatin that provides the main active ingredient of NutraJoint. The website for Nutrajoint is very informative in regards to details about the manufacturer and includes general joint health FAQs, additional health articles, and several customer testimonials. NutraJoint has been tested in consumer trials and gelatin has also proved successful in independent studies for its ability to strengthen and rebuild damaged joint cartilage.
How Does It Rate?
Overall Rating: 3.4
Osteo Bi-Flex NutraJoint Plus Glucosamine
Brand Highlights
NutraJoint is a well-known brand of joint pain reliever that is manufactured by the established company Knox.
The company is backed by experts and consultants who are sincerely dedicated to quality and satisfaction. In fact, the customer service hotline is written on the website for orders and complaints.
Key Ingredients
Hydrolyzed Collagen
Glucosamine Hydrochloride
D3 Cholecalciferol
dl-Alpha Tocopheryl Acetate
Tricalcium Phosphate
Zinc Gloconate
Copper Gluconate
Manganese Sulfate
Sodium
Ascorbic Acid
Maltodextrin
Pros
NutraJoint is easy to take
Knox is a reputable company
The website is informative about joint health
NutraJoint is widely available
All ingredients are listed
It is available in a Glucosamine-free formula
NutraJoint is clinically tested
Cons
NutraJoint is expensive
Gelatin is not suitable for vegetarians
There is no money back guarantee
Ingredients are not well explainedn.
---
How Does it Work?
NutraJoint is a drink mix that can be added to most beverages, except carbonated drinks and alcohol. It is available either with Glucosamine or without, the latter being suitable for those with shellfish allergies. The full product label is shown for NutraJoint but unfortunately, the ingredients are not explained in detail.
Osteo Bi-Flex NutraJoint Plus Glucosamine Ingredients
Hydrolyzed Collagen
– Hydrolyzed collagen can help strengthen your joints and relieve pain from conditions such as osteoarthritis.[1]
Glucosamine Hydrochloride
– People suffering from osteoarthritis may benefit from glucosamine.[2]
Advertisement
*All individuals are unique. Your results can and will vary.
D3 Cholecalciferol
– It helps with calcium absorption, which helps the body in the development and maintenance of healthy bones.
dl-Alpha Tocopheryl Acetate
– dl-alphatocopheryl acetate works together with aspirin to reduce inflammation and pain.[3]
Tricalcium Phosphate
– Tricalcium phosphate is a calcium phosphate supplement that is used to treat or prevent calcium deficiency.
Zinc Gloconate
– It is involved in bone formation and mineralization, which helps in the maintenance of strong bones and teeth.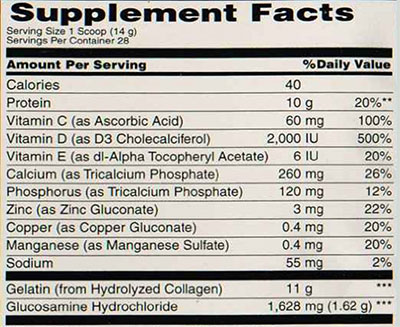 Copper Gluconate
– Copper's antioxidant and anti-inflammatory properties have been used for centuries to relieve pain, reduce joint stiffness, boost energy, and improve overall well-being.
Manganese Sulfate
– Magnesium sulphate is used to relieve constipation in the short term.
Sodium
– Naproxen is a medication that is used to treat fever and mild pain caused by headaches, muscle aches, arthritis, menstrual periods, the common cold, toothaches, and backaches.
Ascorbic Acid
– Ascorbic acid is a powerful antioxidant that is important for joint health and immune function and may benefit people with arthritis.[4]
Maltodextrin
– It provides a quick energy boost, which is especially useful for bodybuilders and weightlifters in general.
Advertisement
*All individuals are unique. Your results can and will vary.
Osteo Bi-Flex NutraJoint Plus Glucosamine FAQ
Q: How much does NutraJoint Cost?
A: NutraJoint can be purchased in retail stores at a variety of costs, though mostly in the range of $25.00-$30.00. Although most stores have their own returns policies, there is no clear satisfaction guarantee associated with NutraJoint itself.
Q: Is NutraJoint good to use for Osteoporosis?
A: Knox NutraJoint is a flavorless, powdered mixture of gelatin, vitamin C and calcium. As cartilage deteriorates, the underlying bone can break down. Taking more calcium by consuming NutraJoint will slow the progression of the bone loss.
Q: Where can I buy Knox NutraJoint?
A: The product can be purchased directly from its official website and on Amazon, eBay, Walmart, and other retailer websites.
Osteo Bi-Flex NutraJoint Plus Glucosamine – Final Verdict
Anyone purchasing NutraJoint can be assured that they are getting a quality product from a reputable company. Although NutraJoint is slightly more expensive than other similar brands, it is worth spending the extra money to know that one is receiving a clinically proven product.
Healthy joints allow us to move with ease. Joint damage can cause pain preventing you from doing the things you once loved. From aging to untreated sports injuries – many conditions lead to joint pain. A quality joint product may help reduce inflammation, repair existing tissue damage, and promote stronger joints, lessening susceptibility to future degeneration.
Below you'll find some of the most effective joint pain supplements on the market today, in our opinion.
Our Top Joint Pain Relief Choices
Verdict on Claimed Benefits: Below is our summary of the available evidence for the claimed benefits of below mentioned joint pain supplements based on the available research: