Now Glucosamine Chondroitin Overview
NOW Glucosamine Chondroitin is a combination of three of the most effective joint health nutrients. This dietary supplement contains Glucosamine, Chondroitin, and MSM.
The producers claim that NOW Glucosamine Chondroitin is the product of intensive research and trials.
What is Now Glucosamine Chondroitin and What Does it do?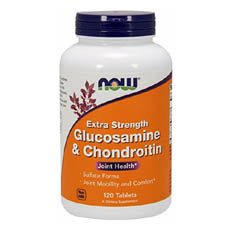 NOW Glucosamine Chondroitin is a dietary supplement that promises to keep your joints healthy and nourished. It promises to rebuild damaged cartilage, torn tendons, and ligaments, nourishes bones and skin, and lubricates your joints.
This notwithstanding, NOW Glucosamine Chondroitin promises to ease the pain caused by osteoarthritis, arthritis, and joint inflammation.
Osteoarthritis is a joint condition that weakens and cause pain in your joints. It is the most common type of arthritis.
The major symptoms of arthritis are; mild inflammation of the tissue surrounding the joints, cartilage damage, and bony growths that develop around the edge of the joints.
Who Can Benefit from Now Glucosamine Chondroitin?
Now Glucosamine chondroitin is a dietary supplement that is available to everyone. You don't need to be sick in order to take Now Glucosamine chondroitin. It nourishes your cartilage, joints, bones, skin, nails, and hair.
However, Now Glucosamine chondroitin is highly recommended for people suffering from osteoarthritis, arthritis, and joint inflammation.
What Does it Contain?
Now Glucosamine chondroitin contains three of the most powerful natural ingredients used in joint care. These are:
Glucosamine – Glucosamine is a naturally occurring component of glycosaminoglycans. Glycosaminoglycans are small sponge-like compounds tasked with absorbing and binding water within cartilage. Glucosamine is essential in maintaining flexibility, joint cushioning, and general knee functioning. It's also crucial in; stimulating cartilage production, the formation and structuring of ligaments, tendons, bones, and other connective tissue, natural joint repair, and reduction of inflammation in the joints.
MSM – MSM is a natural occurring source of sulfur that can be quickly absorbed and used up by our bodies. MSM supports the development of healthy mucous membranes, and is crucial for the production of keratin and collagen. Keratin and collagen are the primary proteins in hair, skin, and nails. MSM also has a key role in the formation of joints, bones, ligaments, and tendons. MSM is a remarkable anti-inflammatory properties, which helps in alleviating pain, muscle spasm, joint inflammation, allergies, and inflammation. MSM also helps to prevent allergies through the maintenance of healthy cell membranes.
Chondroitin – Ensures joint flexibility, comfort and joint lubrication. On top of that, it helps quicken the absorption of Glucosamine.
Other Ingredients: Gelatin (capsule) and Magnesium Stearate.
How Does Now Glucosamine Chondroitin Work?
Now Glucosamine chondroitin works by attacking the root cause of the problem. Now Glucosamine chondroitin give priority to relieving pain and after killing the pain, it embarks on a restoration mission and once complete, it will maintain the health status.
Advertisement
*All individuals are unique. Your results can and will vary.
During the restoration process, it will repair any damaged cartilage and joint tissue. To maintain a healthy joint, it ensures that your joints are well lubricated and nourished.
How to Use Now Glucosamine Chondroitin?
Now Glucosamine chondroitin is an easy to use joint care supplement. The recommended dosage is 3 capsules with meals daily. You can take it as long as you feel necessary.
Do's
Carefully follow your doctor's instructions and consult the doctor if you experience any complications when taking Now Glucosamine chondroitin
Ensure that the security seal is not tampered with before buying this product
Keep it out of the reach of children
Store in a cool dry place away from direct sunlight
Don'ts
Don't take it if you are pregnant or breastfeeding. Some of the ingredients in Now Glucosamine chondroitin may be harmful to your child
Don't buy it if the seal is broken or tampered with
It doesn't treat or cure any illness and thus should not be used as a replacement to doctor's prescription drug
Don't take it if you are allergic to sulfur
Alternatives to Now Glucosamine Chondroitin:
Can I Take it with Other Medications?
Now Glucosamine chondroitin is a dietary supplement that can be taken any time with any medication. To be on the safe side, consult your doctor before taking it with other medication.
Has Any Research Been Done?
No research or clinical trials have been done on Now Glucosamine chondroitin. We can therefore not validate the claims made by the producers.
What People are Saying About Now Glucosamine Chondroitin?
Consumers are divided right in the middle. Arguing from the majority of the customer feedbacks reviewed, consumers are not pleased with the healing capabilities of Now Glucosamine chondroitin. Most customers claim that this product is slow-acting and unreliable. Well a handful of customers loves this product, the majority is always right.
Final Verdict
Most customers already using this product are not pleased with it. You cannot blame them since the product is not as good as advertised. There are no clinical trials done to prove that it really works.
On top of that, Now Foods are doing very little to restore consumer confidence. The official website lacks adequate information on the ingredients contained in Now Glucosamine chondroitin.
Can you recommend this supplement to someone? No. it is not the best in the field.
Healthy joints allow us to move with ease. Joint damage can cause pain preventing you from doing the things you once loved. From aging to untreated sports injuries – many conditions lead to joint pain. A quality joint product may help reduce inflammation, repair existing tissue damage, and promote stronger joints, lessening susceptibility to future degeneration.
Below you'll find some of the most effective joint pain supplements on the market today, in our opinion.
Our Top Joint Pain Relief Choices
Verdict on Claimed Benefits: Below is our summary of the available evidence for the claimed benefits of below mentioned joint pain supplements based on the available research: