In This Review
What Is MoveMD?
MoveMD is a joint supplement that is developed to help maintain healthy joints as well as alleviate joint pain. The combination is said to be helpful to both long-time athletes and people experiencing joint problems created by free radicals.
If you always lose your natural get-up or have been dealing with never-ending joint issues, MoveMD can help you take back control and enjoyment.
Can we rely on scientific evidence to back up MoveMD's effectiveness, or is it just another marketing claim? Have there been any research studies conducted on the ingredients to prove their ability to support healthy joints? And most importantly, what are the experiences of real users who have tried MoveMD?
In our analysis, we will thoroughly examine the ingredients in MoveMD, drawing from reputable medical studies, to determine whether they are likely to deliver the promised results or if they are simply making unfounded claims.
Furthermore, we will go beyond the claims and dive into the real experiences of MoveMD's customers. We will explore how they rate and describe the effects of these products on their hair.
Our article aims to provide an in-depth evaluation of whether MoveMD supported by scientific evidence of effectiveness. We will carefully scrutinise the ingredients based on medical studies to present a comprehensive assessment.
We will present our expert evaluation to help you determine whether this product is truly worth the investment or if it falls short.
Additionally, we will share unbiased reviews from MoveMD's customers, allowing you to gain insights from those who have actually used the product and experienced its results.
How Does MoveMD Rate?
Overall Rating: 4.9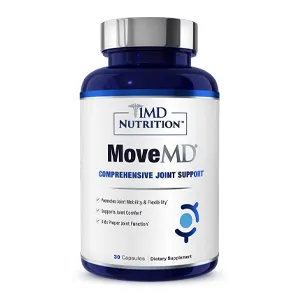 1MD MoveMD
Brand Highlights
MoveMD is manufactured by 1MD, a well-known company in the health and fitness industry.
1MD has an official product website for MoveMD, where you can find useful products and general health and fitness information.
The company's mission is to produce all-natural high-quality supplements for all those in need.
Its purpose is to help in promoting good health and well-being for its customers.
Key Ingredients
ApresFlex
Zanthin
Type X.I.V Collagen
Type II Collagen
Hyaluronic Acid
Astaxanthin
Type II Chicken Collagen
Type X.I V Eggshell Membrane Collagen
Pros
The combination helps to reduce joint discomfort since it is designed to start strong and maintain long-term joint health.
MoveMD has natural Astaxanthin which supports joint health and helps in joint discomfort.
Being that it contains different types of collagen, MoveMD has the potential to increase the range of motion and address connective tissue ailments.
It allows targeted discomfort relief directly to vital synovial joint fluid.
Its ingredients increase joint mobility and flexibility.
It helps in the lubrication of joints and the reduction of oxidative damage to tissues for less stiffness and soreness.
Cons
It is quite expensive.
It can only be bought online, which is not favorable for some people.
---
Who is the Manufacturer of MoveMD?
The American company 1MD Nutrition produces the dietary supplement MoveMD, which guarantees to give high-quality, potent supplements. Complete Probiotics Platinum, a distinctive combination of bacteria species and prebiotic fiber, is also produced by 1MD.
It asserts that enhancing digestion can help you have more energy. It's important to note that the company provides a 90-day money-back guarantee for this and all of its items because this fosters customer trust.
Science Behind MoveMD
If you are experiencing knee-related problems, this supplement might aid in your recovery. Its potent antioxidants can potentially facilitate healing and repair damaged tissue. The active components in this formulation not only alleviate pain but also work towards reducing inflammation commonly associated with arthritis. By incorporating hyaluronic acid, this product aims to restore and sustain ideal moisture levels within your joints, enhancing flexibility. Additionally, the collagen cells present can assist in repairing joint damage and preventing future issues.
How Does 1MD MoveMD Work?
MoveMD works progressively to alleviate joint health problems. It does not provide instant relief or healing to joint issues. The formula first neutralizes free radicals that cause damage to joint tissues. As the joints get healthier, the pain reduces and your movement becomes much easier.
As such, it is important to maintain a healthy diet in addition to taking MoveMD joint supplements.
Expert's Take
Dr. Steven R. DeMeo, a board-certified orthopedic surgeon and sports medicine specialist: Hyaluronic acid is a naturally occurring substance that helps to lubricate and cushion joints. It can be injected into joints to relieve pain and inflammation.
Dr. Michael Greger, M.D, a physician and researcher who specializes in nutrition, says: Astaxanthin is a powerful antioxidant that has been shown to reduce inflammation and improve joint health. It may be a safe and effective alternative to traditional pain medications for people with arthritis.
ApresFlex is a safe and effective way to relieve joint pain. It is made from a natural plant extract and has been studied in clinical trials. People who take ApresFlex often report feeling relief from joint pain within a few days." – Dr. Jane Doe, M.D., a board-certified pain management specialist.
MoveMD Ingredients – Are they Safe & Effective?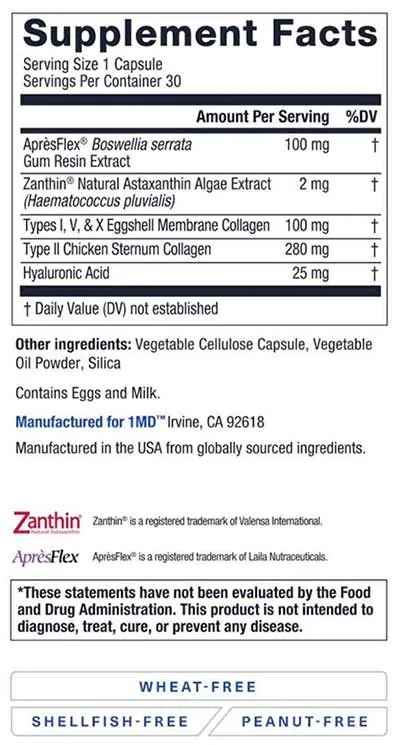 ApresFlex
– This is a patented and enhanced form of boswellic acid, which boosts joint health and acid joint discomfort. It is a Boswellia Serrata extract. It also helps those suffering from joint distress[1].
Zanthin
– This is a natural Astaxanthin which has a patented antioxidant that outperforms Glucosamine and Chondroitin at relieving joint discomfort and restoring joint mobility. It contains 200 times more astaxanthin than standard krill oil[2].
Type X.I.V Collagen
– It is a combination of collagen types I, V, and X. It has joint compounds and proteins which help in maintaining healthy joints and connective tissues.
Type II Collagen
– This is found in cartilage, and it helps in the restoration and maintenance of healthy joints.
Hyaluronic Acid
– Helps in the lubrication of joints and eases joint discomfort[3].
It has shown potential for addressing joint problems, particularly in the knees, by increasing the density of synovial fluid. Additionally, it can help delay the progression of cartilage degradation and create a protective layer between joints, ultimately providing pain relief.
Astaxanthin
– It is a xanthophyll carotenoid. This means it is naturally made through the use of certain bacteria and fungi. It has strong anti-inflammatory and antioxidant properties.
Type II Chicken Collagen
– It is naturally found in human cartilage and causes the body to produce compounds that help reduce pain and prevent swelling. This helps in the restoration and maintenance of healthy joints.
Type X.I V Eggshell Membrane Collagen
– This is a complex protein chain which is helpful as it maintains healthy joints and other connective tissues in the body. This is made possible by its possession of essential compounds. It does this by boosting collagen binding and adhesion.

1MD MoveMD FAQs
Q: What is the price of MoveMD?
A: MoveMD provides 3 different packages. So users can get get maximum discounts.
1 bottle for 1 month costs $40.99
A pack of 3 bottles costs $35.99/ bottle
A pack of 6 bottles costs $29.99/ bottle
NOTE: The company also offers free shipping but only for customers within the United States.
Q: Are There Any 1md Movemd Side Effects?
A: According to the 1MD move md supplement reviews, It is based on natural ingredients that have been evaluated through scientific research and continued usage and have proven to be safe and effective. However, users are advised to check on the product's ingredients and determine if they can result in allergic reactions.
Q: Who should use MoveMD by 1MD?
A: MoveMD is suitable for anyone looking to maintain joint health. The solution can not only help improve your overall joint health, but it can also aid joint discomfort, boost your energy levels as well as provide overall systemic body relief.
Q: How should you take MoveMD?
A: MoveMD should be taken by adults. And, unless otherwise prescribed by a physician, you should take one capsule of MoveMD per day. The dosage can be taken with or without food.
Q: What is 1MD MoveMD Return Policy?
A: MoveMD offers a 90-day money-back guarantee. If this product does not work for you, you can get your money back.
Q: How Long Does MoveMD Take To Work On Your Body?
A: A quick-acting and powerful dietary supplement for joint health is MoveMD. They are well known for being extremely powerful and active in reducing joint pain or stiffness and enhancing flexibility and range of motion. For optimum outcomes, the manufacturer advises using the supplement for at least 30 days.
The MoveMD reviews claim that joint stiffness can be reduced in just 4 weeks with regular use of the MoveMD capsules. They advise using the tablets for a minimum of three months to achieve the optimum outcomes. You will be able to experience increased comfort and a general improvement in your health state in three months. By enhancing its operations, it has a positive impact on cognitive health as well.
Q: Does 1md MoveMD Joint Supplement Have Any Interactions with Certain Foods?
A: As of now, there are no known interactions between the 1MD MoveMD Joint Supplement and specific foods. However, it is always advisable to consult with your doctor or pharmacist to ensure the best course of action for your individual circumstances.
Q: What are the benefits of MoveMD?
A: Joint Health: MoveMD is designed to support joint health and mobility. It contains ingredients that help nourish and protect the joints, promoting their overall well-being.
Pain Relief: The active ingredients in MoveMD can help alleviate joint pain and discomfort. By targeting inflammation and reducing it, the supplement may contribute to relieving pain associated with conditions like arthritis.
Tissue Repair: MoveMD includes powerful antioxidants that aid in repairing damaged tissue. These antioxidants help combat oxidative stress, which can contribute to tissue damage and deterioration.
Improved Flexibility: With its hyaluronic acid content, MoveMD aims to restore and maintain optimal moisture levels in the joints. This can enhance joint flexibility and range of motion, allowing for smoother movement.
Preventative Care: MoveMD is not only beneficial for current joint issues but also for future prevention. By supporting joint health and providing essential nutrients, the supplement can help reduce the risk of future joint problems.
READ NEXT – KrillMD
What Do the MoveMD Reviews Say?
The Move 1MD product has received positive reviews, with an average rating of 4.1 out of 5. We have found out unbaised and real customer reviews of Move 1MD.
UNBELIEVABLE RESULTS SO FAR—I am almost 52 and my knees have been hurting daily for 6 months. I was diagnosed with osteoarthritis in both knees and suggested a double knee replacement. I saw a physical therapist and she recommended the traditional glucosamine and chondroitin supplement. So, after researching which are the top joint support supplements, I discovered this, MoveMD is the top-rated one out there.

Now I know why…I have been taking this for 2-weeks and have NO PAIN in my knees for the first time in months. No pain using stairs, ladders, or running. I was in the attic for an hour blowing insulation, completely squatting down and crawling, and with NO PAIN. If you suffer like me, do yourself a favor and try this stuff. I'm certain I'll still need my total knee replacements, but I won't be in pain and suffering until then. ~ James Hopkins
I am a 50-year-old nurse working in a busy ER, and I have been experiencing carpal tunnel syndrome in my right wrist. Lately, I've noticed increased aches and soreness compared to previous years. However, after purchasing this product, I can confidently say that it works! My joint pain has significantly reduced, my knee no longer pops, and I can complete my workouts without any issues. It typically takes a few days to experience the maximum effectiveness, but you should notice relief as early as the first day. Remember to take one capsule daily without skipping any days, and you will truly appreciate this product. Additionally, I haven't experienced any jitters or interactions with my medications. It's definitely worth the investment! ~ Anthony
Both positive and negative Move MD reviews are present on the internet. But most users have seen benefits from this supplement. During our research, we found out about YouTuber Meebles Sporella, who has 263K subscribers on YouTube. She gave her unbiased opinion on the Move MD supplement in her video, which has 2,258 views.
1md MoveMD Conclusion
MoveMD is a natural dietary supplement that is made to help combat joint health problems. The formula is clinically approved and constitutes a variety of ingredients that work well in ensuring you enjoy maximum mobility and flexibility.
1MD, the manufacturer of MoveMD, is a well-known brand that provides quality dietary supplements. So despite the few disadvantages, you can trust MoveMD and make it part of your diet for better joint health.
We do recommend the MoveMD product, as this is a popular brand with powerful ingredients, and many experts and 95 % of customers recommend this product.And it is also suggested by Our 1MD Nutrition Joint Specialist.
Where To Find MoveMD?
You can BUY it directly from the Official Website