In This Review
What is Move Free Ultra Triple Action?
Move Free Ultra Triple Action is a dietary supplement formulated with three key ingredients designed to help protect your bones, cartilage and joints from damage due to injury, overuse and aging.
According to the manufacturer's claims, daily intake of this supplement can promote ease of movement and improve range of motion. Most other supplements aimed towards the same goals are formulated with glucosamine and chondroitin[1]. Move Free Ultra Triple Action is made with three key ingredients that consists of Type II Collagen[2], Hyaluronic Acid and Boron which are all deemed essential for promoting healthy joints.
How Does It Rate?
Overall Rating: 4.1
Move Free Ultra Triple Action
Brand Highlights
This supplement was formulated and distributed by Schiff Nutrition International.
The company was founded in 1936 by Eugene Schiff, a pharmacist who sought to harness the health benefits that can be derived from natural foods.
The company has since been developing supplements that address a broad range of health and wellness concerns, including pain and degeneration of the nerves.
Brands sold bearing the Schiff Nutrition manufacturing tradition include Move Free, Airborne, MegaRed, Digestive Advantage, and Neuriva.
The company was acquired by Reckitt Benckiser, makers of Strepsils, Veet and Lysol among other well-known household products, in 2012.
Key Ingredients
Type II Collagen
Hyaluronic acid
Boron
Pros
Unlike many joint pain supplements, Move Free Ultra Triple Action is a smaller size capsule for easier intake.
Only one pill is recommended which makes it easier to comply with the daily dosage recommended by the manufacturer.
The manufacturer claims that regular intake leads to buildable benefits that promote joint health over the longer term.
The formula incorporates a specific type of collagen. Collagen Type II, which has been demonstrated to be more easily assimilated by the body versus ordinary collagen.
Cons
This supplement will affect users in different ways depending on the severity of their pain.
Move Free Ultra Triple Action will not provide immediate relief from aches and pains associated with the joints.
It requires daily dosage, which may be cumbersome for some people.
It will not be able to treat serious diseases associated with limited and painful movement
There is nothing particularly unique about the formula.
---
How Does Move Free Ultra Triple Action Work?
It consists of three key ingredients that work together to protect and maintain the health of your bones. Chief of these ingredients is collagen, the building blocks of tissues, including cartilage which helps keep bones in place and protects it from damage caused by friction. By improving lubrication, providing protection from deterioration, and improving your body's nutrient absorption, the formula helps facilitate freedom of movement and promotes wider range of motion. It also works with your body's immune response to inhibit the production of chemicals that may trigger reactions in the joints and damage them.
Move Free Ultra Triple Action Ingredients – Are they Safe & Effective?
This joint relief supplements is formulated with the following ingredients:
Type II Collagen
: It helps improve, protect and maintain the health of your cartilage, in effect easing pains and aches associated with low levels of cartilage including arthritis[3]. It targets the body's immune system to help inhibit joint damage caused by natural immune response to proteins produced by the cartilage.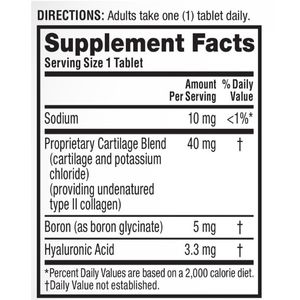 Hyaluronic acid
: It keeps your joints well-lubricated, easing pain associated with friction. It helps provide relief to painful joints and promotes ease of movement[4].
Boron
: It improves your body's supply of other key nutrients like Vitamin D, Magnesium and Calcium to promote healthy bones[5] and protect joints against degradation caused by multiple factors, including aging and injury.

FAQ's
Q: How Should You take Move Free Ultra Triple Action?
A: Take 1 pill every day. For best results, this supplement must be taken at about the same time each day, although the manufacturer does not mention if it should be taken with a meal or, on an empty stomach.
Q: How Much Does Move Free Ultra Triple Action Cost?
A: Best price from retailers is $15.60 for a 30-day supply. There is no indication of discounts for bulk purchases.
Q: What is Move Free Ultra Triple Action's Return Policy?
A: The company provides a 30-day money back guarantee. Opened items that may no longer be sold are charged 15% of the price.
Q: Does Move Free Ultra Triple Action Offer a Free Trial?
A: There is no information about a free trial.
Move Free Ultra Triple Action Review – Final Verdict
Move Free Ultra Triple Action provides three of the standard ingredients that many other joint supplements are formulated with. In the case of this product, the manufacturer specifically added Collagen Type II which has been alleged to be more rapidly absorbed by the body, allowing healing and repair mechanisms to start earlier than with ordinary collagen While these ingredients have some evidence supporting protection and improvement in movement, it hardly offers a unique formulation not available elsewhere.
Nevertheless, this supplement may be able to deliver on its claims, although the results will vary across users. Factors such as a user's health profile, medical history, and other supplements and medications taken with this product may all affect how a user experiences Move Free Ultra Triple Action. There are no free trials offered to test this product but satisfaction is guaranteed for 30 days from the day of purchase, so it's better to take out a look at available alternatives.
Healthy joints allow us to move with ease. Joint damage can cause pain preventing you from doing the things you once loved. From aging to untreated sports injuries – many conditions lead to joint pain. A quality joint product may help reduce inflammation, repair existing tissue damage, and promote stronger joints, lessening susceptibility to future degeneration.
Below you'll find some of the most effective joint pain supplements on the market today, in our opinion.
Our Top Joint Pain Relief Choices
Verdict on Claimed Benefits: Below is our summary of the available evidence for the claimed benefits of below mentioned joint pain supplements based on the available research: