Joint degeneration is one of the most common problems caused by aging. As you get older, joint pain becomes more common. However, joint pain can also be experienced by younger individuals due to several causes like injury or conditions like gout, bursitis, osteoarthritis and rheumatoid arthritis. Joint pain can be simple but it can also be debilitating and affect a person's quality of life. The most common treatments include physical therapy, medication, alternative medication and joint supplements. Joint supplements are currently very popular since they are affordable and usually safer. Let's take a closer look at one such product.
Ligavar Overview
As a person gets older, cartilage in different parts of the body lose their elasticity and density. The cartilage continuously regenerates itself. The problem is that as a person gets older, the regeneration process slows down. This is exactly the problem that Ligavar was designed for. It is a supplement that supplies the body with the building blocks of cartilage like glucosamine and chondroitin to restore the elements necessary for the body to regenerate healthy cartilage and flexible joints. The joint pain supplement also contains natural anti-inflammatory ingredients to reduce joint pain during the rebuilding process.
What Ingredients Are In Ligavar?
One of the key active ingredients of Ligavar is glucosamine sulfate. Glucosamine is a compound naturally found in the body. It is used to repair the cartilage in joints. By giving the body sufficient supply of this ingredient, the regeneration process of the cartilage becomes faster.
Another primary active ingredient is methylsulfonylmethane (MSM) which is used by the body to generate the bond that reinforces joint tissue structure. The product also contains the active ingredient chondroitin sulfate which works similarly to glucosamine. It helps restore mobility to the joints. The product also contains ginger root extract which is an effective anti-inflammatory.
Ligavar also contains stinging nettle root which is a popular herbal remedy for joint pain. It also contains collagen which is an immunomodulator. It helps protect the joints and prevent joint damage to allow healing to take place.
Boswellia serrate is another active ingredient of the product. This herb is a natural anti-inflammatory that reduces inflammation in the joint to aid in the healing process while at the same time provide pain relief.
The joint pain supplement also contains turmeric extract which has been shown to offer anti-inflammatory properties similar to NSAIDs but without the adverse effects.
Do Ingredients in Ligavar Improve Joint Health?
The ingredients used in the formulation of Ligavar are backed by clinical studies. Most of the ingredients are common in joint supplements like glucosamine sulfate, chondroitin sulfate and collagen. However, these ingredients need to be of high quality. Otherwise, the effectiveness is compromised. The other ingredients of the joint supplement are not substantially proven to be effective in helping with joint pain relief. Since the product is not from a reputable company, there is a possibility that quality ingredients are not used for the formulation of the joint supplement.
Is It Safe To Use Ligavar?
Ligavar is just a supplement. The problem is that the product has not undergone clinical testing for safety or effectiveness although its website claims that it is clinically proven to be effective. There are no details on the clinical studies done on the product. The formulation of the joint supplement is all-natural so serious side effects are unlikely. However, you shouldn't use this supplement as a replacement for prescribed joint pain medication. Also, if you are taking any medication or are suffering from any medical condition, you need to consult your doctor before using this or any other dietary supplement. Don't forget to check the product's ingredients carefully especially if you have a history of hypersensitivity to certain substances.
Why are There Many Ligavar Complaints?
There are many complaints filed against the manufacturer of Ligavar. Most of the complaints are related to unfair billing practices or overcharging. However, there are also many unhappy customers who have experienced problems with the joint supplement's money-back guarantee. There are also many unsatisfied customers who say the product is not really effective in providing joint pain relief.
Is There Any Ligavar Scam?
Most joint supplements being sold online are considered as scams. This is because of the outrageous claims stated on their websites along with the benefits stated which are not clinically proven. There are also many companies generated reviews which are claimed to be from satisfied customers. Ligavar can be considered a scam because of the exaggerated claims on its website which are not backed by scientific data.
Final Verdict
Ligavar is just one of the many joint supplements being sold online. It contains some ingredients that are clinically proven but the main problem is that the product itself has not undergone independent testing for safety or effectiveness. There are many negative reviews on the product, saying it doesn't really work. Also, there are many disgruntled customers who have experienced problems ordering the product or trying to utilize the money-back guarantee. There is no basis in saying that this product is safe or effective so it is not a recommendable joint supplement.
Below we have ranked the best joint supplements to make it easy for you to find effective and safe products. The ranking is based on crucial factors like potential to alleviate joint pain, potential to promote joint cartilage and tissue regeneration, potential to prevent recurring damage, potential to improve overall joint health, and quality of ingredients. In the end, we were able to come up with the bottom-line value of each product.
Our Top Joint Pain Relief Choices
Fight Joint Pain and Inflammation
Fight Joint Pain and Inflammation
Fight Joint Pain and Inflammation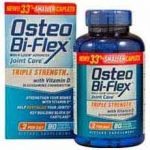 Fight Joint Pain and Inflammation
Fight Joint Pain and Inflammation
Fight Joint Pain and Inflammation