In This Review
What Is Ligaplex II?
Ligaplex II is a natural formula that supports joint and tissue wellness. This product specifically sustains connective tissue wellbeing for long-lasting reinforcement. Pain in the joints can really be bothersome.
As people grow old the pain and joint aches appear to worsen over time. There are various supplements on the market that claims to lessen pain though they do not provide long-term effects.
Nevertheless, with the introduction of Ligaplex II on the market, many people who are suffering from joint pain can take a deep breath of relief.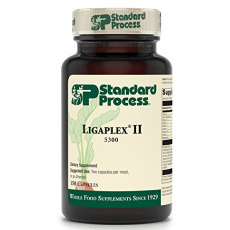 This is because this supplement promises to not only alleviate joint pain but it goes further and hinders it from reoccurring.
It helps in rebuilding the bones and hinders cartilage and joint wear and tear. In addition, it reduces inflammation of adjoining muscles and joints.
With consistent use of this formula joint pain can be ultimately abated and at the same time the joints might become stronger.
Manufacturer Information and Claims About Ligaplex II
Ligaplex II is a joint and tissue support supplement that has been known to be effective in healing osteoarthritis and arthritis as per the brand claims.
It offers the ideal compounds that are responsible for the creation of cartilage in the physique.
In addition, it assists in building collagen, which is the binding tissue for the bones.
It also works by lessening inflammation and joint pain and aids in protecting connective tissues such as tendons and ligaments, not to forget the joints and bones.
Advertisement
*All individuals are unique. Your results can and will vary.
Significantly, it improves muscle flexibility and provides strength to the joints. It is also an ideal formula for knee joints, particularly for sportspersons and athletes.
Better yet, it is claimed to be a powerful lubricant that hinders bone tissues from wear and tear.
For long-lasting joint support, this supplement might help you treat connective tissues and enables for protection of tissues and joints because of the potency of its ingredients.
The substances incorporated in this nutritional formula blend their unique properties to generate a helpful and healthy combination.
Additionally, all the elements used specifically assist with keeping the tissues and joints strong and healthy.
Ligaplex II – Does It Really Work?
This unique formulation prevents harmful enzymes in the body from causing damage to the joints.
It has been popularly used to strengthen the body's tendons and fight against fatigue, muscle pain, and stiffness.
In addition, it is renowned to strengthen the bones and helping the physique tissue in absorbing essential nutrients, which are vital in making the body strong and active.
This supplement does work. It is claimed that the ingredients used in the formulation of this joint care formula actually deliver the said benefits. There are many positive reviews that affirm the workability of this formula.
Advertisement
*All individuals are unique. Your results can and will vary.
Ligaplex II Ingredients – Are they Safe & Effective?
The potent ingredients used include:
Bovine heart PMG extract – It maintains and stimulates connective tissues.It provides a unique profile of minerals, nucleotides, and peptides. It also supports maintaining a healthy cardiovascular system.
Cyro-Yeast – It promotes healthful cell functioning.It is a good source of vitamin A and vitamin D that nourishes the muscle tissues and joints.
Ostrophin PMG – Supplies essential nutrients to joints and bones.It is beneficial for skeletal, Carbohydrate metabolism, cartilage development, and other conditions.
Manganese B12 – According to it[1] lessens joint pain.Plays a key role in helping bones grow. In addition, it facilitates fluid movement within joints and helps form cartilage.
Manganese is a mineral that can help form your connective tissues, bones, and blood clotting factors. Additionally, it's involved in fat metabolism and blood sugar regulation. Manganese is necessary for normal brain anatomical development and cognitive function in the elderly.
---
What are the Advantages of Ligaplex II?
The product not only offers short-term benefits but also provides long-term effects as well.
May boost the creation of cartilage.
It may fight against arthritis and osteoarthritis.
May make the body muscles and bones stronger.
What Are the Disadvantages of Ligaplex II?
There is no scientific proof to ascertain the said benefits.
---
Ligaplex II Alternatives
| | | |
| --- | --- | --- |
| Products | Cost Range | Key Ingredients |
| Max Flex 3 | $17.99 | Glucosamine, MSM, Chondroitin, Boron, Yucca Extract, Devil's Claw |
| Metagenics Kaprex | $63.36 | Tetrase, Rosemary Leaf Extract, Oleanolic Acid, Olive oil, gelatin, glycerin, yellow beeswax, water, and sodium copper chlorophyllin |
| MicroLactin | $29 | MicroLactin Powder (Bovine milk, milk protein concentrate) |
Ligaplex II – FAQs
Q: How do I use Ligaplex II?
A: Take two pills after every meal or as prescribed by a health expert.
Q: What are the precautions when using Ligaplex II?
A: Be sure to check the ingredients carefully and make sure you're not allergic to them. If you have any medical conditions or are taking medication, check with your doctor before using it.
Q: How Much Does Ligaplex II cost?
A: The cost of Ligaplex II is $31.00 for 150 capsules.
Q: Where Can I Buy Ligaplex II?
A: You can Buy Ligaplex II from their Official Website.
Q: How long before I see any improvements?
A: The results should be expected after a month of consistent use.
Q: Are there any side effects of Ligaplex II?
A: There are no major Ligaplex II side effects reported in reviews; however, it is advisable to consult with a health expert if you are taking other medication or suffering from any disease.
Read Next – Himalaya Turmeric 95
Ligaplex II Review – Final Verdict
Ligaplex II is a joint care formula that offers tissue and muscle support. It is packed with essential nutrients that can reinforce the physique's connective tissue synthesis process and repair.
In addition, it might support healthy muscles and joints as well as bone development and the formation of cartilage. Furthermore, this supplement features an anti-inflammatory response which might lessen inflammation in the body.
Advertisement
*All individuals are unique. Your results can and will vary.
The product also boosts the body's metabolism, which can be vital in enabling a full-operating system of tissues and joints.
In this review, this supplement is explained to stimulate the tissue fluid functioning to a height that is healthy and acceptable.
When the fluid levels are in a healthy state this too might boost the creation of tissue processing, which enhances the general health of the whole musculoskeletal system.
Nonetheless, there are better working Joint Pain Supplements in the market that interested users can check out for.
'Ligaplex II' can be purchased through their Official WebSite.
Healthy joints allow us to move with ease. Joint damage can cause pain preventing you from doing the things you once loved. From aging to untreated sports injuries – many conditions lead to joint pain. A quality joint product may help reduce inflammation, repair existing tissue damage, and promote stronger joints, lessening susceptibility to future degeneration.
Below you'll find some of the most effective joint pain supplements on the market today, in our opinion.
Our Top Joint Pain Relief Choices
Verdict on Claimed Benefits: Below is our summary of the available evidence for the claimed benefits of below mentioned joint pain supplements based on the available research: