In This Review
When it comes to our knees and joints, we often do not pay much attention until flexibility and movement become a challenge or under threat. Common knee and joint issues faced include stiffness, pain, and discomfort. Such factors minimize the ease and comfort of movement in normal daily activities. It is for these reasons people seek joint health supplement to either help ease of preventing such discomforts. Knee + Joint Renew joint health supplement is such a product designed to help its users to attain the ease and comfort of movement.
What Is Knee + Joint Renew?
Knee + Joint Renew is a joint health supplement that according to the manufacturer will provide a range of benefits relevant to better joint health. The supplement is intended for alleviating the pain in knees and joints. The supplement performs this action while also reducing swelling and inflammation. The supplement is also designed for making the joints and knees stronger and hence minimizing risks to any potentially unwanted joint health issues. The aim of the supplement is said to increase your mobility and flexibility in the joints.
How Does It Rate?
Overall Rating: 3.9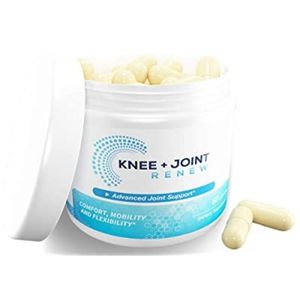 Knee + Joint Renew
Brand Highlights
The company behind the manufacturing of the Knee + Joint Renew joint health supplement is known as, Life Renew. Wes Jones is the current president of the company.
The mission of the company is to impress the consumers on how their products work as well as leave a lasting impression.
The manufacturers claim that Knee + Joint Renew is made using the highest grade of ingredients which they say are hand selected and tested using NIR (Near-infrared) technology to ascertain they are of the highest quality.
Key Ingredients
Meriva Turmeric Phytosome
Boswellia Serrata
Hyaluronic Acid
UC-II Undenatured Type-II Collagen
Bioperine Black Pepper Extract
Pros
It may help ease joint pain and discomfort
It may help increase flexibility and mobility
It helps to promote joint strength
It helps in reducing swelling and inflammation
Cons
Some of the claims may be a little bit overstated
Some consumers claim that the product is pricey
---
How Does Knee + Joint Renew Work?
Knee + Joint Renew works courtesy of the combined functions of its ingredients. The product may bring in anti-inflammatory properties to reduce swelling. It may also bring in components that promote joint and knee strength as well as reduce pain.
Knee + Joint Renew Ingredients – Are They Safe & Effective?
Meriva Turmeric Phytosome
It is a patented formulation of curcumin by Indena. Its phytosome is made so that it can combine curcumin with a Phospholids to enable it to penetrate through cell membranes. It thus delivers a high percentage of curcuminoid.
It stimulates the regeneration of the neural stem cell.
It contains anti-inflammatory, anti-oxidant, and anti-carcinogenic properties. It lowers the production of NF-kappa in the body which is known to induce swelling and inflammation in the joints.
Boswellia Serrata
It contains anti-inflammatory properties that help reduce the swelling of an affected joint area.
It helps reduce joint pain and provides positive benefits to waning cartilage.
Hyaluronic Acid
It forms the primary element of synovial fluid which is essential in the lubrication of joints for shock absorption, delivery of nutrients to the cartilage, friction-free, smooth movement, and carrying away of waste.
UC-II Undenatured Type-II Collagen
It is a patented undenatured type II collaged created by Inter Health. Its an essential connective tissue in humans, including cartilage, ligaments, tendons, and skin.
It helps in reducing discomfort during movement and promoting knee function.
Bioperine Black Pepper Extract
It is extracted from black pepper extract and contains 95% piperine
It promotes gut and cardiovascular health
It helps to boost the absorption of nutrients in the supplement.
Read More Article Here
FAQs
Q: How Should You Take Knee + Joint Renew?
A: They recommend two capsules per day. The dosage covers a one-month supply.
Q: How Much Does Knee + Joint Renew Cost?
A: The supplement comes in a 30 capsules bottle and member price for Knee + Joint Renew is $47 while non-members pay $67. There are an additional shipping and handling fee of $4.95. The more bottles you buy, the lower the cost per bottle.
Q: What is Knee + Joint Renew Return Policy?
A: They offer money back guarantee at any time within one year of your most current order.
Q: Does Knee + Joint Renew Offer a Free Trial?
A:They offer a 2 weeks free trial bottle. You pay only for the shipping and handling costs of $4.95 and membership into preferred customer program which will qualify you to a $20 discount on all future bottles.

Knee + Joint Renew Review – Final Verdict
As stated, the product may obviously be able to give you several joint benefits like increasing flexibility and mobility, easing joint pain and promoting joint strength among others. It is a reliable solution that comes with ingredients that are said to be capable of offering the customer with these advantages.
The supplement efficacy is indeed proved by the component ingredients hence the price may not be a factor to hinder its usage.
With this said, if interested in the product, it is best to get the second opinion of your physician. If not, there are still multiple joint health supplements that you can take to consideration such as SemperFlex, Quell Relief and Osteoflex.
Healthy joints allow us to move with ease. Joint damage can cause pain preventing you from doing the things you once loved. From aging to untreated sports injuries – many conditions lead to joint pain. A quality joint product may help reduce inflammation, repair existing tissue damage, and promote stronger joints, lessening susceptibility to future degeneration.
Below you'll find some of the most effective joint pain supplements on the market today, in our opinion.
Our Top Joint Pain Relief Choices
Verdict on Claimed Benefits: Below is our summary of the available evidence for the claimed benefits of below mentioned joint pain supplements based on the available research: