What is Joint Support by Zenwise Lab?
Joint Support by Zenwise Lab is a diet supplement responsible for support of joint health. It is a popular supplement used to fight arthritis. This product is developed using natural ingredients and has not synthetic colors, flavors, sweetener and preservatives. Further this product does not have traces of wheat, milk, eggs or peanuts. Zenwise labs is located USA. These labs offer an ultimate guarantee of quality to their clients. If you're not happy with the product they will give you a refund of the sum of money you spent.
How Does Joint Support by Zenwise Lab Work?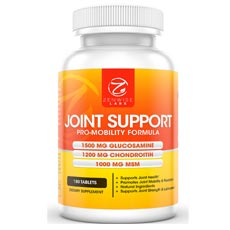 This supplement gradually prevents breakage of tissues and cartilages of the body. It restores lubrication enhance flexibility of the joints. Further, it increases strength and enhances collagen endowment, which in overall joint health. Their natural ingredient plays a vital role in its effectiveness. It has components that reduce inflammation. This supplement also supports connecting epithelial and neural parts of the joint, which leads to improved joint health.
Joint Support by Zenwise Lab Ingredients – Are they Safe & Effective?
Boswellia and curcumin – Are components responsible for solving inflammation problems.
Hyaluronic acid – Is responsible for strengthening and supporting neural tissues and epithelial which connects joint parts.
Glucosamine Sulfate KCO – Strengthens cartilages
What are the Advantages of Joint Support by Zenwise Lab?
Supports joint health
Enhances joint flexibility and mobility
Strengthens joints and also lubricates these joints
It is an all-natural ingredients product
It is free of gluten
Since it has no wheat, peanuts, milk or eggs products, it has reduces cases of allergic resistance
Customers are given a 100% guarantee of satisfaction
This product is NSF and GMP certified
What are the Disadvantages of Joint Support by Zenwise Lab?
Have no third party test for quality
It contains components that are unnecessary such as cellulose, silicon dioxide and microcrystalline
Joint Support by Zenwise Lab dosage Instruction
The product comes in a package to be consumed in 60 days. For people above the age of 18, they should take three capsules per day. This dosage is however not supreme to other directions provided by a physician. If you are pregnant or breast feeding, you should consult a health care professional. Further, while under medication or taking over the counter drugs, directions should be sought from qualified personnel. This product should be stored in a cool dry place, out of reach for children.
Joint Support by Zenwise Lab Side Effects
There are no ingredients of this product that have been found to be harmful or unsafe for human consumption. These ingredients are all certified. If taken in the appropriate volumes, these ingredients are generally safe for human consumption in their pure form.
Tests have proved that this product can be used alongside other medical products such as tablets and syrups. However the inactive ingredients found in this product may have effects of inhibiting effectiveness of the product. Lack of a hard party quality test may however compromise the quality of the product. This is because there are no sufficient independent tests of quality.
Alternatives to Joint Support By Zenwise Lab
Joint Support by Zenwise Lab Review – Final Verdict
Joint support by zenwise lab is a recommendable product to strengthen joints and offer solutions to joint inflammation. Having been produced in highly recommended labs in the USA the quality of this product is not questionable. It is made of natural ingredients in their pure form.
It solves pain problems in the humid late summers. They give a 100% refund of the purchase money for the clients who do not achieve the desired satisfaction. If you are looking for a diet supplement that will strengthen, make joints flexible and lubricate then Joint support by zenwise lab is what you are looking for.
Healthy joints allow us to move with ease. Joint damage can cause pain preventing you from doing the things you once loved. From aging to untreated sports injuries – many conditions lead to joint pain. A quality joint product may help reduce inflammation, repair existing tissue damage, and promote stronger joints, lessening susceptibility to future degeneration.
Below you'll find some of the most effective joint pain supplements on the market today, in our opinion.
Our Top Joint Pain Relief Choices
Verdict on Claimed Benefits: Below is our summary of the available evidence for the claimed benefits of below mentioned joint pain supplements based on the available research: