In This Review
What is Joint soother?
Many 'baby boomers are now still very active well into their senior years, making the need for trusted joint pain relieving treatments more important than ever. While it is natural for aging joints to become damaged, causing friction and inflammation, most people would prefer to treat them with natural, non-prescription products such as Joint Soother. This brand of pain reliever is made by the Vitamin World company, an established manufacturer that produces a wide range of health supplements. Joint Soother can be ordered from the official company website and all their products are guaranteed to be of top quality.
Unfortunately, there is no money-back guarantee or free samples offered.
A one-month supply (120 capsules) of Joint soother costs $33.99 and members signed up for the Vitamin World program receive special deals and discounts.
How Does It Rate?
Overall Rating: 3.3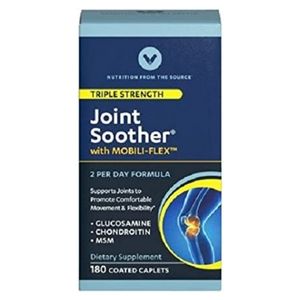 Joint soother
Brand Highlights
Joint soother is a product produced by a company called Vitamin world.
Product Features Glucosamine, one of the top ingredients for supporting healthy joints
Contributes to joint comfort and mobility
Joint Soother Helps promote healthy cartilage
These statements have not been evaluated by the Food and Drug Administration. This product is not intended to diagnose, treat, cure or prevent any disease.
Key Ingredients
MSM (methylsulfonylmethane)
chondroitin sulfate
Collagen
Boswellia Serrata
Pros
Joint Soother uses top quality ingredients
Vitamin World is a well-known manufacturer
The ordering process is secure
Joint Soother is available in retail stores
Glucosamine and Chondroitin have been clinically tested
Discounts are available
Cons
No money back guarantee is available
Joint Soother does not provide instant relief
The dosage amount is unknown
Joint Soother requires long-term use for best results
---
Joint Soother Ingredients – Are they safe & Effective?
Chondroitin sulfate
– A Chemical called chondroitin sulfate is present in both human and animal cartilage. It is frequently used orally for osteoarthritis together with glucosamine or other substances.
Collagen
– A dietary supplement called collagen is derived from fish or animal byproducts. It is abundant in amino acids, which are crucial for the development of joints.
Boswellia Serrata
– An herbal extract called Boswellia may help people with conditions like asthma and arthritis by reducing inflammation. It might also stop the spread of cancer.
MSM
– MSM has been shown in laboratory experiments to have anti-inflammatory and antioxidant properties. Sulfur, a key ingredient in MSM, is crucial for the production of collagen and glucosamine, two substances essential for strong bones and joints.
How Does Joint Soother Work?
All the ingredients are listed for Joint Soother and although no dosage instructions are given, it likely requires taking at a dose of 3 capsules per day.
Joint soother's caplets include glucosamine, a crucial component for nourishing cartilage and cushioning joints. Triple Strength Joint Soother is a fantastic option for anybody looking for additional support for their joints since it has a unique Mobili-Flex patented blend that contains MSM, Chondroitin, and other nutrients.
Alternatives to Joint Soother
FAQs
Q: Does Joint Soother Interact with other Medication?
A:This Joint Soother promises to be highly safe and have no negative effects on your body if you are taking medication because it is completely natural. However, if you are pregnant or breastfeeding, it is advised that you avoid using it or at the very least consult your doctor.
Q: What is the recommended dosage of Joint Soother?
A: You take 2 capsules once a day for the remainder of the month following a 2-week "loading-phase" during which you take 2 capsules twice a day. It may be taken orally whenever you like, with or without meals.
Q: Is Joint Soother gluten-free?
A: Well there is not any specified statement given by the company about gluten-free Joint soother
Q: Is There a money back Offer for this Joint Soother?
A: Unfortunately, there is no money-back guarantee or free samples offered.

Final Verdict
Provided that the user is not allergic to fish (which is where the Glucosamine and Chondroitin are derived), Joint Soother appears to be a reliable joint pain treatment. It would be better for those just starting to experience pain and stiffness rather than people with severe pain as it does take a while for the formula to build up in the system.
Healthy joints allow us to move with ease. Joint damage can cause pain preventing you from doing the things you once loved. From aging to untreated sports injuries – many conditions lead to joint pain. A quality joint product may help reduce inflammation, repair existing tissue damage, and promote stronger joints, lessening susceptibility to future degeneration.
Below you'll find some of the most effective joint pain supplements on the market today, in our opinion.
Our Top Joint Pain Relief Choices
Verdict on Claimed Benefits: Below is our summary of the available evidence for the claimed benefits of below mentioned joint pain supplements based on the available research: