In This Article
What is Inflamma Less?
Irwin Naturals Inflamma Less is a joint supplement that claims to help support joint mobility, flexibility, and lubrication. It is designed to improve overall joint health and reduce joint pain and other discomforts. It is made from an all-natural blend of ingredients that help lubricate joints, reduce inflammation and provide essential components for healthy joints and cartilage. Irwin Naturals is a popular joint supplement known for producing quality natural supplements.
How Does It Rate?
Overall Rating: 3.4
Inflamma Less
Brand Highlights
Inflamma less is a product manufactured by Irwin naturals.
A blend of herbs, vitamins and minerals are included in this formula to protect tissues and provide necessary botanical extracts, proteolytic enzymes, and targeted nutrients combined to create a powerful 3-pronged formula that supports the body's natural inflammatory response.
Traditional Indian Ayurvedic herbs promote a healthy tissue response to physical stress and may positively influence feelings of discomfort due to strenuous physical activity.
Inflamma-Less offers a different approach to promoting comfort, mobility and flexibility.*
Key Ingredients
Targeted Nutrients
Ayurvedic Herbs
Proteolytic Enzymes
Pros
Inflamma Less is from a reputable company known for offering quality products
The ingredients are clinically proven to be effective in providing joint pain relief and improving joint health
It doesn't contain harmful ingredients
There is a lot of positive feedback from customers, saying it really works
There are no known side effects from using this joint supplement
It is affordable compared to other similar products
Cons
Irwin Naturals Inflamma Less has not undergone testing for effectiveness
There is no money-back guarantee which would have been a good sign that it is really effective

There is no free trial available

Some users say the effects are not considerable
It may not offer noticeable results in severe cases of joint pain
---
Inflamma Less Ingredients – Are they Safe & Effective?
Inflamma Less contains ayurvedic herbs or traditional Indian botanicals which promote healthy tissue response to physical stress. These herbs also help reduce discomfort caused by strenuous physical activities.
Ayurvedic Herbs
– Indian botanicals have historically been utilized to support a healthy tissue response to physical stress and may have a favorable impact on how uncomfortable you feel from hard physical exertion.
Proteolytic Enzymes
– Protein-digesting enzymes are known as proteolytic enzymes. These enzymes can aid in the digestion of dietary nutrients when taken with meals. However, these enzymes may improve tissue response to stress, exhaustion, vigorous exercise, and physical activity when taken between meals (away from food).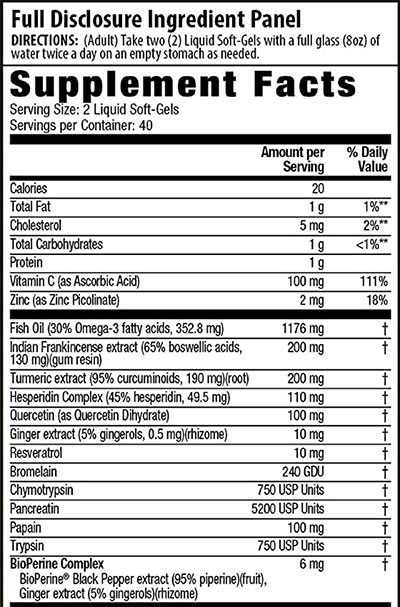 Targeted Nutrients
– Vitamins, minerals, and bioflavonoids can help to protect cells and support the body's own natural tissue formation.* This advanced combination of ingredients also includes Omega-3 Fatty Acids from Fish Oil.*
How Does Inflamma Less Work?
Based on the numerous responses and feedback regarding the joint supplement, it may be effective only in simple and moderate cases of joint pain. Most people who have severe joint pain say the product isn't really helpful for them. Also, the lack of clinical testing proving the effectiveness of Inflamma Less is not a good sign in terms of effectiveness.

FAQs
Q: Are there any Inflamma Less Side Effects?
A: It is from a highly regarded company that offers quality natural supplements. All of the ingredients are not connected to any side effects. Moreover, there are no known side effects from using the joint supplement according to numerous comments and feedback from people who have tried it.
Read Next – Arthro 8

Final Verdict
Overall, Irwin Naturals Inflamma Less is a good product as it's from a reputable supplement brand and it is affordable. However, the drawbacks may outweigh the advantages as it has not undergone testing and so there hasn't been any official proof that it's effective.
As a buyer, positive feedback from customers could be an influencing factor in my buying decision, but without actual testing, say a free trial, there's still no certainty that I could get my money's worth. Inflamma Less doesn't even offer a money-back guarantee and that can probably make you hesitant too, right?
If no one has referred this product to you personally, it's probably best to look for a product such as BioCalth Calcium L-Threonate with a good number of positive feedbacks but offers a free trial or a money-back guarantee. That way, you can be sure your money won't be put to waste.
Healthy joints allow us to move with ease. Joint damage can cause pain preventing you from doing the things you once loved. From aging to untreated sports injuries – many conditions lead to joint pain. A quality joint product may help reduce inflammation, repair existing tissue damage, and promote stronger joints, lessening susceptibility to future degeneration.
Below you'll find some of the most effective joint pain supplements on the market today, in our opinion.
Our Top Joint Pain Relief Choices
Verdict on Claimed Benefits: Below is our summary of the available evidence for the claimed benefits of below mentioned joint pain supplements based on the available research: