Flexicus Overview
Joints are a very useful part of the human skeleton. They provide the connections between different bones and facilitate support besides helping us move around. Any damage to this interconnection, aging or diseases, can result in pain and immobility. Therefore, there is a need to ensure that our joints are performing optimally. There are several conditions that can result to painful joints. Ailments such as arthritis, bursitis and gout can cause pain in our joints and muscles. Whatever the cause is, you can effectively manage joint pain using the right product.
Flexicus is a relatively new joint care product that is "designed specifically for serious athletes". Flexicus is manufactured using popular ingredients that are used to fight and stop joint pain. According to the official website, Flexicus is a "culmination of 50 years of research into enhancing flexibility, increasing joint strength, and relieving performance-impairing joint pain." Flexicus is a joint supplement that comes in a 120 capsule bottle that combines therapeutic and synergistic properties to fight inflammation and muscle soreness. It has been designed especially for people who are involved in the day-day strenuous exercises such as athletes and military personnel.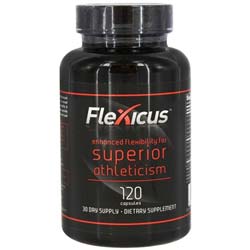 Manufacturer Info About Flexicus
Flexicus is a trademark product of Flexcin International, Inc. who manufacture, market and sell Flexcin. Flexcin founded in 2000 by Tamer Elsafy and is based in Florida. It claims to provide "effective, premium quality, all natural health supplements" that help tackle joint pain in humans and animals.
Key Ingredients and How They Work
Flexicus combines therapeutic ingredients and synergistic ingredients to help fight joint pain and inflammation. Flexicus contains;
CM8® (Cetyl Myristoleate Complex): Cetyl Myristoleate is a chemical compound consisting of a group of naturally occurring fatty acids (Cetyl Myristoleate, Cetyl myristate, Cetyl palmitoleate, Cetyl laureate, Cetyl palmitate, and Cetyl oleate). It forms one of the primary ingredients of Flexicus. CM8 is found in a group of mice that don't develop arthritis. It is believed that the Cetyl Myristoleate complex has lubricating and anti-inflammatory qualities that can help reduce joint inflammation. For this reason, it is widely used in the arthritis remedies and dietary supplements.
Hydrolyzed Collagen Type II: Hydrolyzed Collagen Type II forms the basis of articular cartilage and hyaline cartilage. It provides 50% of all protein in cartilage and 85-90% of all collagen in articular cartilage. Hydrolyzed Collagen Type II supports the ability of the human body to maintain and renew worn out or damaged connective tissue for strong and flexible joints.
Glucosamine Sulfate: Glucosamine sulfate is mostly harvested from shellfish. It is one of the most popular joint care ingredients. Glucosamine is a combination of amino acids and glucose, hence its name. It protects the joints against damage caused by friction. It is also an important building block of joint tissue besides, supporting the growth of a healthy cartilage among other connective tissue. Without a healthy cartilage, then the joints would not be smooth and flexible.
MSM: MSM is a natural source of sulfur. Sulfur is an important compound in our bodies since it aids the body to maintain healthy cell membranes, combat inflammation, and the pliancy of connective tissue.
Bromelain: Extracted from the pineapple plant and is believed to have anti-inflammatory qualities.
Possible Benefits
From an analysis of the ingredients in this product, you can expect to receive the following benefits from using this product:
Enhanced flexibility
Eliminates joint pain
Promotes formation of strong bones and joints
Reduces inflammation
Possible side effects
The product is made from all natural ingredients that rarely cause side effects. However, some patients have reported mild side effects such as
Headaches
Nausea

Stomach upsets
Dosing Information
The recommended dosage is two capsules two times a day. I.e. two capsules in the morning and two capsules in the evening with water or meals. If your physician advises otherwise, stick to the new dosage information.
Warnings!
Consult your caregiver if you are pregnant or breastfeeding
Not suitable for people with heart conditions
Don't buy if seal is broken or tampered with
Read Next – Flexoprin
---
Read Also
---
Final Verdict
Flexicus has some of the most used ingredients in joint care. Some of the ingredients like Glucosamine have a reputable performance record, mostly found in supplements for joint pain. Nevertheless, a lot needs to be done to this product in terms of marketing and quality assurance. One, the official website is shallow and contains some misleading information besides being poorly designed. For $55 a bottle, the product is priced above average and this is quite discouraging.
Advertisement
*All individuals are unique. Your results can and will vary.
Healthy joints allow us to move with ease. Joint damage can cause pain preventing you from doing the things you once loved. From aging to untreated sports injuries – many conditions lead to joint pain. A quality joint product may help reduce inflammation, repair existing tissue damage, and promote stronger joints, lessening susceptibility to future degeneration.
Below you'll find some of the most effective joint pain supplements on the market today, in our opinion.
Our Top Joint Pain Relief Choices
Verdict on Claimed Benefits: Below is our summary of the available evidence for the claimed benefits of below mentioned joint pain supplements based on the available research: