Flexamin Overview
Flex-a-min is an over-the-counter joint health supplement made with the active ingredient Glucosamine. It is manufactured by Arthritis Research Corporation. The product claims to nourish joints, promote healthy cartilage, and improve mobility and function of the joints. There are four formulas of Flex-a-min, and the website lists active ingredients and gives details about how they aid joint health. However, no actual clinical studies or customer testimonials are available to view.
Flexamin is not available for purchase on the website, however, there is a list of retail stores that carry Flexamin. The website also has a store locator to help the customer find the nearest location to purchase. The company's phone number and address are available for customers with questions or concerns.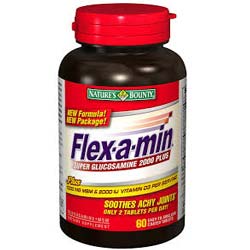 How Does Flexamin Work?
Flex-a-min is an all-natural supplement made with Glucosamine HCl, Univestin, Chondroitin, MSM, Hyaluronic Acid, Vitamin D, and other ingredients. There are four formulas of the product including Flex-a-min Complete, Flex-a-min Triple Strength Joint Health, Flex-a-min Triple Strength Bone Shield Formula, and Flex-a-min Super Glucosamine 2000 Plus. The website details the difference in each formula, what it contains, and how it will help improve joint health.
Flex-a-min purports to provide joint relief and to revitalize cartilage without the need for a prescription. Flexamin supplements should be used twice a day for maximum effectiveness. The supplement is formulated to lubricate joints, provide more mobility, and rebuild cartilage.
Flexamin contains Glucosamine – an extremely well-documented ingredient in joint and arthritis supplements. The website does list all the ingredients in Flex-a-min, however, there are no clinical trials that can be viewed on the website. There are no known adverse side effects.
Flex-a-min promises to help those with joint pain and discomfort. There are no customer testimonials on the website about Flex-a-min.
Flexamin Strengths
Flex-a-min contains Glucosamine

.
Website includes contact information.
Flex-a-min doesn't require a prescription.
A store locator guides customers to locations where Flexamin can be purchased.
There is detailed information about each ingredient.
Flex-a-min is available in different formulas for specific joint issues.
Flexamin Weaknesses
Flex-a-min cannot be purchased on the company's website.

Ingredients have been studied, but no actual clinical studies are on the website

.
There are no customer reviews of Flexamin on the website.
Statements on the website have not been evaluated by the FDA.
Read Next
FAQ

Q: Tablet bottle storage instructions? Any specific temperature require (in the cool place – fridge) or else can we keep them on normal room temperature
A: Contains shellfish (shrimp, crab, lobster, crayfish) ingredients. If you are pregnant, nursing, taking any medications, or have any medical condition, consult your doctor before use. Discontinue use and consult your doctor if any adverse reactions occur. Not intended for use by persons under the age of 18. Keep out of reach of children. Store at room temperature. Do not use if the seal under the cap is broken or missing.

Final Verdict

Flex-a-min claims it can ease joint pain and improve the overall health of joints. There are many studies involving products with Glucosamine for joint health, although clinical trial results are not shown on the website. While all the ingredients are listed on the website, there are no customer reviews of the product.

Flex-a-min is available without a prescription. However, it cannot be purchased on the company's website. There is a large list of retail stores which do carry Flexamin. There are 4 different versions of Flex-a-min to meet the specific needs of each individual. None of the statements on the website have been evaluated by the FDA.

Advertisement

*All individuals are unique. Your results can and will vary.

Healthy joints allow us to move with ease. Joint damage can cause pain preventing you from doing the things you once loved. From aging to untreated sports injuries – many conditions lead to joint pain. A quality joint product may help reduce inflammation, repair existing tissue damage, and promote stronger joints, lessening susceptibility to future degeneration.

Below you'll find some of the most effective joint pain supplements on the market today, in our opinion.

Our Top Joint Pain Relief Choices

Verdict on Claimed Benefits: Below is our summary of the available evidence for the claimed benefits of below mentioned joint pain supplements based on the available research: