In This Review
What is CurcuminMD?
CurcuminMD is an organic joint health supplement which can reduce the symptoms of arthritis. In addition, this product is supposed to support brain health and better cognitive functioning.
The supplement is packed full of anti-oxidants which can heal and repair the damaged joints and cartilage. This product is apparently specifically endorsed by the medical community.
How Does It Rate?
Overall Rating: 5.0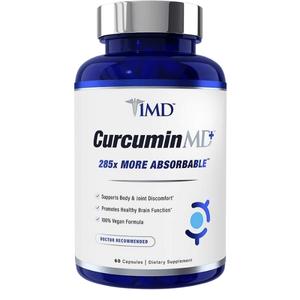 CurcuminMD
Brand Highlights
CurcuminMD is manufacture by 1MD, which is located in Sherman Oaks, California.
The company works with high-level physicians in the medical community to develop their products.
They're in the health and wellness industry, selling organic supplements for a number of health issues including arthritis, liver problems, and more.
Key Ingredients
Longvida, a proprietary optimized curcumin
Boswellia Serrata
Stearic Acid
Pros
CurcuminMD claims to support the health of the joints.
The product is designed to promote brain health and good cognitive functioning.
It may promote a feeling of overall health and well-being.
Cons
You can't take this supplement if you're on anti-coagulants.
The capsules are big and may be hard to swallow.
---
How does CurcuminMD work?
The curcumin included in this supplement has been greatly optimized so that it's 285 times more bioavailable than standard curcumin extract for maximum effectiveness.
Having said that, the ingredient was already rich in antioxidants, which when optimized became more powerful. They speed up healing considerably. There are studies showing the benefit of antioxidants in the treatment of arthritis.
Boswellia is also extremely high in anti-oxidants. They're capable of repairing the oxidative damage in the body caused by free radicals. It also includes anti-inflammatory agents.
CurcuminMD Ingredients – Are they safe and effective?
There are 2 primary active ingredients in this supplement and several inactive substances. They lead to a supplement very high in healthy antioxidants.
Longvida, a proprietary optimized curcumin
– It's derived from the bright orange turmeric plant, which contains bioactive compounds called curcuminoids, and the most important is curcumin. This compound is rich in healing antioxidants which contribute to treating the pain and inflammation of arthritis. Curcumin from turmeric is an effective treatment for arthritis (source).
Boswellia Serrata
– This is a tree which is also referred to as Indian Frankincense. There's gum resin in the tree bark which is supposed to be a good treatment for joint issues. The Indian Journal of Pharmaceutical Sciences, has stressed that it has powerful anti-inflammatory and analgesic agents that diminish pain and inflammation.
Stearic Acid
– This is used as an inactive ingredient in supplements, cosmetics, and other products (source).
CurcuminMD FAQs
Q: How should you take CurcuminMD?
A: The recommended dosage is one capsule twice a day, with a full glass of water. Take them on an empty stomach. Under no circumstances should you take more than the recommended dosage, or it could harm your body.
Q: How much does CurcuminMD cost?
A: The official website is offering 3 purchasing options.
If you buy one bottle, the price is $45.
If you buy 3 bottles, the price is $38.33 per bottle. for a savings of $20.
If you buy 6 bottles, the price is $33.16 per bottle, for a savings of 26%.
The supplement is also for sale on third-party websites, and the prices may vary slightly.
Q: What is CurcuminMD's return policy?
A: The manufacturer has a 90-day return policy. If you want a refund, you must return the remainder of all of the products to the company and contact them to let them know within 90 days of the original purchase date. Then you'll receive your money back.
This product is also for sale on other third-party websites. If you purchase from one of them, you'll be covered under that company's return policy.
Q: Does CurcuminMD offer a free trial?
A: No, there's no free trial associated with this supplement, and there are no free samples provided by the company. If you want to try the product, you have to buy it from either the manufacturer's website or from a third-party website.
1MD CurcuminMD Review – Conclusion
The customer reviews for this product were really excellent. There were hardly any negative remarks about CurcuminMD. Users found it to be very effective in helping to diminish arthritis symptoms such as pain and inflammation. This supplement is on the expensive side, but the fact that it seems to work is really in its favor.
These products are developed by medical doctors, but that doesn't mean you don't have to see your own doctor before you start using this product. Make an appointment with your family physician, and make sure that the product is suitable for you personally. In addition, check that it doesn't interact with any of the medications that you're taking.
Healthy joints allow us to move with ease. Joint damage can cause pain preventing you from doing the things you once loved. From aging to untreated sports injuries – many conditions lead to joint pain. A quality joint product may help reduce inflammation, repair existing tissue damage, and promote stronger joints, lessening susceptibility to future degeneration.
Below you'll find some of the most effective joint pain supplements on the market today, in our opinion.
Our Top Joint Pain Relief Choices
Verdict on Claimed Benefits: Below is our summary of the available evidence for the claimed benefits of below mentioned joint pain supplements based on the available research: