In This Review
What is Arthrogenix?
Arthrogenix is an organic supplement that aims to treat joint pain and inflammation. In addition, it strengthens weak joints and slows down the speed of joint deterioration. According to the manufacturer, this product can repair damaged tissue and help speed up tissue recovery. Arthrogenix is rich in nutrients and is made solely of organic ingredients.
How Does It Rate?
Overall Rating: 3.9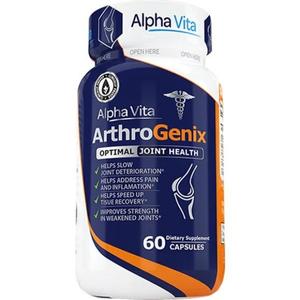 Arthrogenix
Brand Highlights
Arthrogenix is manufactured by an LA-based company called ArthroGenix.This is a brand new company formed in 2019.
Their products use a proprietary form of curcumin called LongVida®, which is designed specifically by neuroscientists at UCLA.
The products are made of completely organic ingredients.
Key Ingredients
UC II Collagen
NEM Eggshell Membrane
Black Pepper Extract
Curcumin (optimised)
Pros
The product may relieve joint pain and restore motion in 7-10 days.
Arthrogenix can restore joint mobility and flexibility.
It can regenerate healthy cartilage tissue.
Cons
The joint supplement doesn't contain glucosamine and chondroitin.
Some people have reported that the product has a terrible odor.
This product is not suitable for people who have high blood pressure, kidney, liver, thyroid, or psychiatric disorders like anxiety and depression.
---
How does Arthrogenix work?
Curcumin is a powerful anti-inflammatory agent and it's full of anti-oxidants. These can speed up healing and reduce the pain and inflammation of arthritis.
It has a powerful effect on human health. There's evidence to show that curcumin can enter the cell membrane and enhance the cell's resistance to pain and inflammation.
Black pepper is an ingredient because curcumin has such poor bioavailability. Pepper increases the bioavailability of this substance greatly, so all of its beneficial effects can be gleaned.
Collagen is the primary protein in joint cartilage. The inclusion of collagen as a main active ingredient is because it replaces the missing protein in your joints.
Studies
have indicated that collagen is an effective treatment for rheumatoid arthritis.
What are the ingredients used in Arthrogenix?
This supplement has 4 main active substances, as follows. According to the company there are no inactive ingredients in the supplement at all.
Curcumin (optimised)
– It's contained within the Turmeric plant. Curcumin has amazing health benefits, due to its powerful anti-oxidant and anti-inflammatory properties. It's an excellent treatment for joint pain and inflammation.
Black Pepper Extract
– This is included because curcumin is absorbed very poorly into the bloodstream, and black pepper allows for better absorption of curcumin.
NEM Eggshell Membrane
– It contains the glycosaminoglycans and proteins that are required to maintain healthy joint and connective tissues. The manufacturer claims that this substance leads to fast acting joint support in less than 11 days.
UC II Collagen
– This ingredient is apparently 2 times more powerful and effective than glucosamine and chondroitin. The connective tissue in the body are largely composed of collagen. Studies have determined that oral administration of collagen is an effective arthritis treatment
---
Arthrogenix FAQ's
Q: How should you use Arthrogenix?
A: The recommended dosage is 2 capsules per day, with a full glass of water, on an empty stomach. The time of day is not specified, so presumably, it's not important. It tends to be best to take supplements in the morning, to get the benefits throughout the day.
Q: How much does Arthrogenix cost?
A: On the manufacturer's official website, there are 3 buying options, which include some savings.
If you buy one bottle, the price is $39.95, discounted from $80.
If you buy 3 bottles, the price is $79.95, discounted from $240.
If you buy 5 bottles, the price is $119.95, discounted from $400.
This seems to be the only place you can purchase Arthrogenix, although some reviews have mentioned that you can find it on the odd website.
Q: What is Arthrogenix's Return Policy?
A: The manufacturer advertises a 100% unconditional money-back guarantee. If you're dissatisfied with the product for any reason at all, you can return the unused portion within 60 days of the date of the purchase for a refund.
The company will not return the shipping costs. This is the policy as written on the website, although in the movie and elsewhere in the site it's mentioned that they actually have a 90-day guarantee.
Q: Does Arthrogenix offer a free trial?
A: No, the manufacturer is not offering a free trial for this product. All shipments are one-time, individual purchases only. There are no samples being offered by the manufacturer.
You May Also Like to Read
Arthrogenix Review – Final Verdict
These supplements have apparently been getting some amazing reviews in the U.S. The combination of patented ingredients has struck a chord with many customers who say that this product really eliminates the joint pain and inflammation associated with arthritis.
This is unsurprising since the supplement was not only developed by UCLA neuroscientists, it was mostly made by Tagachi Prize Winner and top physician Dr. Wechai Cherdwasart .
This is an organic product, but the ingredients are powerful and could interact with some medications. They may not be suitable for people with every medical condition.
If you have any disruptive side effects, stop taking the product immediately. Before you begin taking this supplement, make an appointment with your doctor and get medical approval.
Healthy joints allow us to move with ease. Joint damage can cause pain preventing you from doing the things you once loved. From aging to untreated sports injuries – many conditions lead to joint pain. A quality joint product may help reduce inflammation, repair existing tissue damage, and promote stronger joints, lessening susceptibility to future degeneration.
Below you'll find some of the most effective joint pain supplements on the market today, in our opinion.
Our Top Joint Pain Relief Choices
Verdict on Claimed Benefits: Below is our summary of the available evidence for the claimed benefits of below mentioned joint pain supplements based on the available research: