In This Review
What is Arnicare Arthritis?
Arnicare's pain relief is a supplementary product used in joint care and the treatment of pain and injury. Arnicare is available in two forms; Arnica tablets and Arnica gel. Both Arnicare products are made from the mountain plant belonging to the daisy family called Arnica montana, which is famous for its age-old natural healing powers.
How Does It Rate?
Overall Rating: 3.9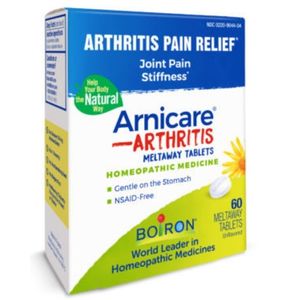 Arnicare Arthritis
Brand Highlights
Boiron is a manufacturer of homeopathic products, headquartered in France and with an operating presence in 59 countries worldwide.
The natural active ingredients in Arnicare Arthritis relieve minor aches and pains related to arthritis as well as rheumatic, wrist, finger, and finger joint pain.
Arnicare Arthritis Tablets have a very minimal risk of adverse effects, no overdose risk, no contraindications, and no known medication interactions.
Key Ingredients
Arnica Montana 3C HPUS
Benzoicum Acidum 6C HPUS
Bryonia Alba 6C
Dulcamara 6C HPUS
Pulsatilla 3C HPUS
Chamomilla 12C HPUS
Kali Iodataum 12C HPUS
Rhododendron Chrysanthum 12C HPUS
Rhus Toxicodendron 6C HPUS
Pros
Essential for the quick and temporary relief of joint aches.
Very affordable as compared to the competition.
It comes with a Risk-Free Purchase Guarantee.
Cons
Lacks the conventional joint care ingredients we are used to.
The official website lacks clinical trial results.
The product comes in a packet that is not easy to store.
---
How Does Arnicare Arthritis Work?
Boiron Arnicarps puts together the homeopathic qualities used in traditional medicines to treat arthritis and joint-related pains. The product takes a familiar approach to fighting joint pain. The most prevalent cause of joint aches is cellular inflammation. Cellular inflammation causes the joint connective tissues to wear out, thus resulting in painful joints.
Arnicare Arthritis Ingredients – Are they Safe & Effective?
Arnica Montana 3C HPUS

– Relieves pain from joint inflammation and overexertion. The study showed that treatment with Arnica diminished the expression of the intracellular cell adhesion molecule and increased the anti-inflammatory macrophage population.

Benzoicum Acidum 6C HPUS

– Relieves pain in joints especially in the wrists.

Bryonia Alba 6C

– Relieves joint pains.

Dulcamara 6C HPUS

– Relieves joint pains triggered by the damp weather.

Pulsatilla 3C HPUS

– Relieves joint pain worsened by heat and slow motion.

Chamomilla 12C HPUS

– Relieves sensitivity to pain and Tingling.

Kali Iodataum 12C HPUS

– Relieves joint and muscle pains.

Rhododendron Chrysanthum 12C HPUS

– Relieves rheumatic pain.

Rhus Toxicodendron 6C HPUS

– Relieves joint pains improved by motion and worsened by humidity.
Other Ingredients-Lactose, croscarmellose sodium, magnesium stearate.

FAQs
Q: What are the Dosage and Directions for Use of Arnicare Arthritis?
A: Adults 18 years of age and older: At the onset of symptoms, dissolve 2 tablets under the tongue and repeat, if needed, every 15 minutes for 3 more doses. Then, dissolve 2 tablets under the tongue every hour until symptoms improve.
Q: How Long Will It Take to Show Results?
A: This product comes in quick-dissolving tablets that are very fast to offer temporary relief.
Q: Where to Buy and at What Price?
A: The product is available at most retailers. The product sells for an average of $12.49.
Q: Does it Interact With Other Medications?
A: The official website states that no known drug interacts with this product. If you are taking any medication, it is important that you inform your caregiver.
Q: Who can Take Arnicare Arthritis?
A: This product is designed for adult use only. Inform your caregiver before you subject it to kids.
Q: What Kind of Reviews are Out there for Arnicare Arthritis?
A:
I have chronic pain and have been on pain prescriptions for a number of years. I was looking for an alternative pain reliever that was not an NSAID or opiate and with no noticeable side effects or contradiction with prescribed medications. I found it in the Arnicare Arthritis Tablets – most AMAZING…By Leslie on May 27, 2019,
I found arnica about 10 years ago after knee replacement surgery, in gel form and later in this tablet form. It works fast and breaks down joint & fibromyalgia pain effectively. After surgery, I applied the gel to the outside of the incision sites for quick relief that lasted while I waited for the pain meds to kick in. And today I use it otherwise for new arthritis concerns and know I can count on quick relief.
Read Next – Inholtra Premium Lubri-Joint and Cobroxin

Final Verdict
It is a break from the usual joint care products. It doesn't contain either Glucosamine or chondroitin, but it gets the pain business done. And that price tag? You should go for it.
Healthy joints allow us to move with ease. Joint damage can cause pain preventing you from doing the things you once loved. From aging to untreated sports injuries – many conditions lead to joint pain. A quality joint product may help reduce inflammation, repair existing tissue damage, and promote stronger joints, lessening susceptibility to future degeneration.
Below you'll find some of the most effective joint pain supplements on the market today, in our opinion.
Our Top Joint Pain Relief Choices
Verdict on Claimed Benefits: Below is our summary of the available evidence for the claimed benefits of below mentioned joint pain supplements based on the available research: