Understanding Animal Flex – Fictions and Facts
When it comes to building up something, one of the most important things to consider in order to guarantee that what we put up will live on and endure is having a strong foundation. This goes true with our physique, but in this instance, what supports our muscles and serves as our foundation during training is our joints, ligaments, tendons, and all the connective tissues.
In bodybuilding, it is but expected that our body will be subjected to a lot of pressure and stress. Consistency with everyday workout and routine is a very significant component in achieving our goal however, every day exhaustion and continuous stress can also cause tremendous damage and injury to our body most especially if the foundation is not strong. This is where products such as Animal Flex comes in.
What is Animal Flex?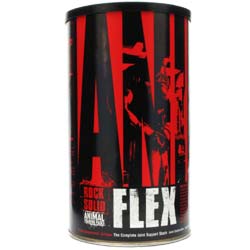 Animal Flex is formulated to facilitate strengthening of the body's foundation, it assists in protecting the joints from the daily wear and tear generated from heavy duty weight training.
Who Manufactures Animal Flex?
Universal Nutrition is the group behind the Animal Flex joint supplement, it is said that the manufacturing of the product includes both natural and herbal extracts.
What Ingredients are in Animal Flex?
There are a number of essential elements incorporated in Animal Flex, and these key ingredients are corresponding to the mechanisms of action of the supplement: maintain healthy joint function, elasticity, and flexibility.
Joint Constructor – These ingredients effectively boost rebuilding of cartilages: Glucosamine (HCL and Sulfate KCl), Chondroitin and Methylsulfonylmethane (MSM)
Joint Lubricator – These ingredients provides a lubricating component that coat the joints and gives protection against incessant friction. Naturally restore smooth and painless movement of joints: Flaxseed Oil, Cetyl Myristoleate (CMO) Proprietary Blend, Hyaluronic Acid (HA)
Joint Support – All natural herbs and extracts that provides potent and long-term anti-inflammatory effect: Ginger Root, Turmeric, Boswellia, Quercetin, Bromelain
Vitamins and Minerals – Essential micronutrients for optimal joint health: Vitamins C and E, Manganese, Selenium and Zinc
Other Ingredients – Shark cartilage, Carob, Glycerine, Soybean Oil, Purified water, Stearic Acid, contain Shellfish
What is the Best Time to Take It?
Take one pack of Animal Flex per day and you're good to go. It's either on an empty stomach or with a meal.
Suggested Usage – Do's and Dont's
Packets of Animal Flex come in sets of 44 (Five tabs, two caps and one soft gel). Only a single daily dose is necessary and it should be taken on both training and non-training days to be effective. Cycling is not necessary. There was also full disclosure of its Ingredients along with the corresponding serving sizes per packs and containers. Keep out of reach of children. Store in a cool and dry place, keep away from sunlight, heat and moisture.
How Long Will Animal Flex Last?
Single dose daily (44 packets = 44days): Some of the ingredients require to be utilized faster than others. By incorporating specific time-release technologies, ingredients that you need faster are released quickly and those that needs to be discharged gradually are time-released.
Is This Product Safe for People with ShellFish Allergies?
Animal Flex contains shellfish therefore, it is not recommended to those with shellfish allergies. Also, take note that it is manufactured in a GMP facility that used peanuts, soy, egg and milk.
Are There Any Precautions Related to this Product for People Suffering from Heart Problems?
If you have heart problems, it is strongly recommended to have a consultation first with a doctor before using Animal Flex. This is because the product contains bromelain which could somehow interact with certain heart-related medications.
Advertisement
*All individuals are unique. Your results can and will vary.
Are There Animal Flex Side Effects?
Animal Flex is safe to use. This supplement does not contain hazardous chemicals or artificial dye, there were also no reports of any side effects of taking this product.
Are There Any Research Done on Animal Flex?
Animal Flex is a product that's been through rigorous research. However, it has not been evaluated by the Food and Drug Administration. There is also no elaborated clinical study on Animal Flex at the moment. This product is also not intended to prevent, diagnose or cure any disease.
Does It Help Relieve Joint Pain?
A pack of Animal Flex comprises of quite a few joint protection complexes:
A potent joint construction complex to facilitate repair of connective tissue
A lubrication complex to assist in cushioning the joints from lifting
A support complex to aid in promoting rehabilitation and to diminish soreness
A key vitamin/mineral support fusion to emphasize optimal joint health
Will This Supplement Counteract Tendonitis?
Athletes are prone to Tendonitis due to over-training and overuse of joints. Animal Flex serves as a training supplement totally dedicated to recovery of joints. Yes, it can counteract tendinitis, and can provide you with pain-free days. It reduces the inflammation, swelling and aggravation of tendon, a fibrous part that joins muscle to bone. Some users say pain goes away for a few months after taking Animal Flex.
Can Animal Flex Be Stacked with Other Animal Supplements?
Yes, Animal Flex can be stacked with the other Animal supplements. For a maximum absorption, allow an hour in between the time you ingest the Flex and any other Animal supplement.
Read Next – Arthrocen 300
Final Verdict
Wanting to maximize your body's potential is not a bad thing, however, we should always take into consideration its corresponding needs and limitations. Conditioning one's system and fortifying your foundation is a necessary effort in order to make sure that your bodybuilding attempt will not end up badly, such as suffering from critical injuries or even permanent damage to our body. And taking in supplements such as Animal Flex, can be one of this necessary effort.
Healthy joints allow us to move with ease. Joint damage can cause pain preventing you from doing the things you once loved. From aging to untreated sports injuries – many conditions lead to joint pain. A quality joint product may help reduce inflammation, repair existing tissue damage, and promote stronger joints, lessening susceptibility to future degeneration.
Below you'll find some of the most effective joint pain supplements on the market today, in our opinion.
Our Top Joint Pain Relief Choices
Verdict on Claimed Benefits: Below is our summary of the available evidence for the claimed benefits of below mentioned joint pain supplements based on the available research: