In This Review
What is IVL Alleviate Joint Health Formula?
IVL Alleviate Joint Health Formula is an all-natural dietary supplement that claims to enhance joint functioning and joint health.
The formula is made from five key ingredients that have been used for a long time to treat joint-related illnesses.
The formula is said to be unique in tackling joint pain from the root of the pain. The manufacturer claims that the formula repairs damages caused by inflammatory agents in swollen joints and cartilage.
How Does It Rate?
Overall Rating: 3.4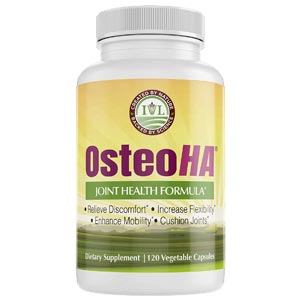 IVL Alleviate Joint Health Formula
Brand Highlights
OsteoHA Joint Formula (formerly called Alleviate).
Alleviate Joint Health Formula is trademark joint care product from IVL.
IVL has been in this business for a long time and has rich history of excellence.
IVL has established itself as a leading manufacturer of dietary supplements and vitamins.
Key Ingredients
UC Undenatured type II collagen
Curcumin and piperine
Boswellia Serrata
Grape Seed Extract
Pros
Overcome joint and muscle pain quickly.
Lubricates your joints and keep them well nourished.
Refills the bursa sacs with essential HA.
Cushions your joints again.
Fight inflammation and swelling in joints.
Feed and flush all your joints and tissues.
Support antioxidant protection against free radical damage.
Cons
It is not recommended or suitable for pregnent mothers.
---
How Does it Work?
OsteoHA(formerly Alleviate) capsules are designed to provide your body with natural ingredients that have been used for thousands of years to help reduce joint discomfort and stiffness. This powerful dietary supplement includes white willow bark extract, hyaluronic acid, ginger root powder, vitamin C, boswellia serrata gum extract, calcium, and manganese.
IVL Alleviate Joint Health Formula Ingredients – Are they Safe & Effective?
OsteoHA Joint Formula(formerly called Alleviate) is designed to remove joint stiffness and calm joint pain from the root. It contains five amazing ingredients that work to protect and keep your joints healthy.
These are;
Hyaluronic Acid
– Hyaluronic acid is harvested from the comb of roosters. It has a low molecular weight and thus is easily absorbed into our bodies. Hyaluronic acid lubricates and cushion joints, and restores damaged cartilage. [1]
White Willow Extract
– White Willow Extract, as discussed in our Flexafen Review, is a natural remedy commonly considered for its potential in alleviating joint discomfort and supporting joint health. This herbal extract, derived from the bark of the white willow tree, has a history of traditional use for pain relief due to its salicin content, believed to possess anti-inflammatory and analgesic properties.
White willow extract's active ingredient, Salicin, has been used for many years to combat arthritis-related pain. It acts as an anti-inflammatory, antioxidant, and immune-boosting agent. Remarkably, the natural anti-inflammatory properties found in white willow were the inspiration for the creation of the synthetic drug, aspirin. Additionally, the white willow extract found in IVL Alleviate Joint Health Formula contains natural tannins known to support digestive tract health.[2]
Boswellia
– This Boswellia extract can be traced back to India where it has been used by traditionalists to reduce stiffness and improve flexibility. It also has anti-inflammatory properties that are helpful in preventing inflammation. [3]
Ginger
– Ginger has been used for years as a food additive and in colon cleansing treatments. It is a strong anti-inflammatory that contains anti-inflammatory substances that acts on the pain by reducing inflammation. On top of that, it acts as antioxidants to help with hot flashes, motion sickness and indigestion. [4]
Vitamin C
– Vitamin C protects joints and cartilage. [5]
IVL Alleviate Joint Health Formula FAQ's
Q: How Should I use it?
A: It is a long-term joint care product. It is recommended that you take IVL Alleviate Joint Health Formula daily for at least two months.
Do's
Take IVL Alleviate Joint Health Formula with meals
Follow your doctor's instructions
Check and confirm that the security seal is not broken or tampered with
Don'ts
Don't take this joint formula, if you are pregnant unless your physician advises you to
Don't take it, if you are allergic to any of the ingredients listed above
Q: Does it Have Any Benefits?
A: There are mixed feelings from customers using this product. Many customers feel that this product is ineffective and doesn't perform as advertised.
Q: What are the Associated Warnings?
A:
It is safe to use, at least for many who are not allergic to the ingredients.
There are no known side effects of using this product.
Don't use it as a replacement for prescribed drugs.
IVL Alleviate Joint Health Formula does not treat or cure any known illness or disease.
It is meant for adult use only. Don't give this product to babies or infants.
Q: Has Any Research Been Done?
A: There are clinical trials that have been done on this product. However, research has been done on individual ingredients and has been proven to work effectively.
IVL Alleviate Joint Health Formula Review – Final Verdict
For the information above and customer feedbacks from the web, it is clear that IVL Alleviate Joint Health Formula is not the best in the field. IVL Alleviate Joint Health Formula is a joint care product, but it is disappointing that this product lacks Glucosamine and Chondroitin which have been proven to the other supplements for joint pain.
The official website is too long to navigate. This notwithstanding, it lacks information since it is filled with promotional content. Although, they offer a money back guarantee, you will still have to pay for shipping.
In the market today, you will find many supplements that are better at reducing joint pains and promote joint health than IVL Alleviate Joint Health Formula. Unless it is a prescription from a doctor, you shouldn't buy this product. It is not worth it.
Healthy joints allow us to move with ease. Joint damage can cause pain preventing you from doing the things you once loved. From aging to untreated sports injuries – many conditions lead to joint pain. A quality joint product may help reduce inflammation, repair existing tissue damage, and promote stronger joints, lessening susceptibility to future degeneration.
Below you'll find some of the most effective joint pain supplements on the market today, in our opinion.
Our Top Joint Pain Relief Choices
Verdict on Claimed Benefits: Below is our summary of the available evidence for the claimed benefits of below mentioned joint pain supplements based on the available research: