In This Review
What is LCR Active Stem?
Active Stem is a powder drink supplement that provides anti-aging benefits for the body and mind. It contains 5 key active stem cells which help to fight aging on the level of the cells. It gives you a tremendous boost in energy, helps strengthen the muscles and joints, and improves mental functioning. This is a high-quality-doctor-designed product.
How Does It Rate?
Overall Rating: 4.9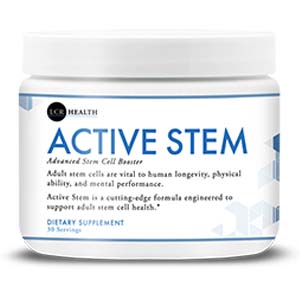 Active Stem

Brand Highlights
The manufacturer is a company called Live Cell Research (LCR) Health, LLC which started in 2016.
Located in Woodland Hills, California, this organization develops supplements that provide anti-aging benefits. Physicians and medical experts run the company.
Key Ingredients
L-Leucine
L-Carnosine
Green Tea Extract
Pros
Active Stem helps combat aging at the cellular level.
This supplement helps to boost your energy levels.
Active Stem helps enhance cognitive functioning.
It helps promote strong joints and muscles.
Active Stem helps to strengthen the immune system.
Cons
There's only one flavor available.
Some customers may prefer capsules to a drink.
There are other organic ingredients they could include.
---
How Does Active Stem Work?
Active Stem contains 5 active stem cells which function at the cellular level to provide anti-aging benefits and repair damage to muscle, tissues, joints, and organs. It works to stimulate the production of key cells which carry out this repair and restoration of functioning. An article in EMBO Reports discussed stem cells and aging (1).
Some of the amino acids raise levels of key brain neurotransmitters, and this contributes to improved brain function. An article in Stat Pearls discussed the physiology of neurotransmitters (2).
The formula is also high in antioxidants, which kill free radicals in your system and lower oxidative stress, further promoting healing and elevating immune functioning. There are also anti-inflammatory agents which can reduce swelling in the body.
What Are the Ingredients in Active Stem?
These are some of the primary Active Stem ingredients:
– Green tea is high in polyphenols, antioxidants that help repair the body and promote a strong immune system. It can induce cell growth, and repair cellular damage (3).
In addition, it has anti-aging benefits for the skin. A review in Nutrients discussed the neuroprotective, anti-photoaging, and stress resistance benefits of green tea (4).
L-Carnosine
– This amino acid can slow the progress of aging in the cells. It's also a powerful antioxidant which can repair cell and tissue damage and promote a strong immune system (5). It may help treat brain-related disorders like Alzheimer's disease (6).
An article in Mechanisms of Ageing and Development stated that L-Carnosine can delay aging and rejuvenate cultured human fibroblasts (7).
L-Leucine
– This is an amino acid that is involved in the synthesis of protein. It's also active in cellular growth and a number of other cellular processes (8). It plays a key role in brain health.
A study in the European Journal of Clinical Nutrition found that L-Leucine improves lean muscle status and other aspects of functioning (9).
Alternatives to Active Stem
Active Stem – Questions and Answers
Q: Does Active Stem Really Work?
A: There is a lot of research supporting stem cells in the repair of the skin, brain, muscles, joints, and organs. This supplement combines 5 powerful cell-boosting ingredients which provide all of these benefits to the body.
Most of the Active Stem customer reviews found this to be a highly effective supplement. An article in the Journal of Investigative Dermatology discussed the role of stem cells in tissue repair and regeneration (10).
Q: Where Can I Buy Active Stem and What is the Price?
A: The only place you can purchase Active Stem LCR Health is on the official product website. Here are the prices:
1 Month – $46.99 + 3.95 shipping
3 Months – $117 + free shipping
6 Months – $214.27 + free shipping
Q: Is There a Free Trial and/or Money Back Guarantee For Active Stem?
A: There is no free trial offer for Active Stem, you make a one-time purchase for 1 or several months. There is a 90-day iron-clad money-back guarantee. If you're not happy with the product, just send it back within 90 days of the purchase date for a full refund, no questions asked.
Q: How Do I Take Active Stem?
A: Mix up one scoop of Active Stem by LCR Health with 12 ounces of water and drink it once a day. You should take this product on an empty stomach. Do not consume more than one serving daily for any reason.
Q: Is Active Stem Worth It?
A: This supplement includes a collection of Active Stem ingredients which have the ability to boost cellular functioning, providing numerous health benefits including mental focus, energy, stronger muscles and joints, and an enriched immune system. In addition, it is reasonably priced for the market. This supplement would be worth it for almost anyone.
Q: What Do the Active Stem Reviews Say?
A: The Active Stem reviews were generally very positive, and it was clear that customers got a lot of benefits. Many people mentioned how much more energy they had, and how quickly they were able to build up their muscles after starting this supplement. Many users said they were planning to purchase this item again.
Q: Who Should Take Active Stem?
A: According to the manufacturer, Active Stem LCR Health is suitable for anyone at any age. It's ideal for customers who want to boost cognitive functioning, gain more physical energy, strengthen their joints and muscles, and promote overall health and a stronger immune system.
Q: Does Active Stem Have Side Effects?
A: The Active Stem supplement is third-party tested carefully for efficacy and side effects. There are no harmful or unpleasant symptoms that accompany Active Stem Cell. It's healthy and contains 100% organic ingredients that are beneficial for your body.
Read Next – Thera-Gesic
Active Stem Review – Conclusion
Active Stem powder is a berry-flavored drink supplement that focuses on cellular regeneration and anti-aging. It provides overall healing benefits to the body and organs, including building up muscles and strengthening joints. It can also give you additional energy, and it supports the immune system. This is a high-quality, reasonably-priced supplement.
The vast majority of the LRC Health Active Stem reviews were very good. Customers seemed to get very positive results in terms of energy, muscle building, cognitive focus, and functioning. In addition, most users reported that they loved the taste and looked forward to drinking it every day.
The manufacturer of this company is LCR Health, a science-based organization that is a leader in developing stem cell-based supplements and products. Active Stem LCR Health and all of its other items are carefully third-party tested for safety and quality. This is a brand that you can trust.