In This Article
Coffee beans contain chlorogenic acid, a natural antioxidant molecule. It's mostly used to help people lose weight and decrease their blood pressure. According to research, it may also help lower blood sugar, enhance mood, and lessen the risk of illnesses including diabetes, cancer, and infections. Continue reading to discover more about chlorogenic acid's potential health benefits and possible green coffee bean extract side effects and risks.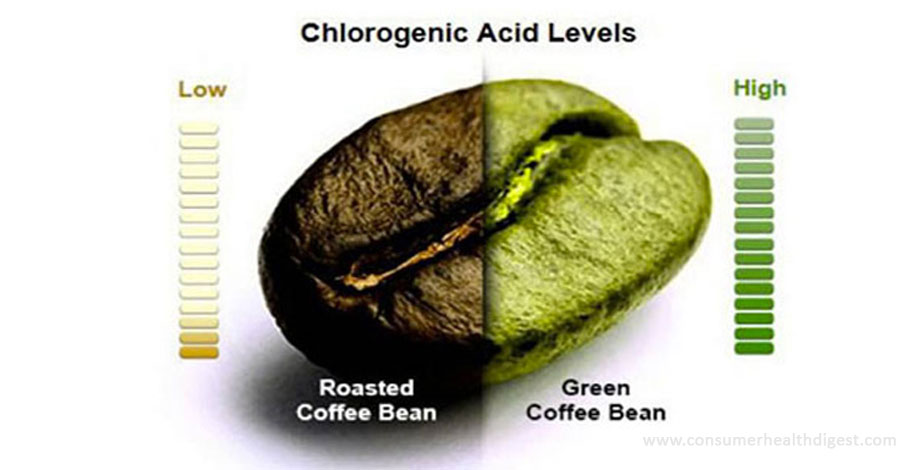 About Chlorogenic Acid
Chlorogenic acid, an antioxidant-rich phytochemicals found in green coffee and coffee beans, is a powerful antioxidant. Phytochemicals are physiologically active compounds found in plants. The etherification of cinnamic acids such as ferulic, p-coumaric acids, and caffeic with (-)-quinic acid produces chlorogenic acid.
Chlorogenic acids have been touted as having the ability to lower blood sugar levels and perhaps reverse or decrease Type 2 Diabetes symptoms. It has also been linked to weight reduction and the prevention of obesity. However, there isn't enough evidence to back up this claim, and other experts feel it isn't entirely attributable to chlorogenic acid.
Chlorogenic acid is found in coffee beans and various forms of coffee, including green coffee. Apples, eggplant, blueberries, pears, strawberries, tomatoes, and potatoes are among the food sources of chlorogenic acids. [1]
What is green coffee extract? Green coffee extract is the most frequent type of chlorogenic acid supplementation. This article shows the various health benefits of green coffee, which is most commonly used to lower blood pressure and lose weight. Chlorogenic acid, on the other hand, has been shown in recent research to boost mood, reduce oxidative stress, and lower blood sugar levels. [2]
Chlorogenic Acid Benefits
Chlorogenic acid can be used to lower blood pressure. It is a natural compound found in many foods, including coffee, tea, fruits, and vegetables.
Chlorogenic acid has also been linked to weight loss and an anti-obesity effect, but this is purely coincidental and not necessarily due to chlorogenic acid.
According to research, it may also help lower blood sugar, improve mood, and fight infections.
For its antimicrobial and antioxidant properties, chlorogenic acid (CA), a phenolic compound formed by various herbs including coffee and beans, is known as the "gold plant."
It has been proposed that chlorogenic acid (CGA) may inhibit cancer growth via a variety of mechanisms.
Chlorogenic acid supplementation improves gut barrier integrity and alleviates dextran sulphate sodium (DSS)-induced colitis by inhibiting inflammatory responses and oxidative stress.
Chlorogenic acid has been shown to have neuroprotective properties, which means it may help protect the brain and nervous system from damage. This is because of its anti-inflammatory and antioxidant properties, as well as its ability to modulate various signalling pathways in the brain.
Chlorogenic acid protects your cells, thereby protecting you from chronic degenerative diseases such as heart disease and cancer. You are healthy if your cells are healthy.
Chlorogenic acid has been investigated for its ability to aid in weight loss. One proposed mechanism for its weight loss effects is its ability to inhibit glucose absorption in the intestines, which can result in lower calorie absorption and better blood sugar control.
Chlorogenic acid (CGA) is a polyphenol found in coffee, fruits, and herbs that has been shown to improve glucose control. CGA has been shown in studies to improve glucose homeostasis, increase insulin sensitivity, and lower fasting glucose levels.
Chlorogenic Acid – Possible Side Effects
Green coffee bean extract, a natural source of chlorogenic acid, has been linked to some allergies. Asthma attacks were the most common symptom. This effect appears to be caused by coffee components other than chlorogenic acid.
Coffee green extract includes caffeine, which may induce some of the adverse effects associated with caffeine. Some side effects include
Stimulating effects
Laxative effects
Interacts with antidepressants or mood stabilizer medications
Sleeplessness
Anxiety
Nausea
Vomiting
Upset stomach
Increased or unbalanced heart rate
Rapid breathing
Headaches
Although chlorogenic acid (CGA) has stimulant properties, it is believed to be one-third less powerful than coffee. Chlorogenic acid is present in coffee and espresso, but the amount is inconsistent; therefore, the amount of coffee or espresso to drink to reap the benefits is not recommended at this time due to the unreliability of the quantities. Not only does chlorogenic acid have stimulant properties, but it is also a laxative compound found in prunes, which can be helpful to people who suffer from constipation.
On a more serious note, antidepressants and mood stabilizers like bipolar medicines can interact with chlorogenic acid. If you're taking medication for mood disorders, anxiety, or depression, talk to your doctor before using a chlorogenic acid supplement.
Always remember that too much of a good thing may be harmful; the same symptoms of taking too much traditional coffee or taking too much of a stimulant can cause harm to the stomach, heart, and digestive tract. Consult your doctor if you are experiencing headaches, irritability, vomiting, nausea, sleeplessness, or other symptoms.
Precautions
If you have any of the following conditions, you should take extra precautions and warnings. Before using chlorogenic acid, talk to your doctor. Caffeine consumption can worsen the following conditions.
Pregnancy and breastfeeding, abnormally high homocysteine levels, bleeding disorders problems, diarrhea, and glaucoma, irritable bowel syndrome (IBS), high blood pressure, and bone thinning (osteoporosis)
Drug Interactions
Chlorogenic acid's potential blood pressure-lowering impact may cause blood pressure to drop too low in people currently taking blood pressure-lowering medication.
The effect of metformin, a drug used to treat high blood sugar levels, may be enhanced by chlorogenic acid. This effect, however, was only detected in far greater concentrations than those found in human blood following ingestion of chlorogenic acid.
Drug Interactions include:
Dipyridamole (Persantine)
Alcohol
Clozapine (Clozaril)
Adenosine (Adenocard)
Alendronate (Fosamax)
Fluvoxamine (Luvox)
Medications for asthma
Antibiotics (Quinolone antibiotics)
Disulfiram (Antabuse)
Ephedrine
Medications that slow blood clotting
Estrogens
Verapamil (Calan, Covera, Isoptin, Verelan)
Phenylpropanolamine
Lithium
Medications for depression (MAOIs)
Theophylline
Pentobarbital (Nembutal)
Riluzole (Rilutek)
Stimulant drugs
The caffeine in chlorogenic acid is linked mainly to drug interactions from chlorogenic acid. Before using a chlorogenic acid supplement, talk to your doctor. If you have been instructed not to drink caffeine, it is better to avoid chlorogenic acid.
Dosage
There is no official dosage because the FDA has not approved chlorogenic acid for any ailment. Unofficial dosages have been determined by users and supplement producers through trial and error. Consult your doctor to see if chlorogenic acid might be beneficial as a supplement in your situation and what dosage you should take.
Green coffee bean supplements may include more or less chlorogenic acid, depending on the brand. Depending on the supplement, the user-recommended dosage for chlorogenic acid ranges from 240 mg to 3,000 mg per day.
Frequently Asked Questions
Q: What Is Chlorogenic Acid?
A: Chlorogenic acid, a component found in coffee beans and various forms of coffee, including green coffee, is a polyphenol compound found in coffee beans and different varieties of coffee. Apples, eggplant, blueberries, pears, strawberries, tomatoes, and potatoes are among the foods with chlorogenic acids. [3]
Q: How To Take It?
A: The chlorogenic acid supplement appears to be helpful at dosages of 120-300mg orally taken, with larger levels likely being beneficial as well (not tested sufficiently). The effects of these dosages appear to be most beneficial to blood pressure and circulation.
Q: How Much Chlorogenic Acid Is In Coffee?
A: The quantity of chlorogenic acid in coffee varies a lot depending on how long it's been roasted. [4]
Q: What Food Has Chlorogenic Acid In Them?
A: Can be found in a number of foods and herbs like Apples, eggplant, blueberries, pears, strawberries, tomatoes, and potatoes are among the food sources of chlorogenic acids. [5]
Final Verdict
People who have spoken with their doctor before supplementing may notice modest to moderate benefits in glucose metabolism, weight management, heart health, and mental health due to supplementing and/or consuming Chlorogenic Acid.
5 Sources
We review published medical research in respected scientific journals to arrive at our conclusions about a product or health topic. This ensures the highest standard of scientific accuracy.
[1] Pimpley V, Patil S, Srinivasan K, Desai N, Murthy PS. The chemistry of chlorogenic acid from green coffee and its role in attenuation of obesity and diabetes. Prep Biochem Biotechnol. 2020;50(10):969-978. doi: 10.1080/10826068.2020.1786699. Epub 2020 Jul 7. PMID: 32633686.
[2] Liang N, Kitts DD. Role of Chlorogenic Acids in Controlling Oxidative and Inflammatory Stress Conditions. Nutrients. 2015;8(1):16. Published 2015 Dec 25. doi:10.3390/nu8010016
[3] Jeon JS, Kim HT, Jeong IH, et al. Contents of chlorogenic acids and caffeine in various coffee-related products. J Adv Res. 2019;17:85-94. Published 2019 Jan 9. doi:10.1016/j.jare.2019.01.002
[4] Ningjian Liang, Xiaonan Lu, Yaxi Hu, and David D. Kitts . Application of Attenuated Total Reflectance–Fourier Transformed Infrared (ATR-FTIR) Spectroscopy To Determine the Chlorogenic Acid Isomer Profile and Antioxidant Capacity of Coffee Beans. Journal of Agricultural and Food Chemistry 2016, 64 (3) , 681-689. https://doi.org/10.1021/acs.jafc.5b05682
[5] Santana-Gálvez J, Cisneros-Zevallos L, Jacobo-Velázquez DA. Chlorogenic Acid: Recent Advances on Its Dual Role as a Food Additive and a Nutraceutical against Metabolic Syndrome. Molecules. 2017;22(3):358. Published 2017 Feb 26. doi:10.3390/molecules22030358