About Blueberries
Blueberries are a common fruit that has many health benefits. Blueberries are the second most consumed fruit in the United States.
Blueberries contain many antioxidants and have many health benefits.
Origin of Blueberries
Blueberries have been consumed in Europe and the Mediterranean for some years. These berries were not only tasty, but they have been used in Chinese medicine for centuries.
Recently scientists have studied this berry and have found that they can help the body in numerous ways. Blueberries can even help prevent cancer. These berries come in blue, red, and purplish colors.
Any of these berries are good to eat. These berries can also be picked fresh and frozen to eat during the months when they are not in season.
Health Benefits of Blueberries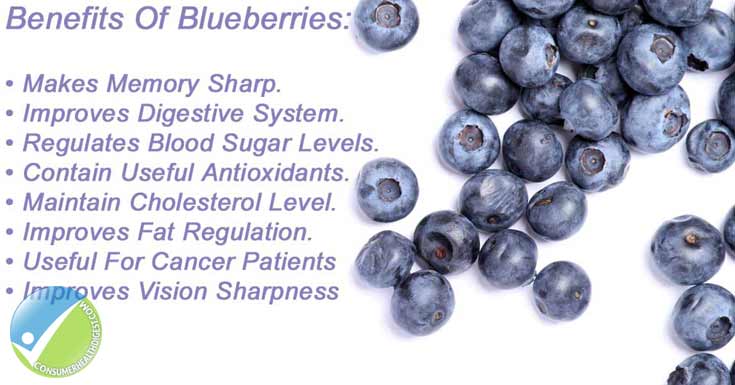 There are many health benefits a person can see when they eat blueberries.
In addition to allowing the body to get the daily serving of vitamins and minerals, blueberries can help increase memory and sharpness.
A person will be able to process information at a quicker rate and retain this information. Blueberries can slow down the effects of aging in the brain and help a person stay mentally sharp.
Blueberries can help the digestive system and help a person stay regular. It can reduce problems such as constipation. Blueberries can also help regulate blood sugar levels.
A person with a bit of a sweet tooth can eat blueberries without seeing an increase in their blood sugar.
Blueberries contain a high number of phytonutrients which is good for overall health.
The antioxidants in blueberries can help fight a number of health conditions and prevent them from occurring as well. Blueberries defend the cardiovascular systems of the body.
They improve the ability of the body to improve fat regulations. Blueberries will also help keep cholesterol levels in balances and help lower the level of triglyceride in the body.
The berries will allow the body to take in and use more oxygen which is good for the blood and blood circulations. Blueberries are also good for the eyes. Blueberries will help protect the retina and will help safeguard the eyes from the sunlight.
Blueberries will also increase vision sharpness and allow a person to have eye health. These have been some studies done that have shown that blueberries will help prevent cancer.
Side Effects of Blueberries
People that have experienced allergic reactions to other berries such as strawberries or raspberries should be cautious when eating blueberries.
Some people have reported some stomach issues such as diarrhea when they have consumed large quantities of blueberries at one time. When growing crops for commercial use farmers sometimes uses pesticides to keep the bugs off of the berries.
Before eating fresh blueberries be sure to wash them to make sure they do not have dirt or any chemicals on them. People may touch them in the store as well so it is important to wash away any germs they may have.
You May Also Like to Read: Super Health Benefits Of Antioxidant Powders You Probably Didn't Know
Blueberries Dosage
Blueberries are best when they are fresh. They can be added to shakes, pancakes, and cereals. They are also great when eaten by themselves.
It is recommended to have no more than two cups of blueberries per serving. They will not harm a person, but they make upset the stomach if too many are eaten at one time.
Blueberries can also be eaten frozen, and they can be added to a fruit salad.
Use of Blueberries in Supplements
While it is recommended to eat fresh blueberries to get the most antioxidants out of them, blueberries can be used in supplements.
When selecting a supplement make sure that it uses all-natural ingredients and does not contain binders or fillers.
Blueberry Interactions
If a person is allergic to other berries, they should consult a doctor to make sure they do not have a bad reaction when eating blueberries.
Blueberries are grown in nature, and they are safe to eat once they are washed off.
Blueberries can be considered one of the superfoods. They have not fat, are low in calories, and still have a sweet taste.
Blueberries contain a number of vitamins and antioxidants. These berries should be added to a person's diet to help them get the vitamins and minerals that are needed in order to stay fit and healthy.
Read Next – Top 4 Pterostilbene Supplements for Better Brain Functioning
View All