In This Review
What is SuperGreen Tonik?
SuperGreen TONIK is a new greens powder comprised of 38 superfood ingredients. Its top ingredients include vitamins, minerals, adaptogens, and nootropics. SuperGreen Tonik is designed to improve:
Your immunity
Your cognitive function
Your overall energy levels
Your ability to recover from exercise
While simultaneously reducing:
Your brain fog
Your anxiety levels
Inflammation and oxidation
SuperGreen Tonik purports to be "the ultimate fuel for body and mind." But is it really? Maybe — this product really does set itself apart from other greens powders thanks to its radical transparency. But more on that later.
How Does It Rate?
Overall Rating: 4.8
SuperGreen Tonik
Brand Highlights
Improved Memory, Attention, and Focus.
Supports at Difficult Moments and Enables Sound Sleep.
Supports and Expedites Recovery from Sickness and Exercise.
Key Ingredients
Spirulina powder
Kale powder
Spinach powder
Barley Grass
Chlorella
Moringa Oleifera
Ashwagandha Root Extract
Bacopa Monnieri
Rhodiola Rosea
L-Theanine
Ginkgo Biloba
Dandelion leaf extract
Garlic Extract
Olive leaf extract
Pros
A collection of 38 vitamins, minerals, superfoods, and adaptogens
Industry-leading 1-year money-back guarantee
Keto, paleo, and vegan-friendly
100% transparent labeling
Pleasantly minty taste
Cons
Higher priced than some products
Made by a new brand
---
Who makes SuperGreen Tonik?
SuperGreen Tonik (SGT) was created by Adam Wright, a former triathlete and distance runner-turned personal blogger. Adam reviewed 70+ wellness and eventually came to realize that most greens powers (and most other supplements!) just weren't labeled transparently.
Even the best products, he realized, often hid their precise ingredients through the use of 'proprietary blends.'
Adam decided to change this unfortunate industry standard for himself. At the same time, he also wanted to make something that actually tastes good. "First and foremost," he explains, "I wanted to develop a green powder drink that my wife and I could drink daily. [And] the ultimate goal was always to create a drink that could help ordinary everyday people get the absolute best out of themselves."
According to Adam, SuperGreen Tonik has also given him something reassuring: the knowledge that he's hitting all his nutritional goals. Even on days when his personal diet is a little lacking — say from travel — taking a scoop of SGT gives him the confidence that his nutrition is still right where it should be.
How Does It Work?
Supergreen Tonik holds itself to some pretty high standards. It's manufactured in a cGMP facility (good manufacturing practice-certified) in the United States. And each ingredient is ethically sourced from premier sources. Once it's been formulated, SuperGreen Tonik is sent off to third-party labs to ensure that it's 100% free from heavy metals and other contaminants.
SuperGreen Tonik Ingredients – Are they Safe & Effective?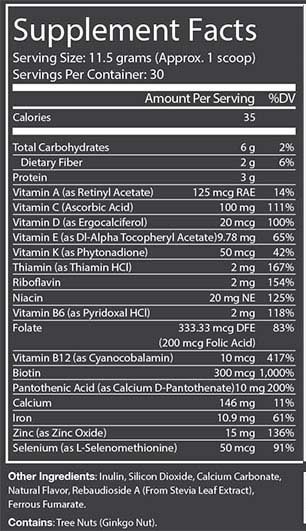 SuperGreen Tonik's Organic Greens Blend (7,500mg)
Organic Spirulina powder (2,000mg)
Organic Kale powder (2,000mg)
Organic Spinach powder (1,000mg)
Organic Barley Grass (1,000mg)
Organic Chlorella (1,000mg)
Organic Moringa Oleifera (500mg)
SuperGreen Tonik's Nootropic Blend (1,800mg)
Ashwagandha Root Extract (500mg)
Bacopa Monnieri (300mg)
Rhodiola Rosea (300mg)
L-Theanine (250mg)
Ginkgo Biloba (240mg)
Immune blend (1,000mg)
Dandelion leaf extract (500mg)
Garlic Extract (250mg)
Olive leaf extract (250mg)
Even the flavor in SuperGreen Tonik is 100% all-natural. Its refreshingly minty taste comes from a mixture of real mint leaves and stevia.
You'll notice that each and every ingredient in each and every one of these proprietary blends is fully disclosed. This is very unusual within the supplement industry and a virtual first when it comes to greens powders. No secrets here!
SGT's transparency also allows us to see if its ingredients are present in therapeutically-effective amounts. Inspect any of this Tonik's active ingredients and you'll see that its dosage is indeed appropriate. Let's use Ashwagandha as an example so you can see what we mean.
"It has been reported that Ashwagandha supplementation (between 240 and 600 mg daily) might enhance strength/power-related variables in healthy untrained individuals," reports one meta-analysis[1].
This analysis goes on to explain that nearly all successful Ashwagandha studies involve a certain dosing range. "Our comprehensive systematic review and Bayesian meta-analysis showed that Ashwagandha supplementation protocols between 120 mg and 1250 mg per day might enhance physical performance."
As you can see, SGT's 500mg of Ashwagandha root extract per serving means it falls right into the middle of that dosage range.
SuperGreen Tonik's olive leaf extract content is sufficient, too. A 2013 comparative study found that 250mg of olive leaf extract per day was bioavailable enough to improve antioxidant health markers[2].
SuperGreen Tonik – FAQ's
Q: How should you take SuperGreen Tonik?
A: Taking SuperGreen Tonik is simple! Place one full scoop into your favorite 12-16oz beverage. You can add SuperGreen Tonik to water, fruit juices, or favorite smoothy blends. Some people say it goes great with old-fashioned orange juice.
Each tub of SuperGreen Tonik contains exactly 30 12-gram servings. All you need is one scoop per day — not the 2 or 3 scoops needed with many other greens powders.
Q: How much does SuperGreen Tonik cost?
A: SuperGreen Tonik isn't the cheapest greens powder on the market, but discounts are available if you buy in bulk:
The cost of one tub is $87 USD per 30 servings, which works out to be $2.90 per day
The 6-tub saver bundle costs $377 USD, which works out to around $2 USD per day
Q: What is SuperGreen Tonik's return policy?
A: The makers of SuperGreen Tonik are so confident in their product that they offer a no-questions-asked, 1-year money-back guarantee.
If after trying a tub of our greens you decided it's not for you," they explain on their website, just reach out to their support team. You'll get a full refund within 5-7 business days.
Q: Does Supergreen Tonik Offer a Free Trial?
A: No, but SuperGreen Tonik's refund policy is so generous that it accomplishes something similar.
Q: Is SuperGreen Tonik FDA Approved?
A: No but that's not necessarily a bad thing. Supplement makers don't have to seek FDA approval before selling dietary supplements, so look for other markers of quality control.
Supergreen Tonik is manufactured in a Good Manufacturing Practice (GMP)-certified facility in the USA. Each ingredient is responsibly sourced from the best domestic and global resources.
What Do the Reviews Say?
Yes, SuperGreen Tonik seems to be 100% safe and effective. The product's creator, Adam, has been taking SuperGreen Tonik for almost two years without experiencing any side effects. Customers rarely report side effects, either.
Speaking of customers, most people who try SuperGreen Tonik say it's super effective. Professional Tennis Player Ksenia Lykina says that SGT gives her peace of mind:
The team at SuperGreen Tonik stands out because of their transparency and authenticity. They've been athletes, so they understand the struggles. As a professional athlete, taking supplements that are safe and effective is of the utmost importance. I rely on my body and mind to be in peak condition to perform at my best. SuperGreen TONIK gives me peace of mind, and it's great knowing it's a supplement made by athletes for athletes.
Meanwhile, Kirsty from the UK says that SGT is both keto-friendly and delicious:
I follow a strict keto diet and use Supergreen Tonik to support my nutritional intake, absolutely love the berry taste.
Last but definitely not least, John from the US says his arthritis pain has been reduced by at least 75%:
I can't believe how much better I feel after less than a month. My arthritis pain has diminished by at least 75%! I'm sleeping better and dreaming almost every night. I've been sharing my experience with friends and family in the hope they will give it a try too. Thanks for making a supplement that really works!
Conclusion
According to its customer reviews, SuperGreen Tonik is an extremely effective product. Customers say it gave them more energy, made them feel healthier, and filled in pre-existing gaps in their nutrition routine. SuperGreen Tonik also shines when it comes to brand trust and transparency. It's one of the few greens powders we know of that fully discloses each and every one of its active ingredients. Just keep in mind that it's always important to remember that you have to get a doctor's approval before starting a new supplement. After you've got the green light, be sure to enjoy SGT's benefits!
Below are some of the best Immune System Supplements on the market today, in our opinion.
Our Top Immune System Supplements
Verdict on Claimed Benefits: Below is our summary of the available evidence for the claimed benefits of below mentioned Immune System Supplements based on the available research:
VitaPost Immune Support | Healthy Immune System

Nutrient-Rich Formula*
Gold Star Evidence
Reduces Risk of Illness*
Gold Star Evidence
Enhances Immune Function*
Gold Star Evidence
Supports Overall Wellness*
Strong Evidence
VitaPost Immune Complex | Balance Gut Microbiome
Provides Nutritional Support*
Gold Star Evidence
Boosts Energy and Vitality*
Strong Evidence
Reduces Inflammation*
Gold Star Evidence
Antioxidant Protection*
Strong Evidence
Biotics 8 | Men's High-Performance Probiotic Formula
Helps Balance Testosterone Levels*
Gold Star Evidence
Boost Immune System Resilience*
Strong Evidence
Strengthens Digestive Integrity*
Gold Star Evidence
Improves Gut-Brain Connection*
Strong Evidence