Naturally, men begin to see a decrease in testosterone as they age, losing about 1% annually each year over 30. While many associate low testosterone levels with a reduced sex drive, an imbalance of this hormone could affect many other physical and emotional functions. Men can see an increase in body fat, fatigue, and insomnia during a decrease in muscle mass, bone density, and body hair.
There are many foods that can be incorporated into one's diet to boost testosterone. Oysters, lean beef, beans, and eggs are all great examples, having high levels of protein and zinc. Zinc is an essential dietary mineral that is associated with maintaining proper testosterone levels. While the exact reason zinc levels correlate with testosterone is unknown, many studies show a lack of zinc leading to low testosterone.
This recipe can help provide a testosterone boost due to its high levels of zinc and protein. While also high in dietary fiber, too much in one's diet has been linked with low testosterone levels. This chili provides a nutrient-dense meal that is low in fat, another important quality of a diet looking to increase testosterone. Most importantly, it is healthy and delicious. This recipe works perfectly for anyone in fear of low testosterone levels, or just looking for an easy and nutritious weeknight meal.
Chili embodies the ultimate one-pot meal. While serving comfort, this recipe also provides zinc, fiber, and protein for a healthy meal that can help boost testosterone levels.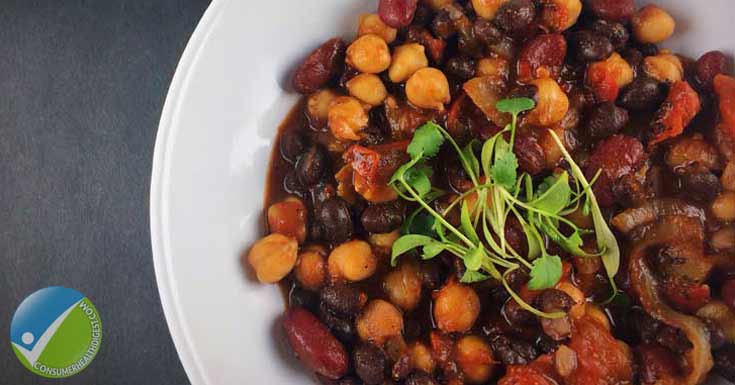 Three-Bean Chili
Serves 4
Ingredients
2 Tbsp. Olive oil
1 small white onion, diced
2 cloves garlic, minced
2 tsp cumin
2 tsp smoked paprika
1 tsp chili powder
1 tsp cayenne pepper
1- 15 oz can fire roasted diced tomatoes
1 cup vegetable stock
1- 15 oz. can black beans, drained and rinsed
1- 15 oz. can kidney beans, drained and rinsed
1- 15 oz. can garbanzo beans, drained and rinsed
Cilantro sprigs, to garnish
Salt and pepper, to taste
Method
Heat olive oil in a 4 QT sauce pot over medium high heat. Sauté onions until golden, 6-8 minutes. Add garlic and spices, cook 1 minute more.
Add tomatoes, stock, and beans, simmer until thickened, 20-25 minutes.
Season with salt and pepper and serve over brown rice and garnish with cilantro.
Don't have time for these recipes attempt remarkable testosterone booster pills we have reviewed on our website.
View All